-        P  A  S  S  I  N  G       B  Y       M  O  R  O  C  C  O        -
It was the 5th of February. My brother was by then arriving to Marrakesh, and I was preparing my bag to join him right the next day. I got a flight right from Perpignan for 20 €, and we had 9 days ahead of us to visit Morocco. No real idea where to go yet, but we're going.
When I got out of the plane in Marrakesh, I though about that big jacket I left back home. I headed to the center under rain and cold wind, to find my brother in the big Jemâa el-Fna plaza. My shoes were already admiting that they would not be able to keep my feet dry during this trip.
We looked to the map and decided to make a little plan, to follow, or maybe not.
FROM MARRAKESH TO AIT OURIR
A walk around the center of Marrakesh showed us the touristic fever for everything around is tourist orientated, and so are many of the locals, always up to make some money out of your turist pockets. I even saw a monkey with a tshirt of Cristiano Ronaldo. Enchanted snakes too, seemed pretty stoned, and all the argan oils and mishwaks and precious stones and tajines being sold everywhere you turn. Time for us to turn somewhere else, so eagger to move from there we didn't even stay one night. We decided to try Ourika, a small village told to be nice, we saw some pictures of beautiful nature around there. We got moved around town trying to escape it the cheapest way, ending up in a bus out of the big city, being finally able to rest and enjoy Morocco out of the turistic circus.
Landscape changing, night starting to fall and we arrive in Ourika. We ate some delicious chickpeas soup inside of a bread, and another one with beans. And we decided to keep moving, ending up in the village of Ait Ourir. We made a friend who showed us the cheapest hotel and a nice place to eat. Later we went for tea and he was very happy to teach us some Arabic vocabulary.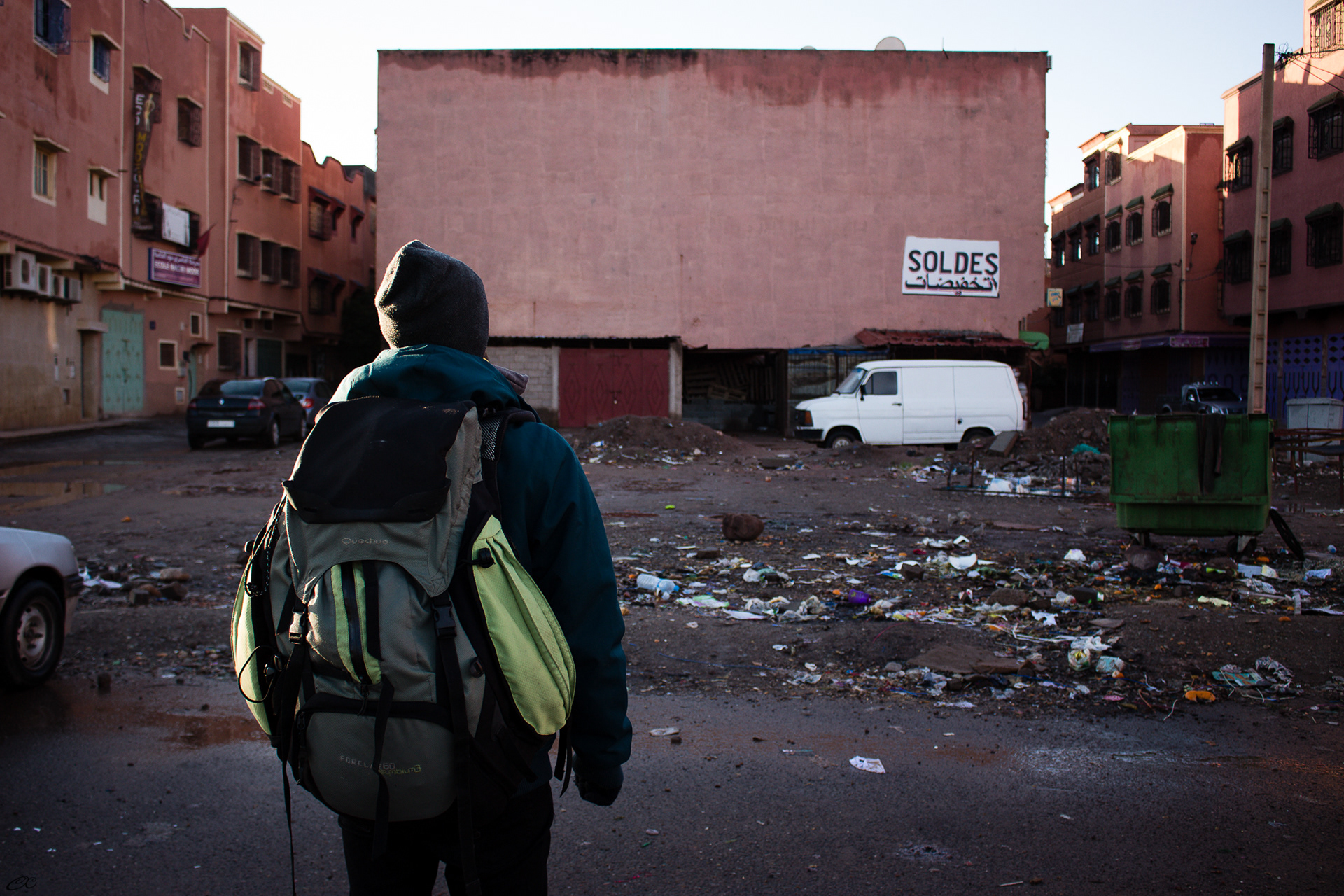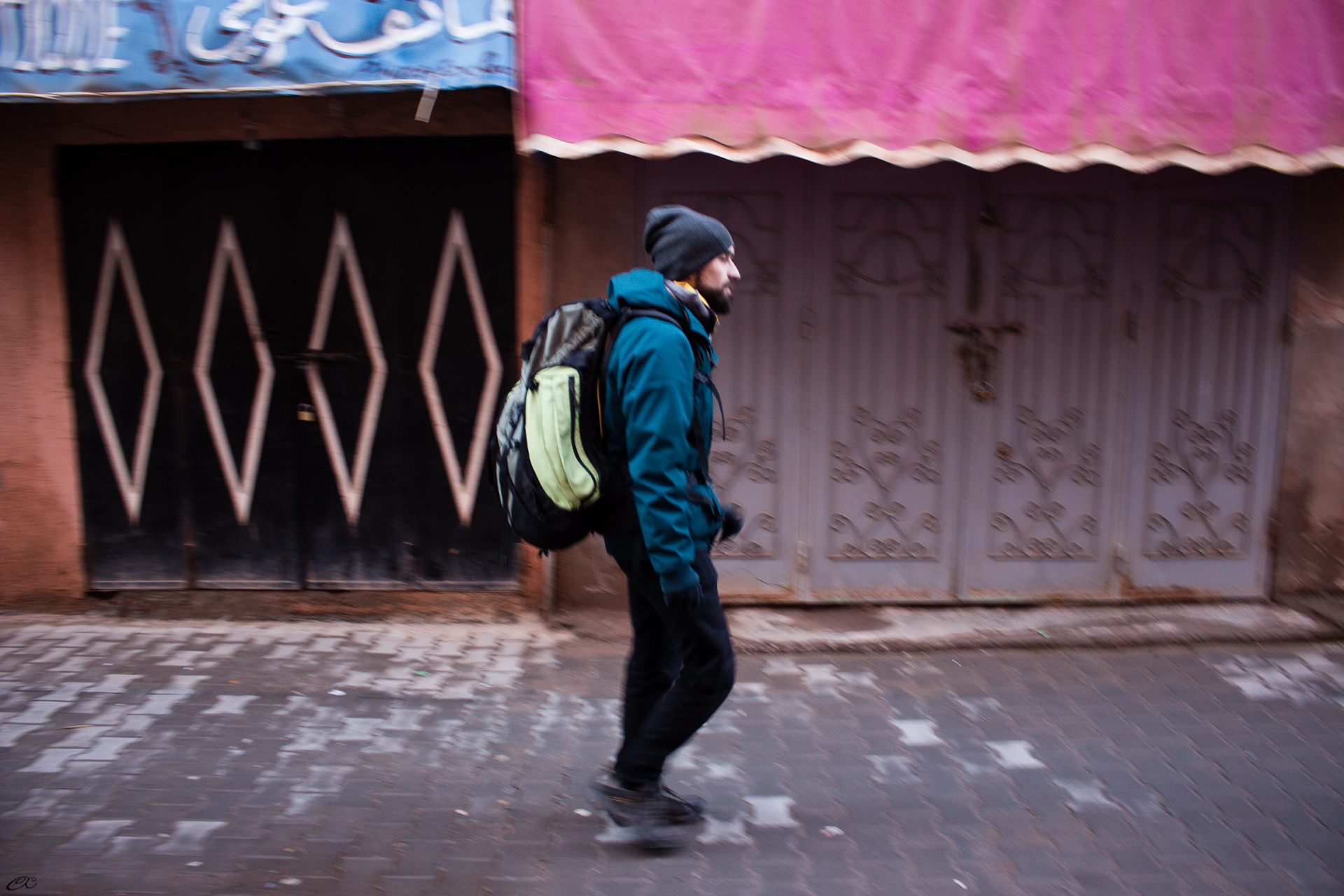 FROM AIT OURIR TO OUARZAZATE
We woke up and went to search breakfast. We had the typical bread with olive oil and with honey. Some coffee and the obligatory tea. It was a cold morning but the sun was shining. We decided to follow direction Ouarzazate, but the friends we made told us that the roads were cut. It was all over TV, Morocco has not seen so much snow for about 60 years. The only way was to go back to Marrakesh and go some other way... Or to hitchhike the snowy Atlas mountains. The sun was shining after all, and it pushed us to go on.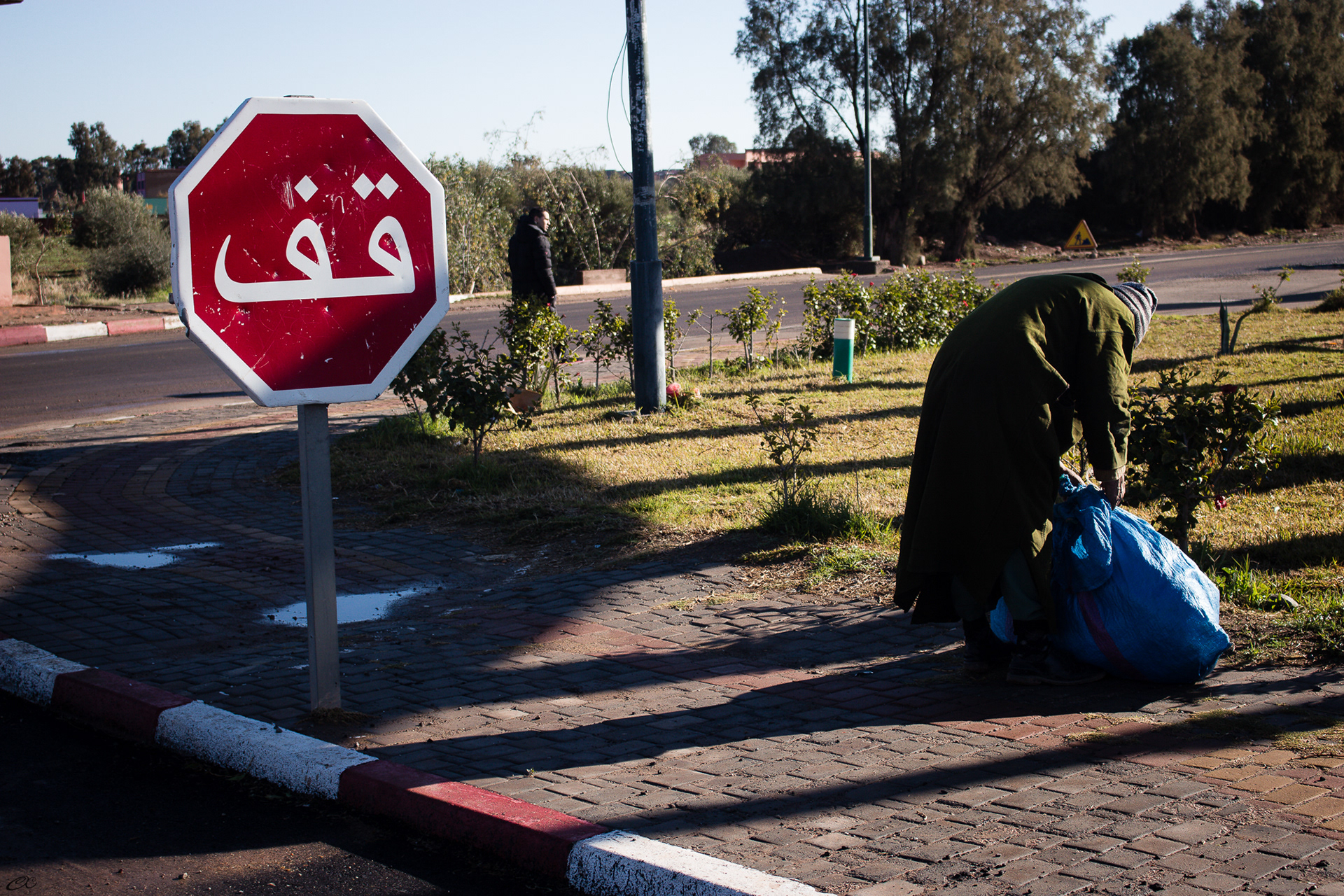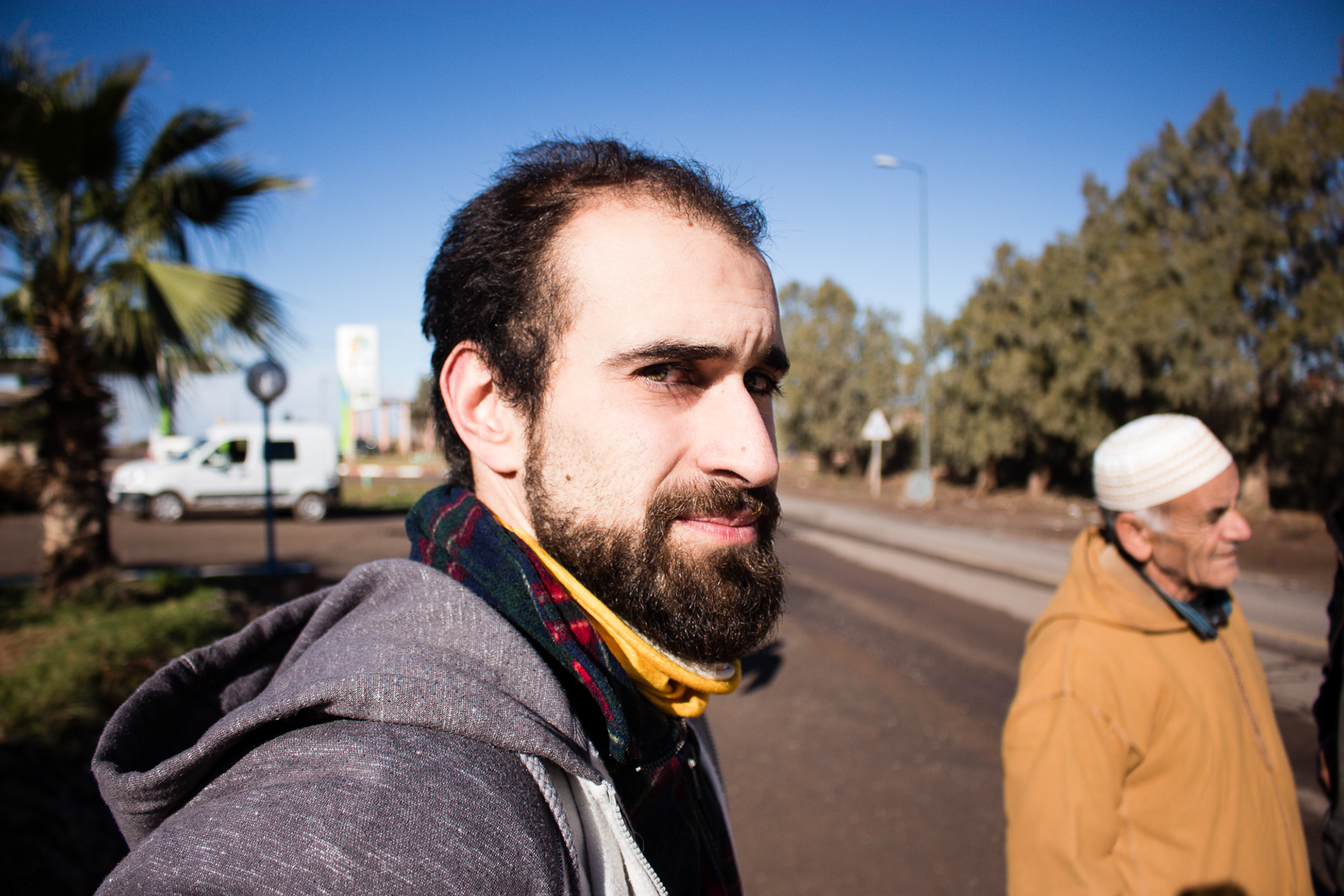 We had to wait about one hour before we could find somebody who would take us. An old man with a gigantic white beard pointed us the open back of his small van, with another smiling old man already there. They were transporting some big bags of corn I think. We shared some bread and fruits enjoying the fresh wind under a shining sun. But we were going up, and I could see the gigantic snowy mountains in our way...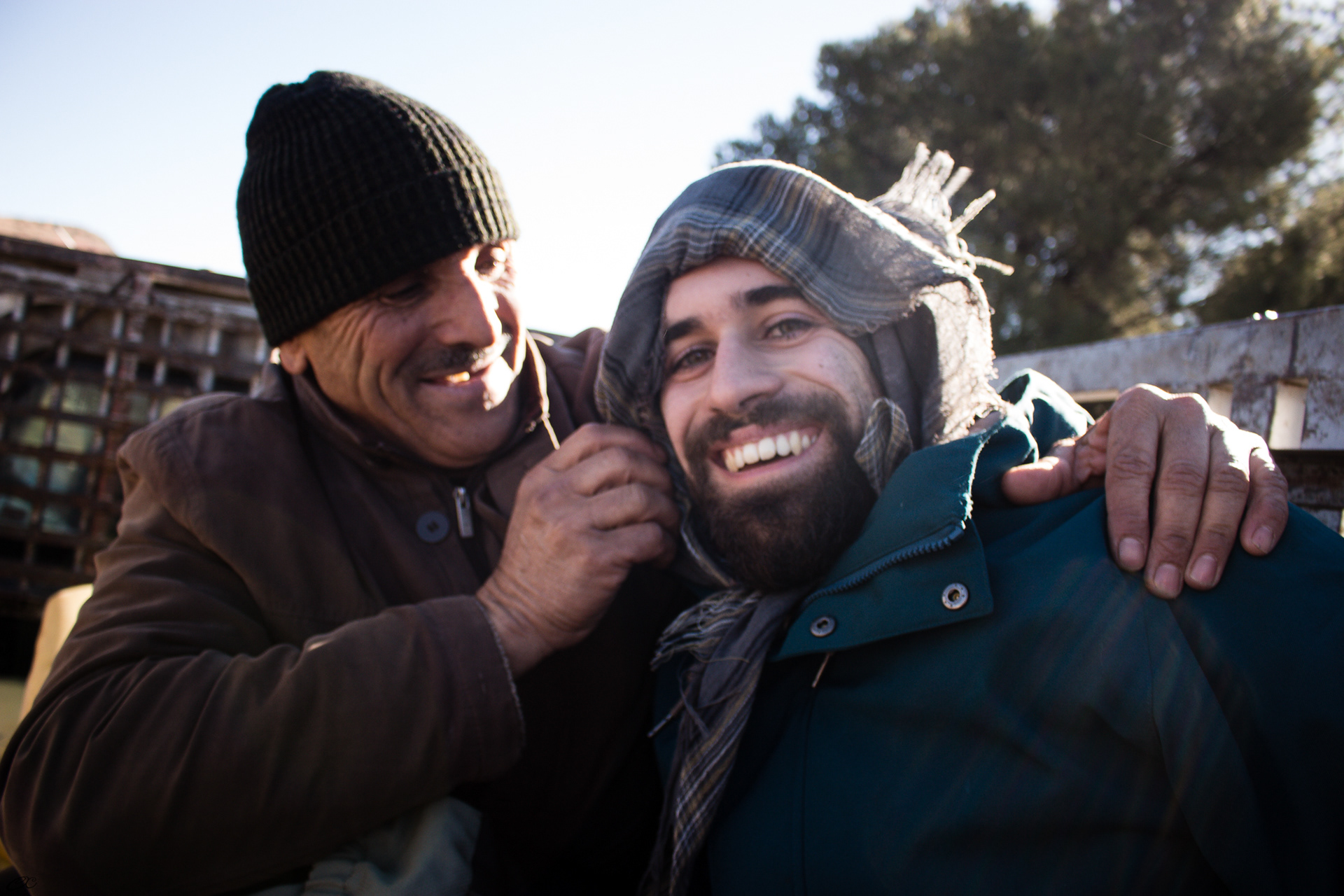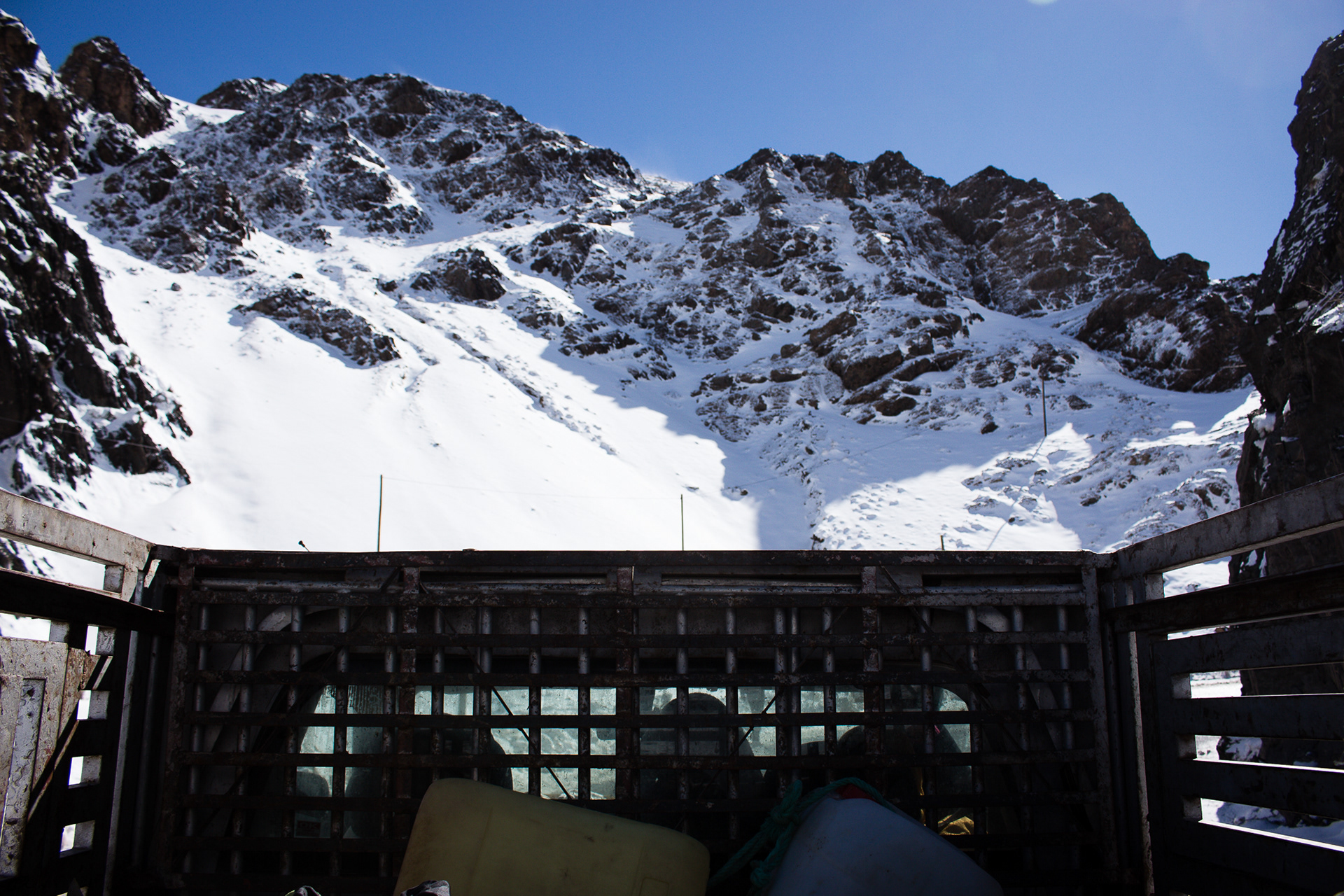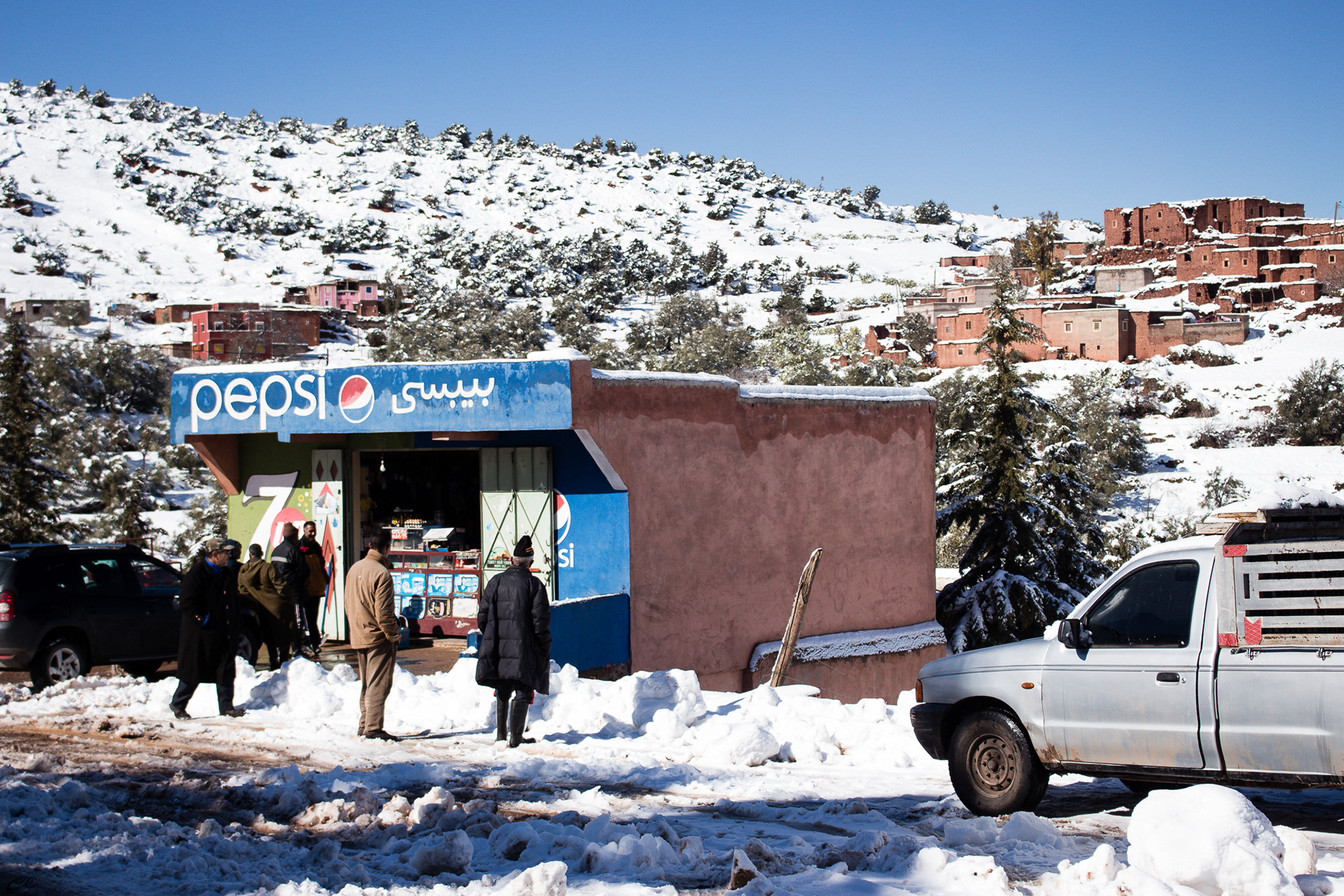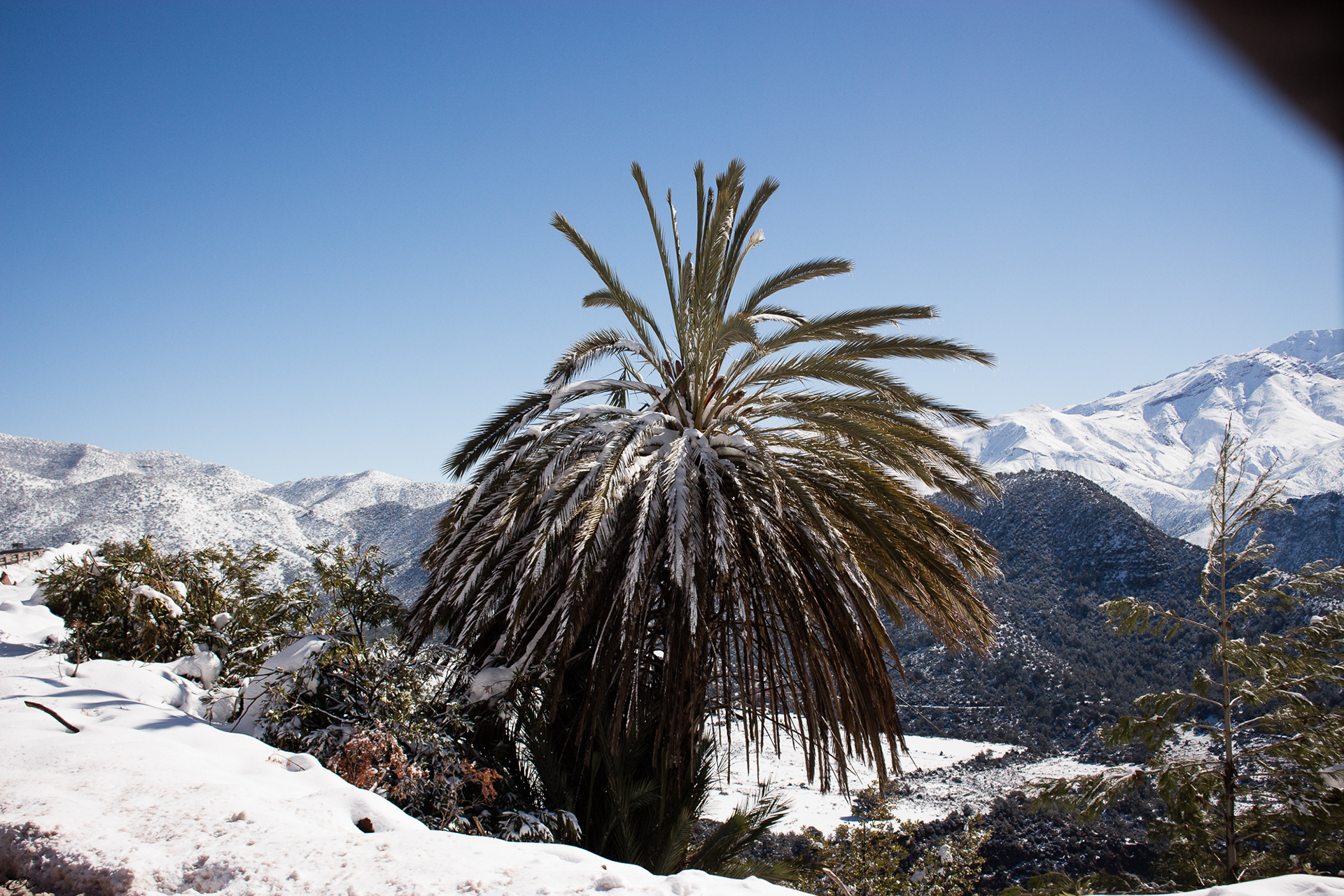 Slowly, the landscape started to change, from the vast sunny road to the narrow one going up and up again, surrounded by the usuall vegetation of cactus and palm trees, but this time, the first one in my life, those cactus and palm trees had snow all over and around them...
We were passing by the Tizi n' Tichka mountain, culminating at 2260 meters, the highest prairie in Morocco, offering us breathtaking views all around. It marks the separation between the region of Marrakesh and Ouarzazate. We were so in halfway, and some far away clouds were coming on our minds, as we were crossing our fingers so that they wouldn't cover our blue sky and burst upon us.
The trip was really slow due to the harsh conditions. Big trucks cleaning the road would sometimes pass by, lots of workers and people on the little villages by the road, lots of guys hitchhiking too, even a little kid one time - they would join us in the open back of the small van, hair on the wind, and then they would knock on the glass for the driver to stop, jump out, and give some money to pay their ride, and head on their way...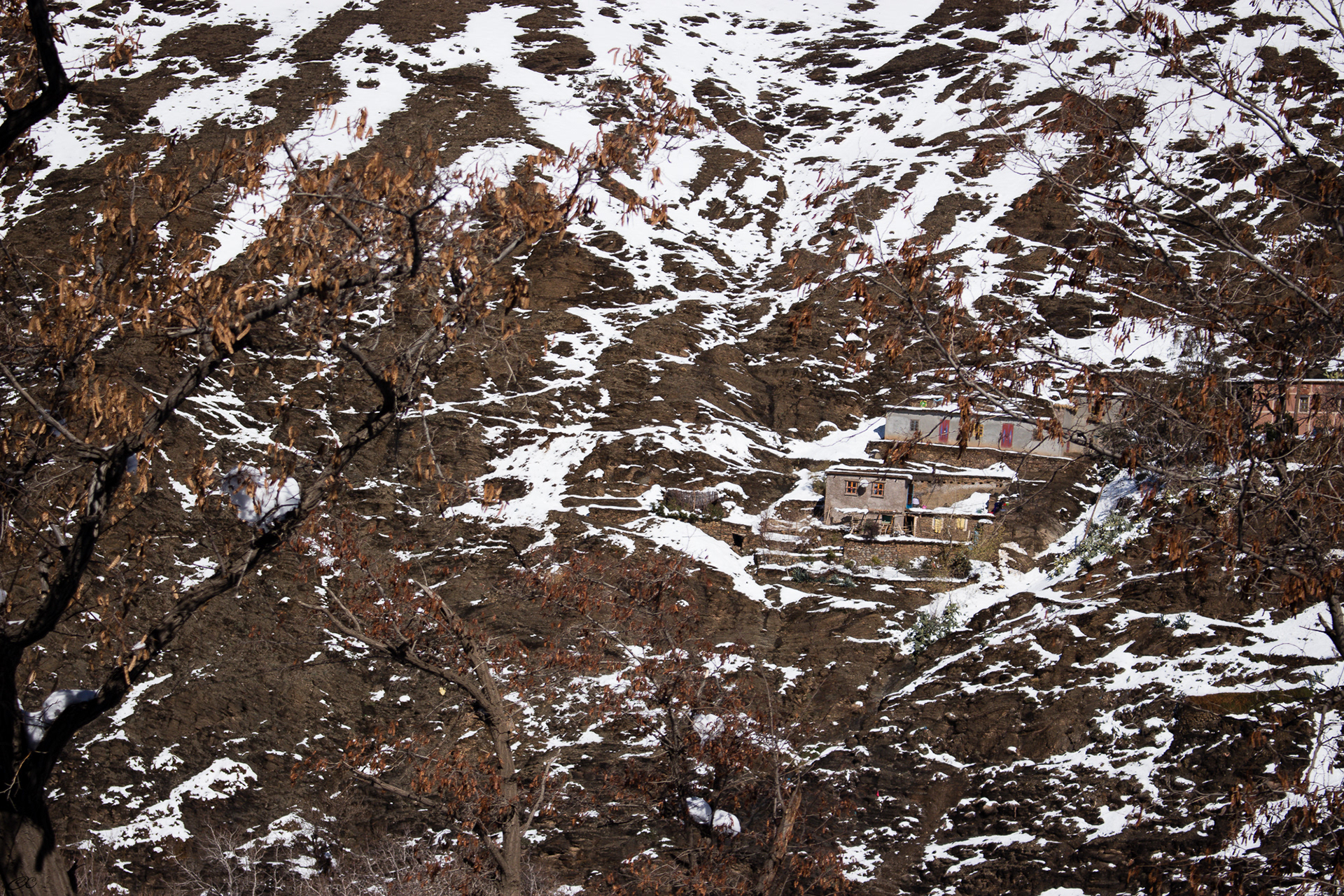 Sometimes we could see those incredible Berber villages integrated in the mountain as if they were one. The turbulence of our ride made it more challenging to photograph, the wind of our open ride was freezing too, all our clothes around us, sneaking down to be more protected, but the sun was shining for our blessing, and it made it all so nice. Our driver was experienced for sure, and we started to finally go down, the snow started to disappear, and he hit the pedal untill Ouarzazate.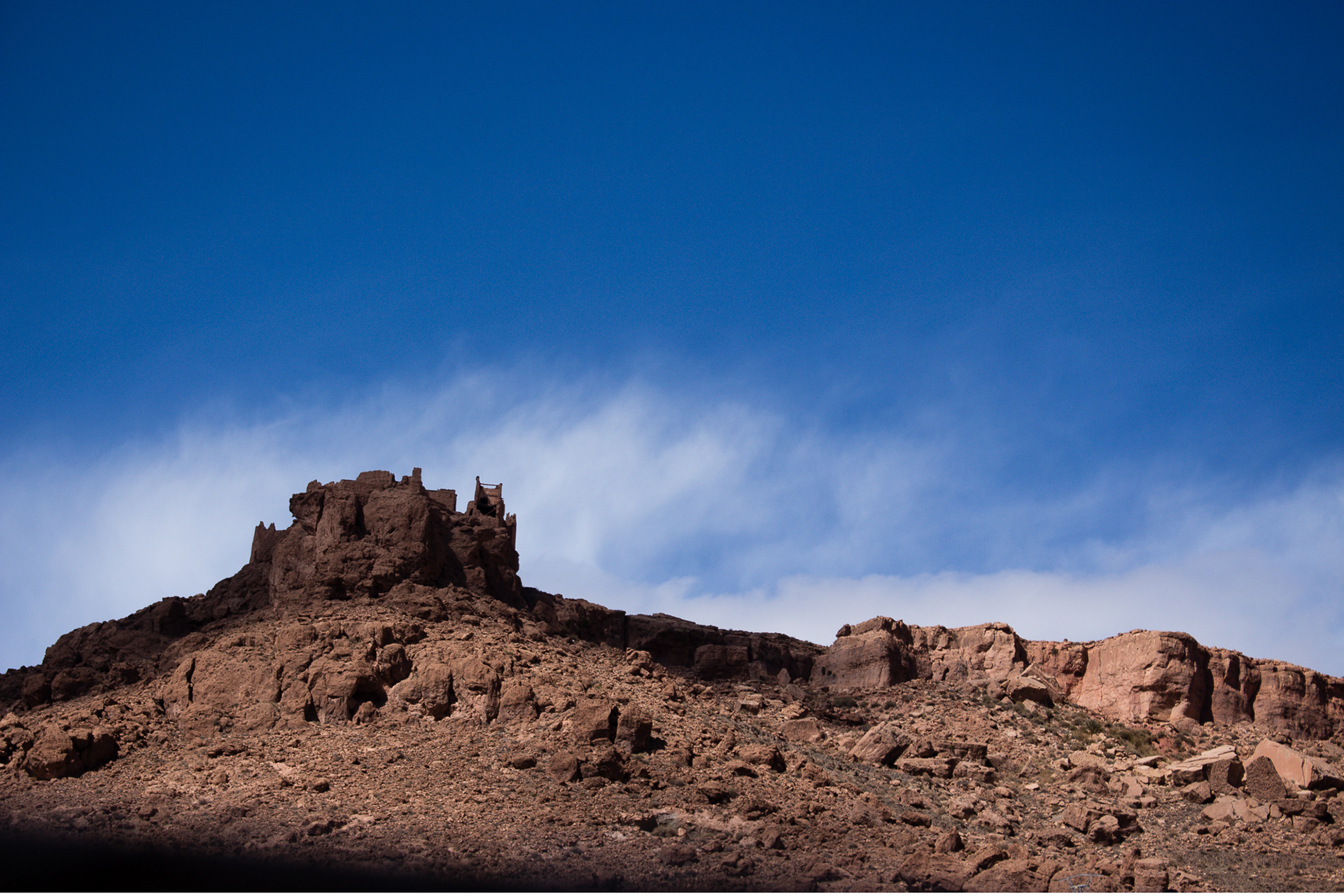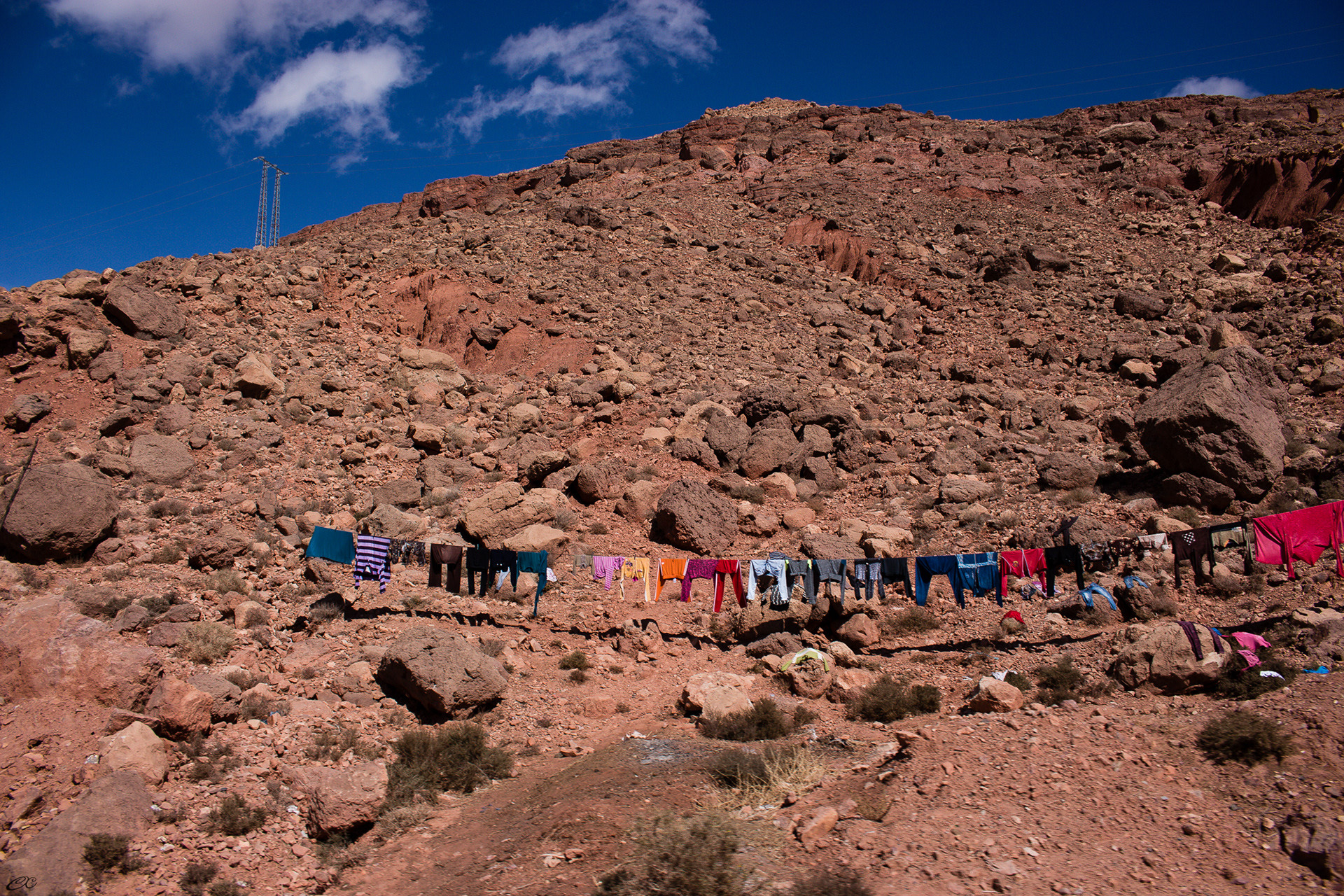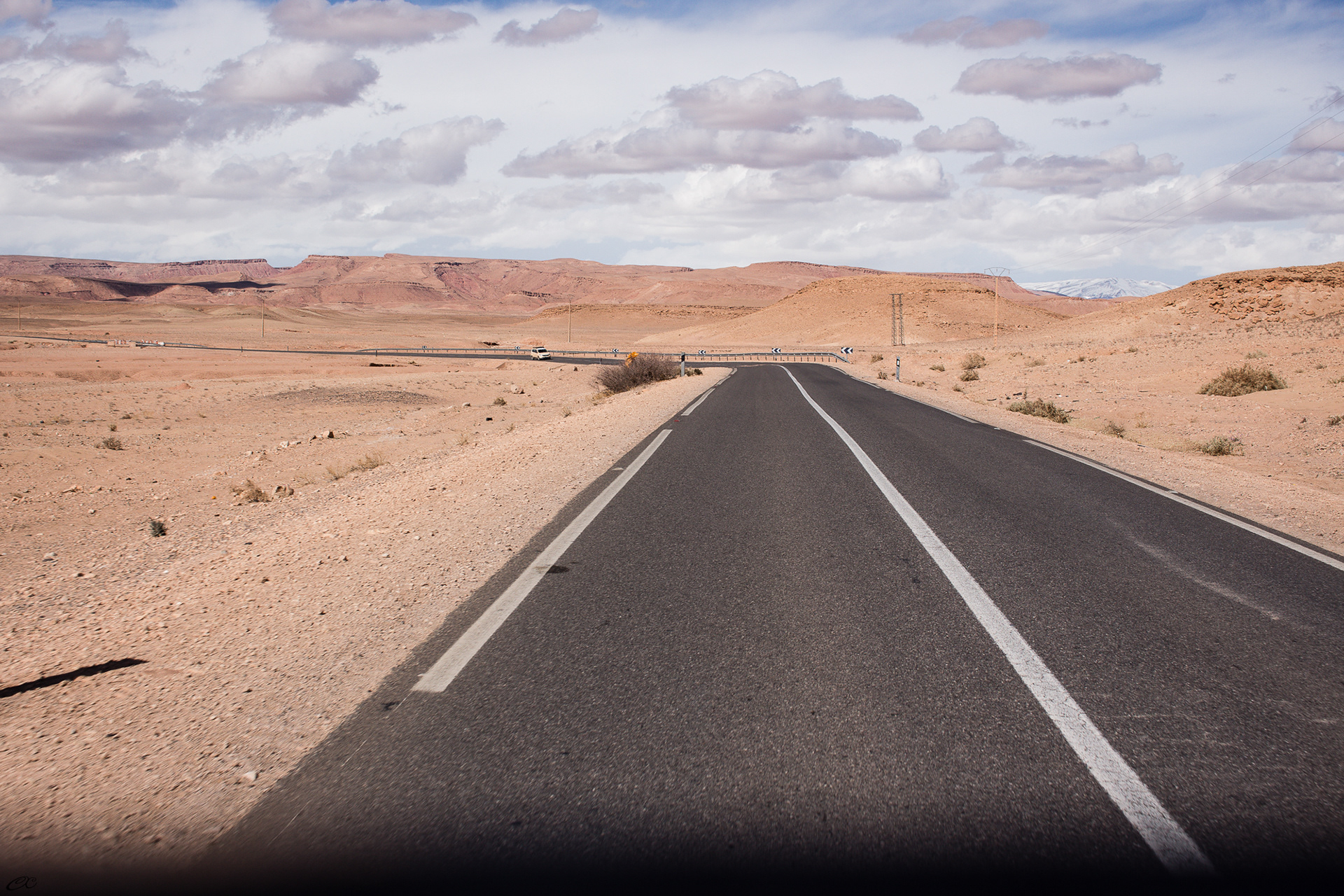 We gave the driver some money, actualy we misunderstood the price he said, and gave him more, and he gave it back to us. We were feeling good after this adrenalin ride, happy to have our feet on the ground. Thank you to our rider, see you next time, and let's go.
Faster than we thought we had someone talking to us proposing amazing rides and excursions, great deals and a thousand possibilities. He showed us the cheap hotel and we told him we would talk later.
We were in Ouarzazate, a kind of passage place if your heading to the desert, on the road to Timbuktu, or an interesting stop for the cinema afficcionated, for around Ouarzazate there are the Atlas Studios, where movies like Astérix and The Gladiator have been filmed, even some episodes of Game of Thrones.
We walked by the streets and went to eat, so hungry we were, and we found a place full of people, locals, which means they cook good, and they did. After, a bakery with delicious cakes was perfect for tea time.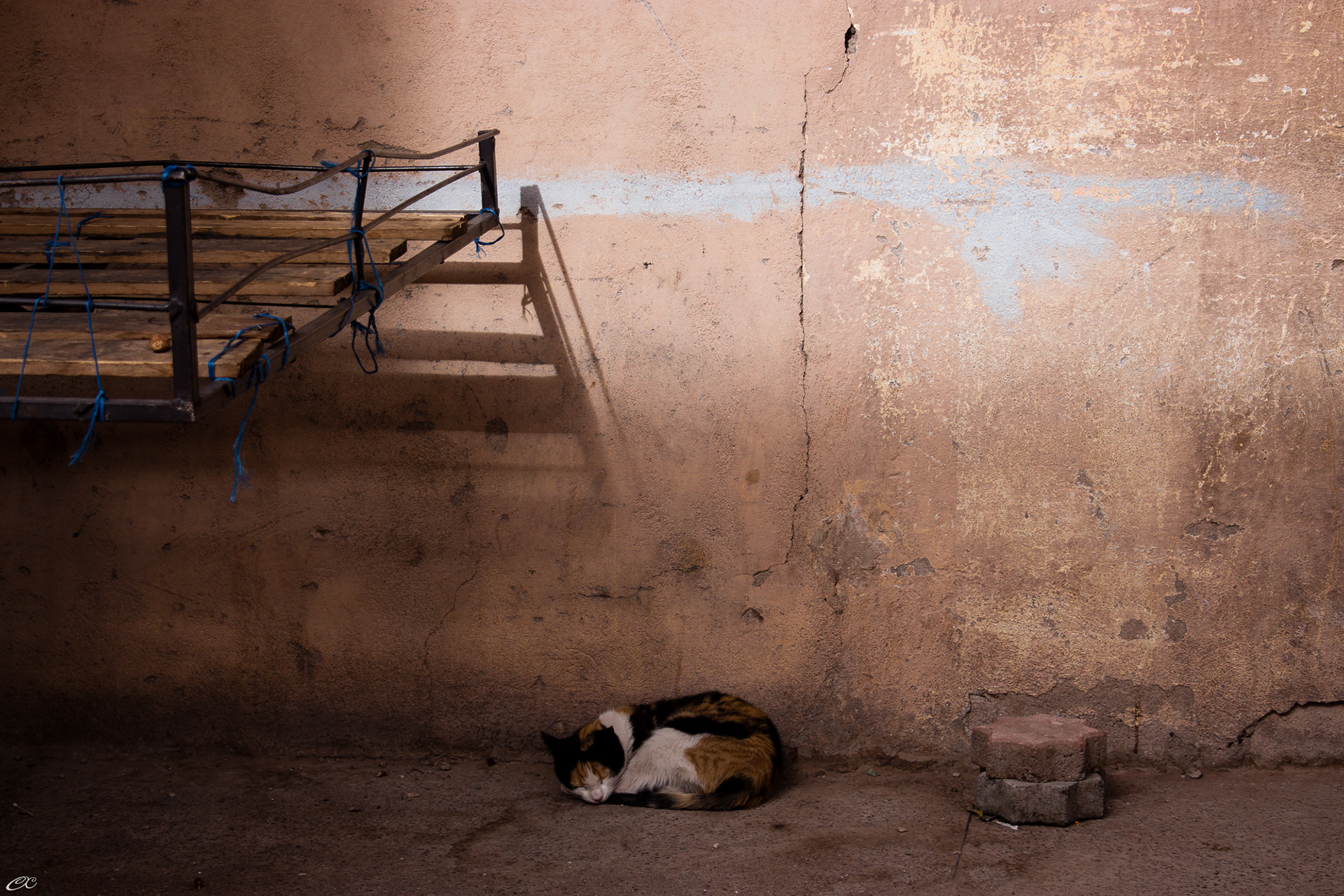 Back home I'm used to have tea and infusions without sugar, specially if I'm already eating something sweet, but in Morocco you have no option. The tea comes already super sweet, and they also put some extra sugar in the side in case it's not enough. I had the opportunity to see some people preparing it, and they put bricks of it inside, big stones really. But you can't deny it, it is delicious. As we were in winter, mint is not so common, doesn't grow so much, so they use the absinthe, which is really bitter, or also the verveine. I decided to get the ingredients there, and when I came back home after the trip I realized I was hooked on it, I started doing the tea their way, all the time. I like to use the honey instead of sugar, and I could reduce the dose also, here I do it from time to time, but in Morocco you drink it like 10 times a day. For talking about it, I'm feeling like doing it now. Prepare some Moroccan tea and something else to join me in my writting.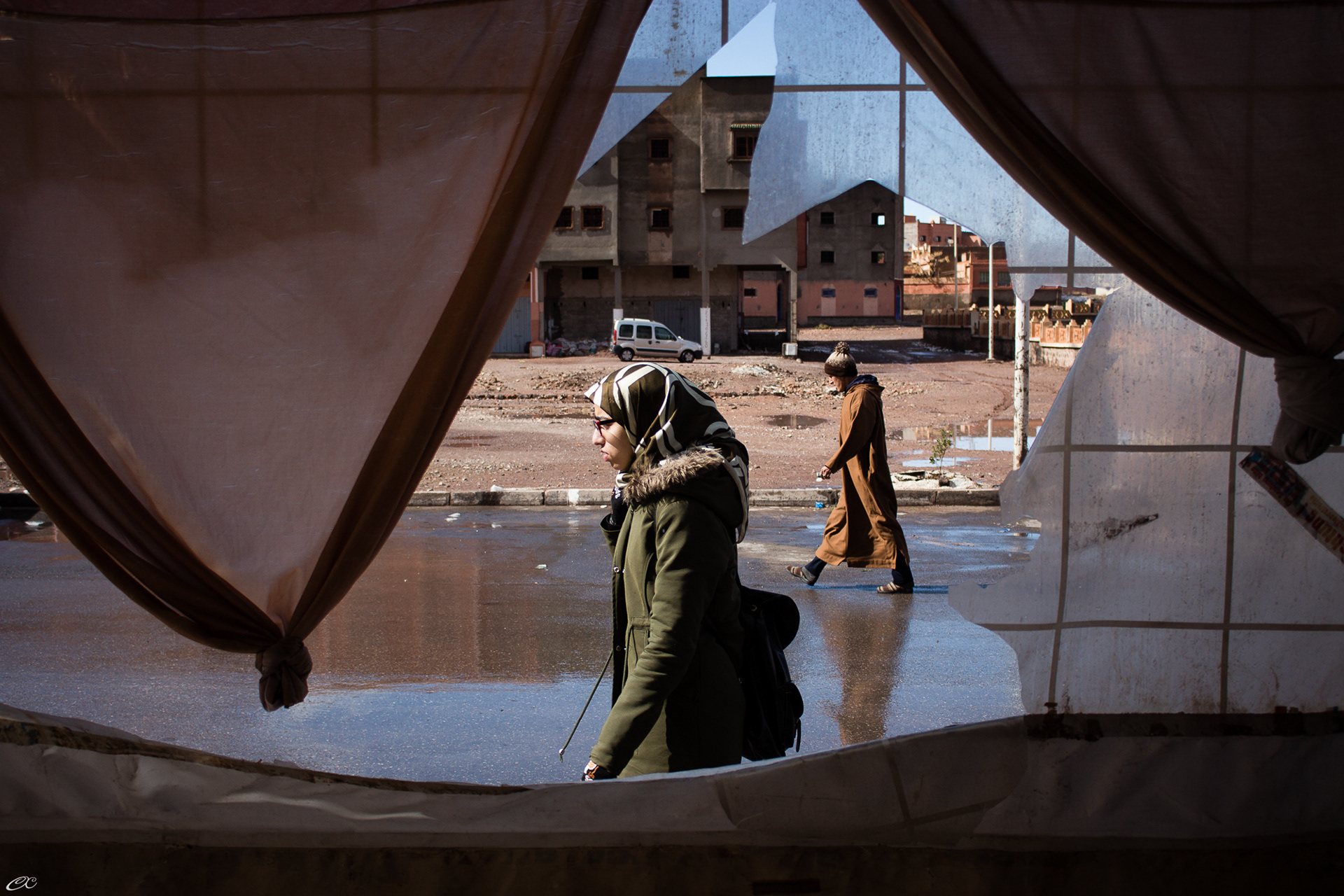 FROM OUARZAZATE TO THE DADÈS VALLEY
It was a Moroccan friend who told me about the valley of Dadès, before I went to Morocco, he said I should definitely go there. On our map, we pointed the desert as a mark, somewhere we really wanted to go, and we saw that Dades was on our way there.
After waking up to a rainy grey weather we headed for a big delicious breakfast, and got to the bus station, and so had to refuse all the offers of magnifique excursions, great deals that Mostapha would insist on trying to convince us, but we opted for the long way, the normal Moroccan bus, where we were usually the only tourists. Actualy it was funny to see that a lot of these buses are from the Alsa company, from Spain, and it seems they are used in Morocco when too old to ride in Spain.
Even though there were only 116 Km separating us from Dadès, the trip lasted quite a long time, and the old seats of the bus were not so comfortable. After almost three hours of desertic landscape surrounded by the snowy mountains of the Atlas, we arrived to Boumalne du Dadès.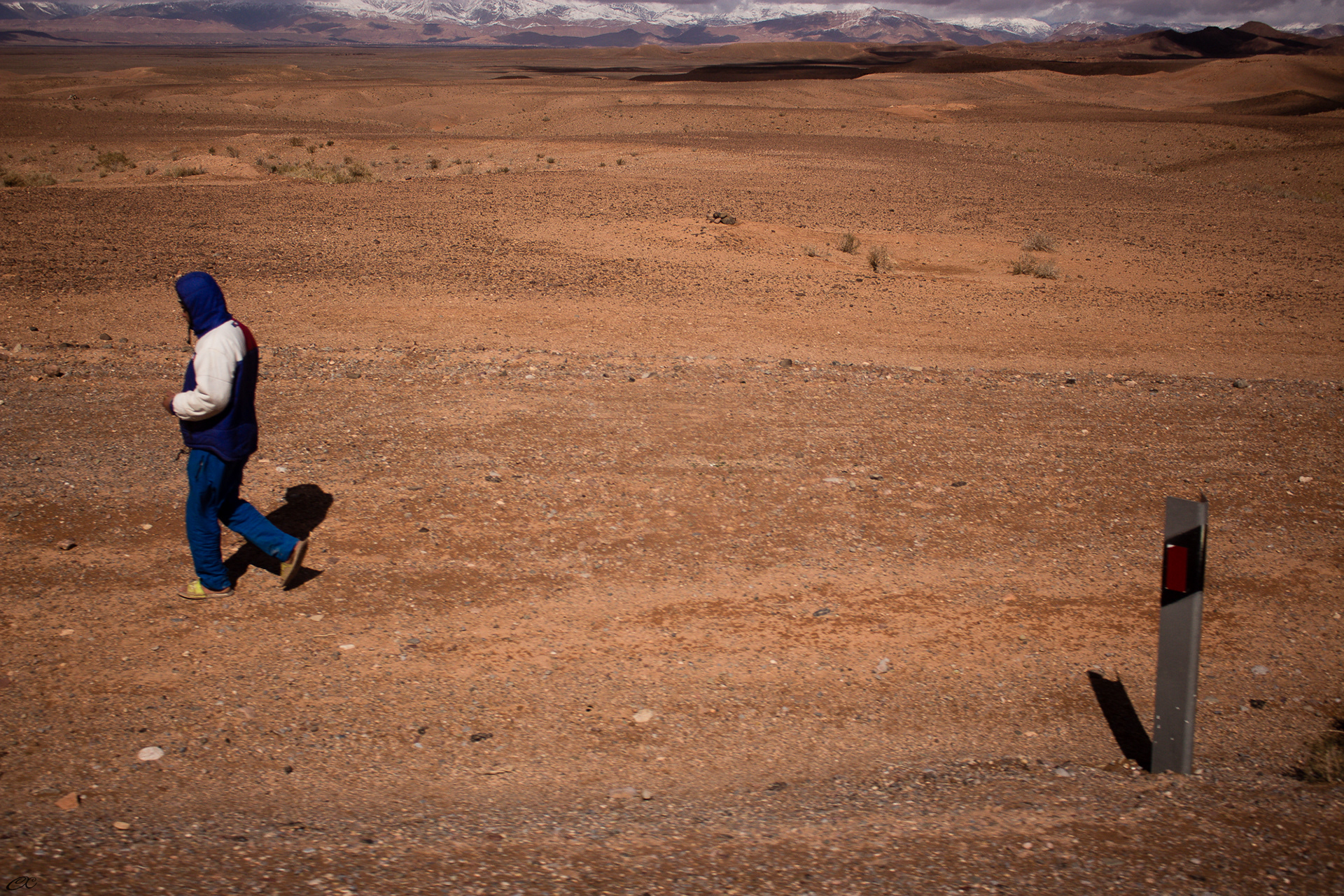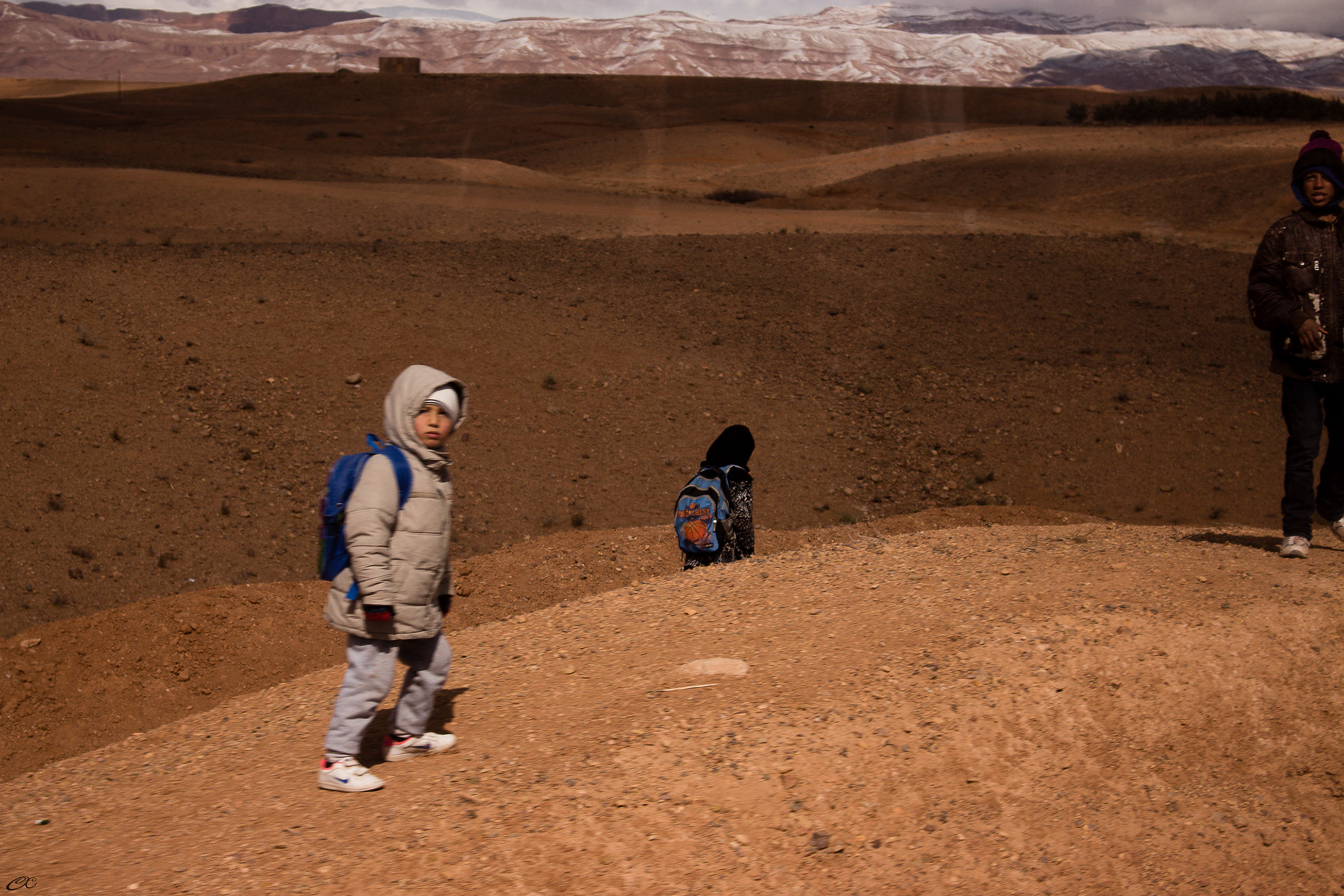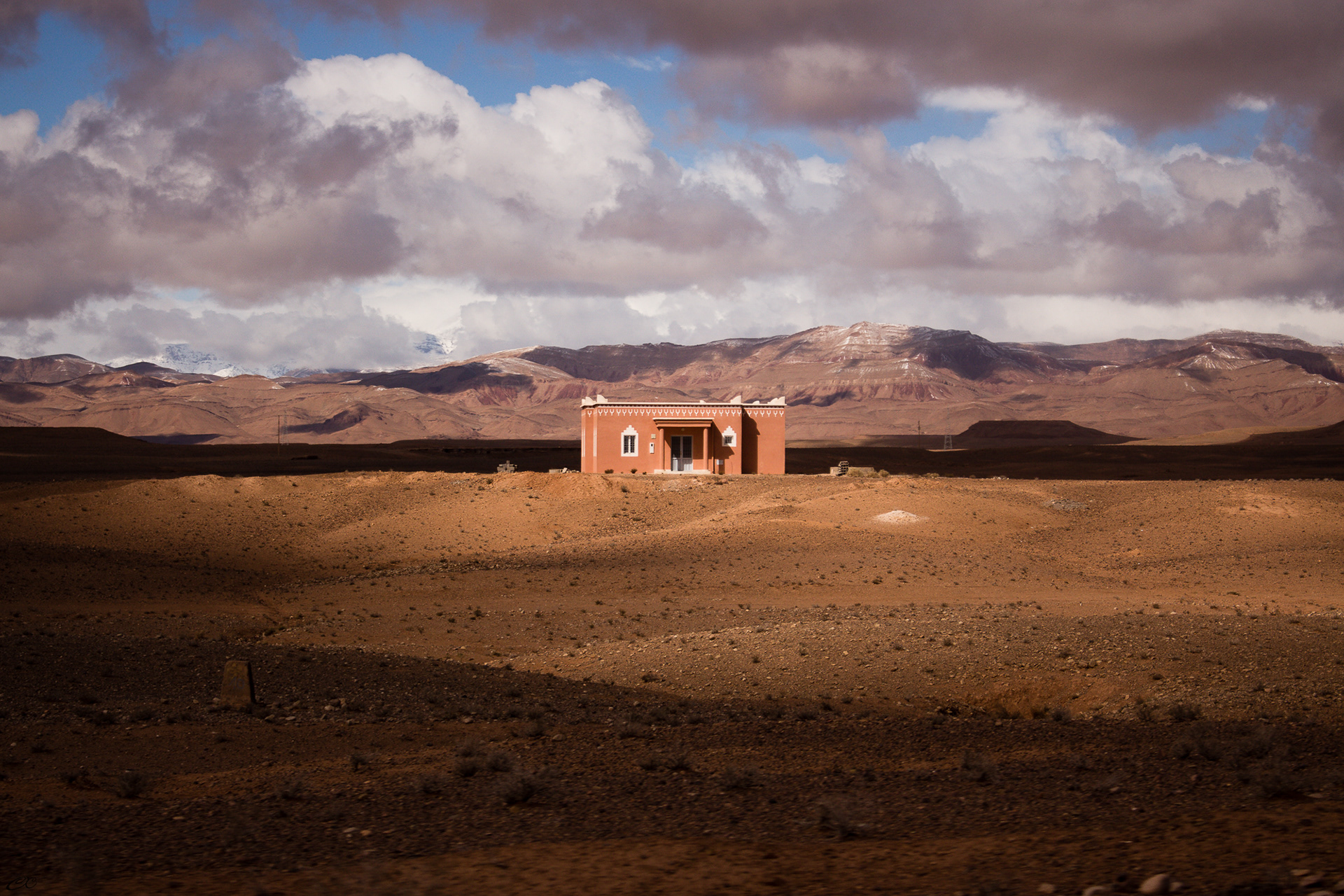 This village with more than 30 000 inhabitants is in the crossing between the Valley of Dadès, the Valley of the Roses and the Valley of the Birds. It is a high village, and the palm trees don't grow here.
We got our asses out of the bus and went to kill our hunger with some delicious beans soup and bread and tea. There was a minibus heading to the valley, we hopped on, it was cool inside, the roof was decorated with a kind of carpet, and what should be for 7 people was full with about 12 or more of us.
The road fast turned to beautiful landscapes as we were starting to follow the valley, and going upwards, leaving the small river down, far away in the deepness of the throat of the dry land. We got out as the end of the afternoon approached, the sun was going away and the cold was starting to make his presence felt. Still we had time to walk about two hours. Up ahead in the mountains there were some shepard kids with their goats, and they had some fun screaming and throwing us stones, which was a bit scary as they would violently hit the floor next to us. Then, a bit ahead, from down of the silent mountain came a little kid of about 6 years old, and he asked us for food. We only had some Dattes that we gave him. He didn't want me to take his picture. We kept on walking and wandered about the life of the Amazigh, known as the free people, the Berbers from the mountain. We saw lots of caves, small holes on the giant mountains, but big enough to host one or more families.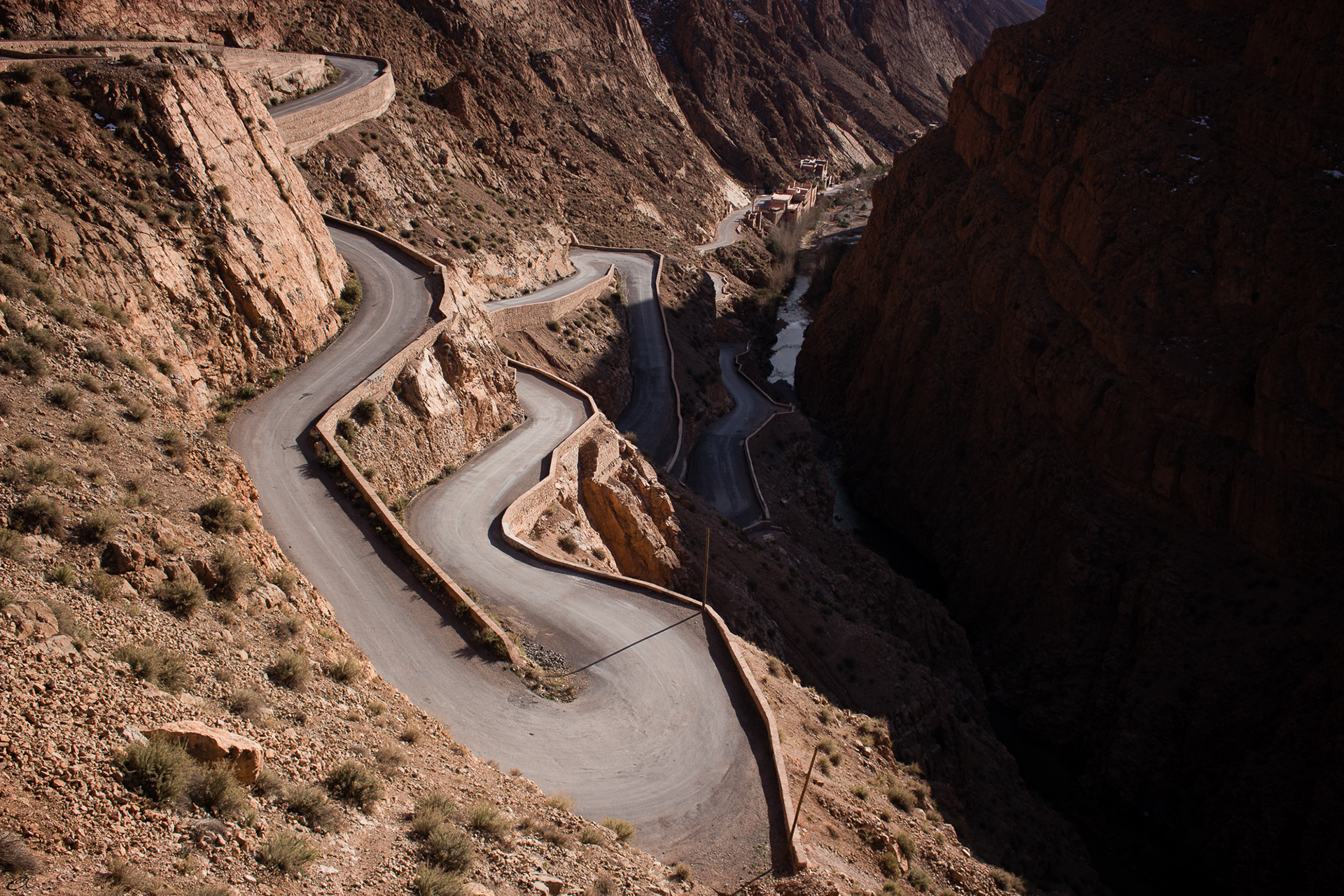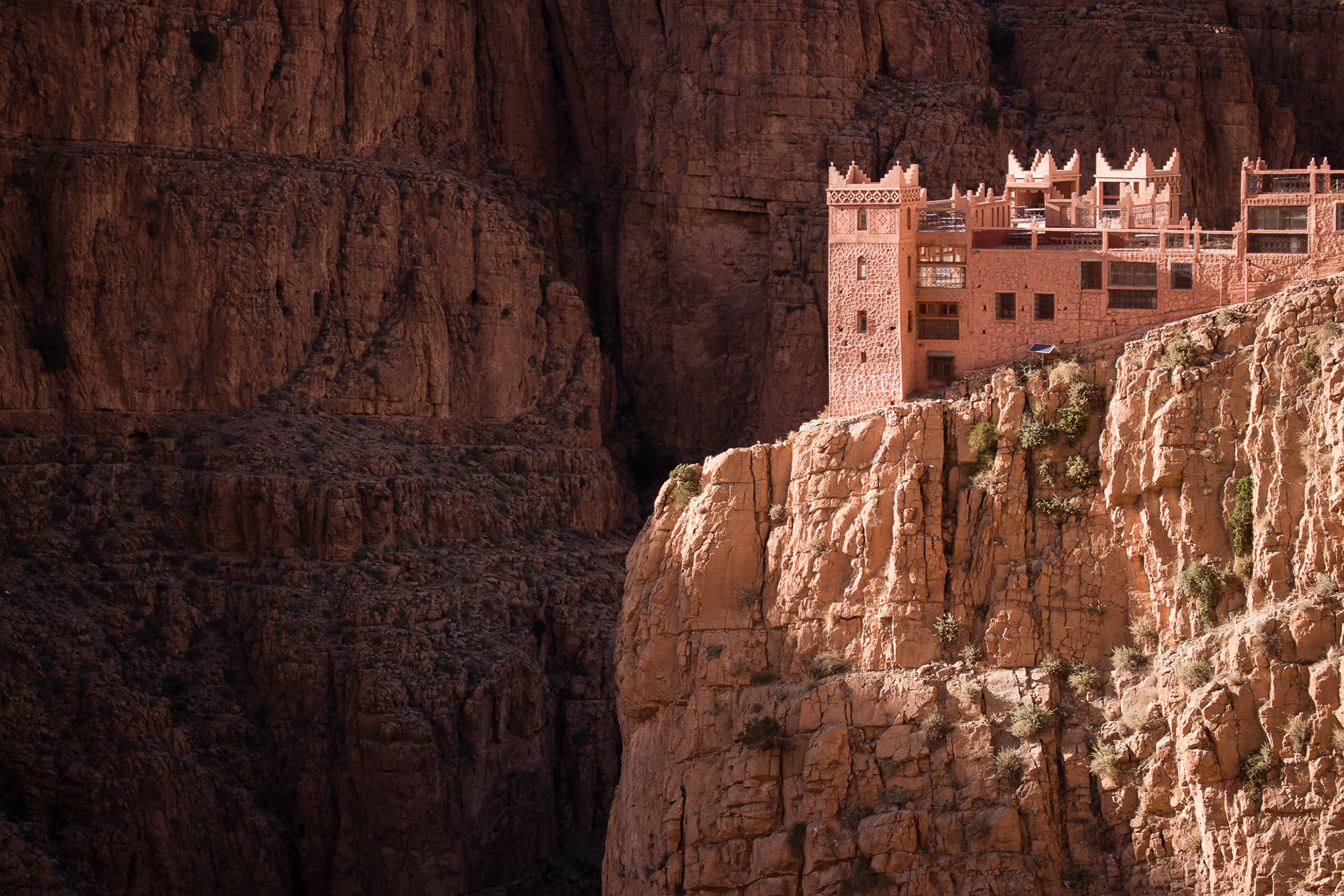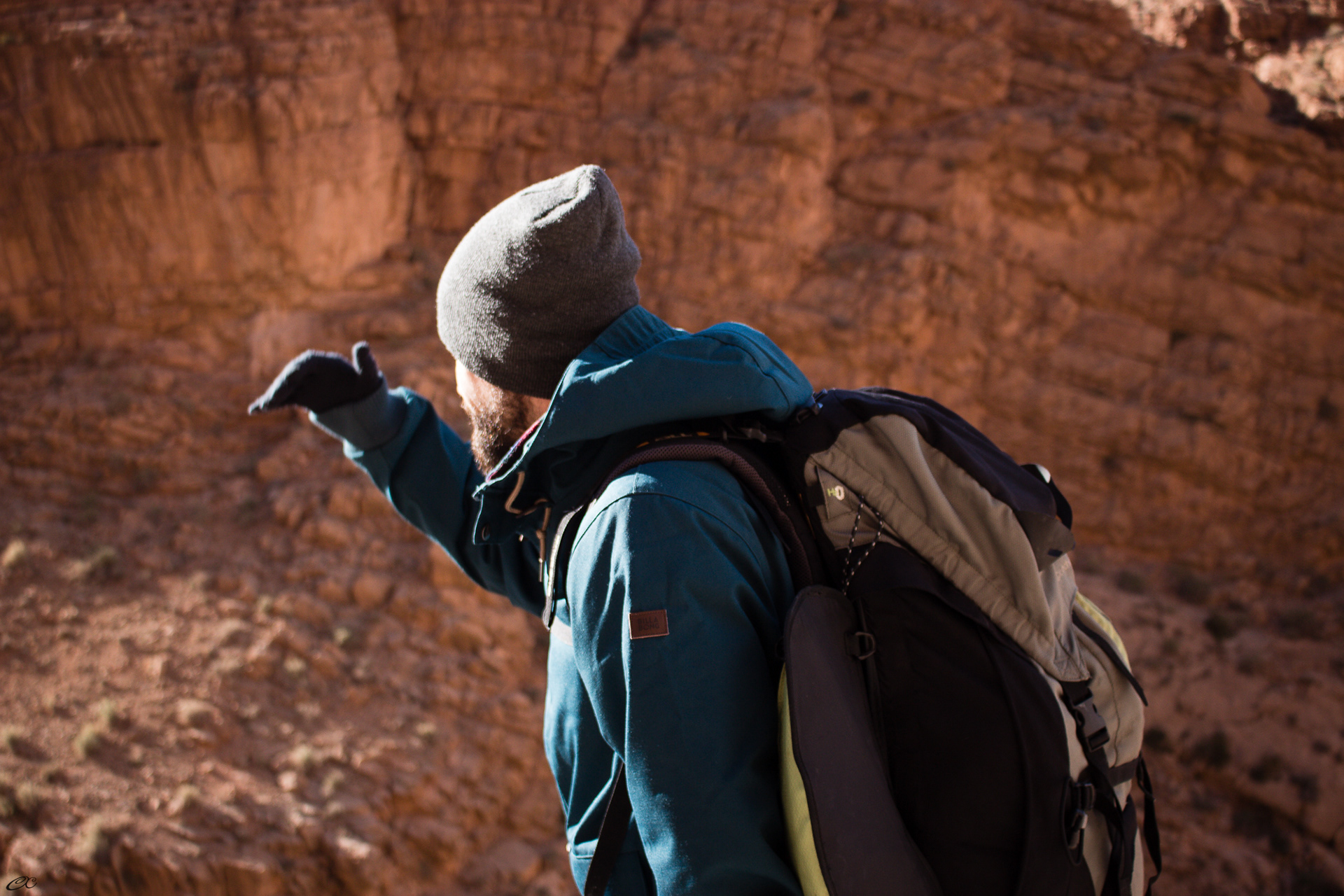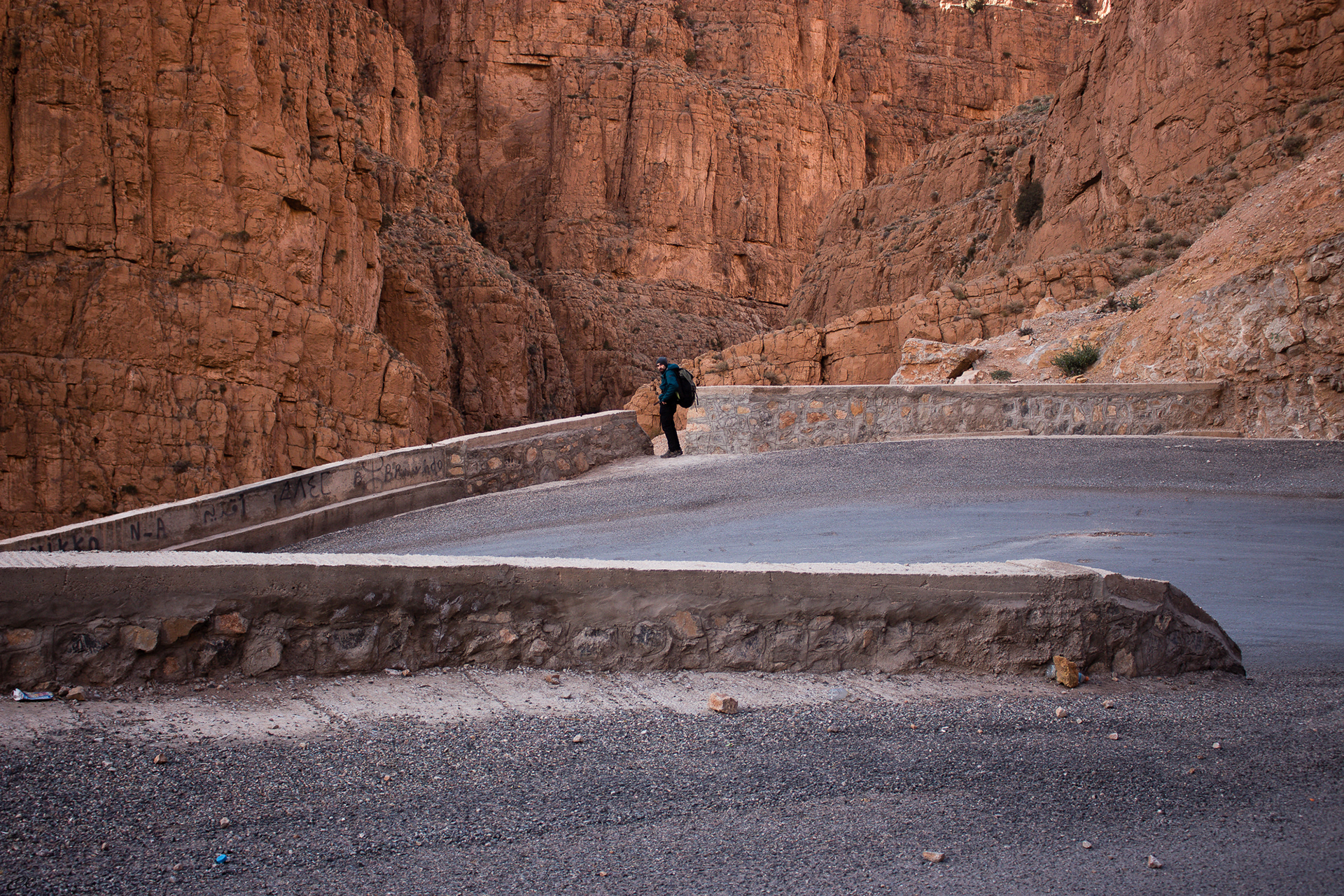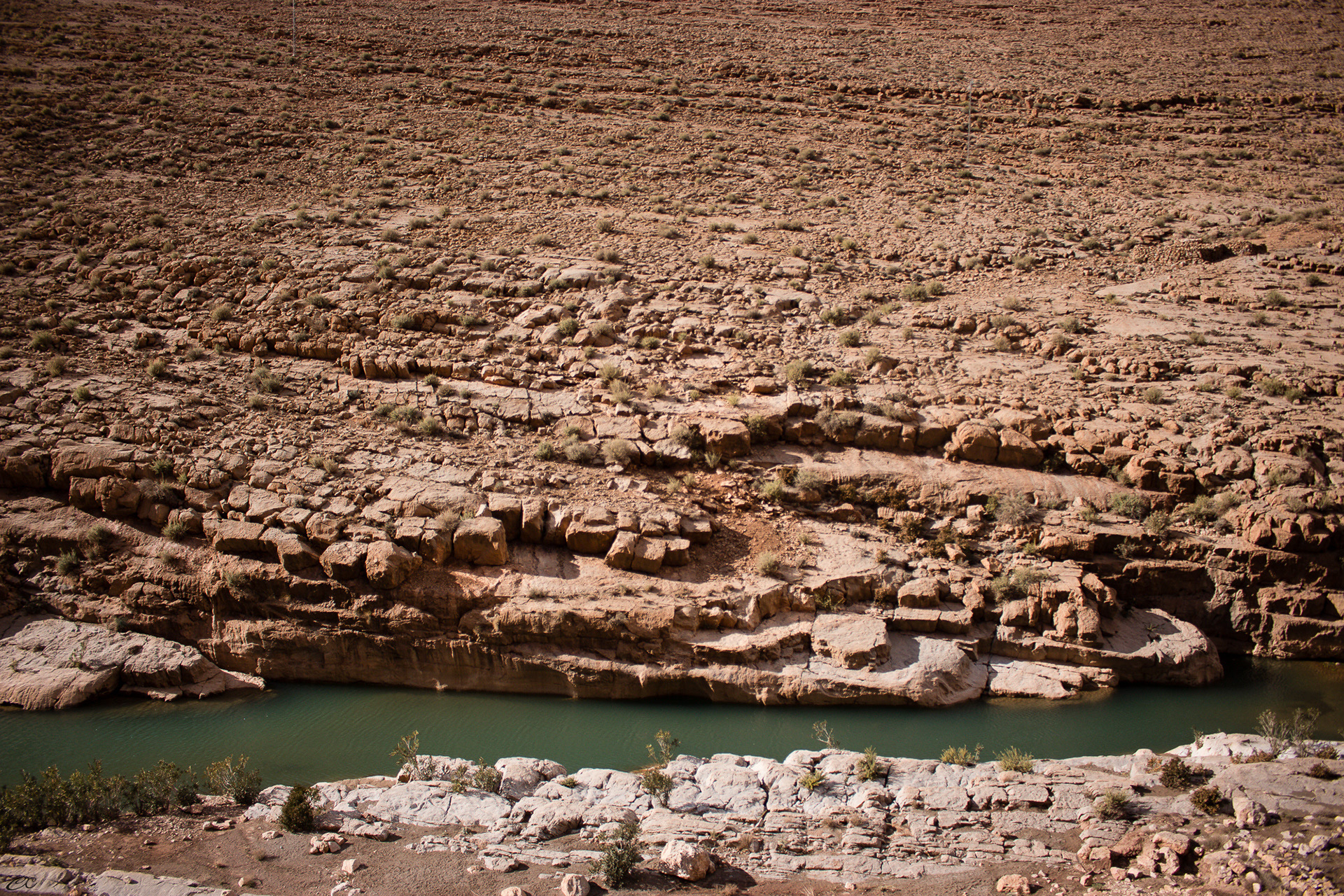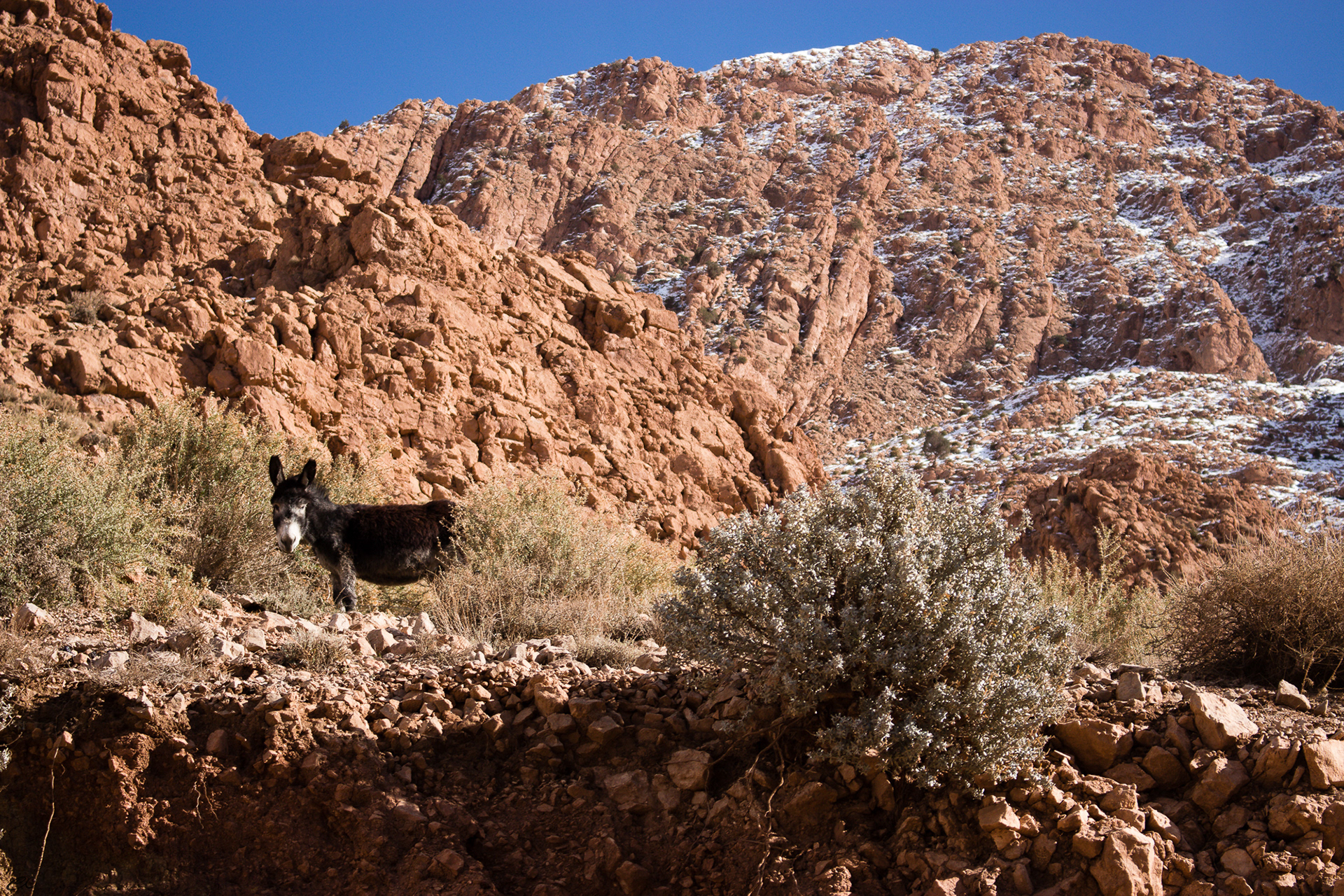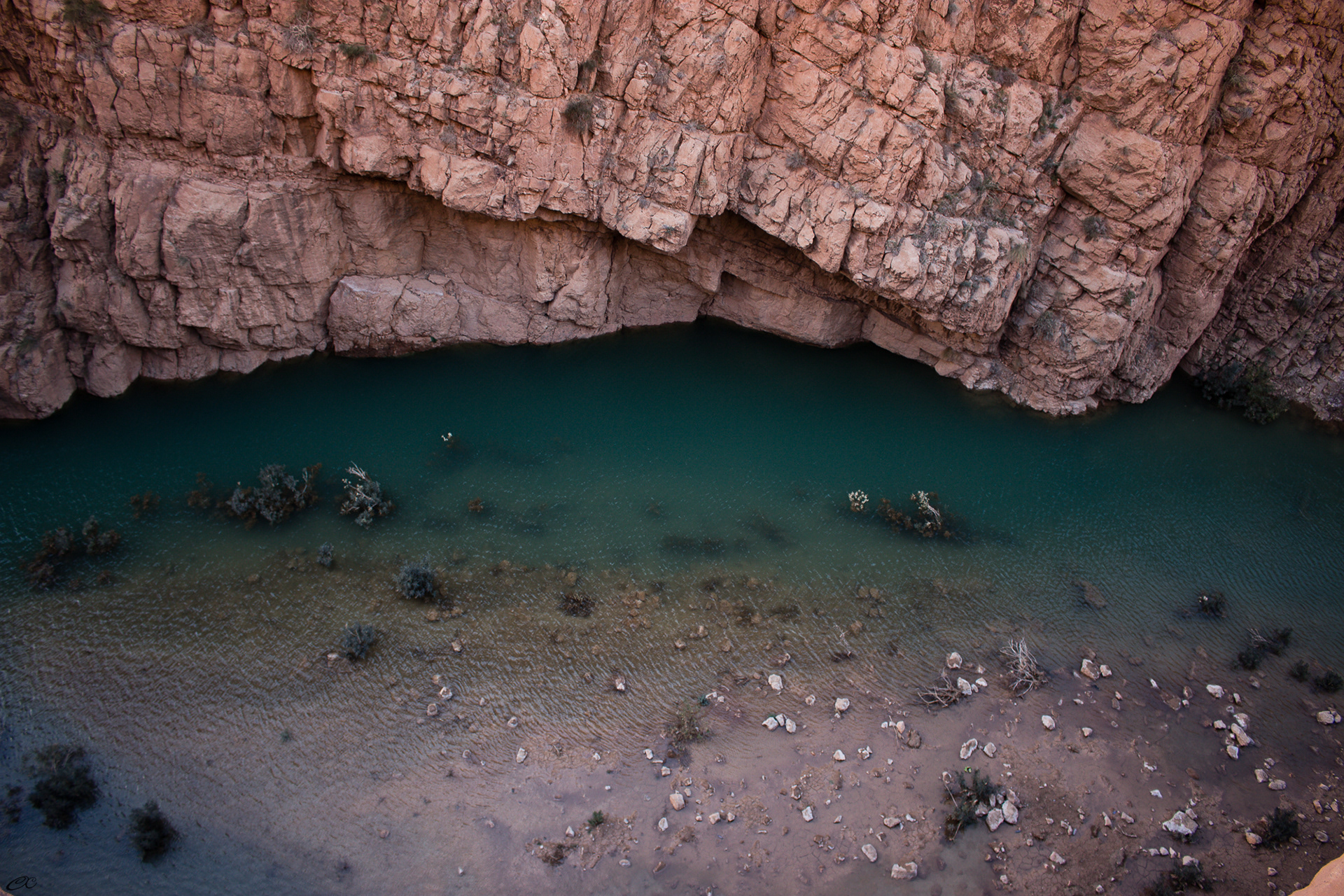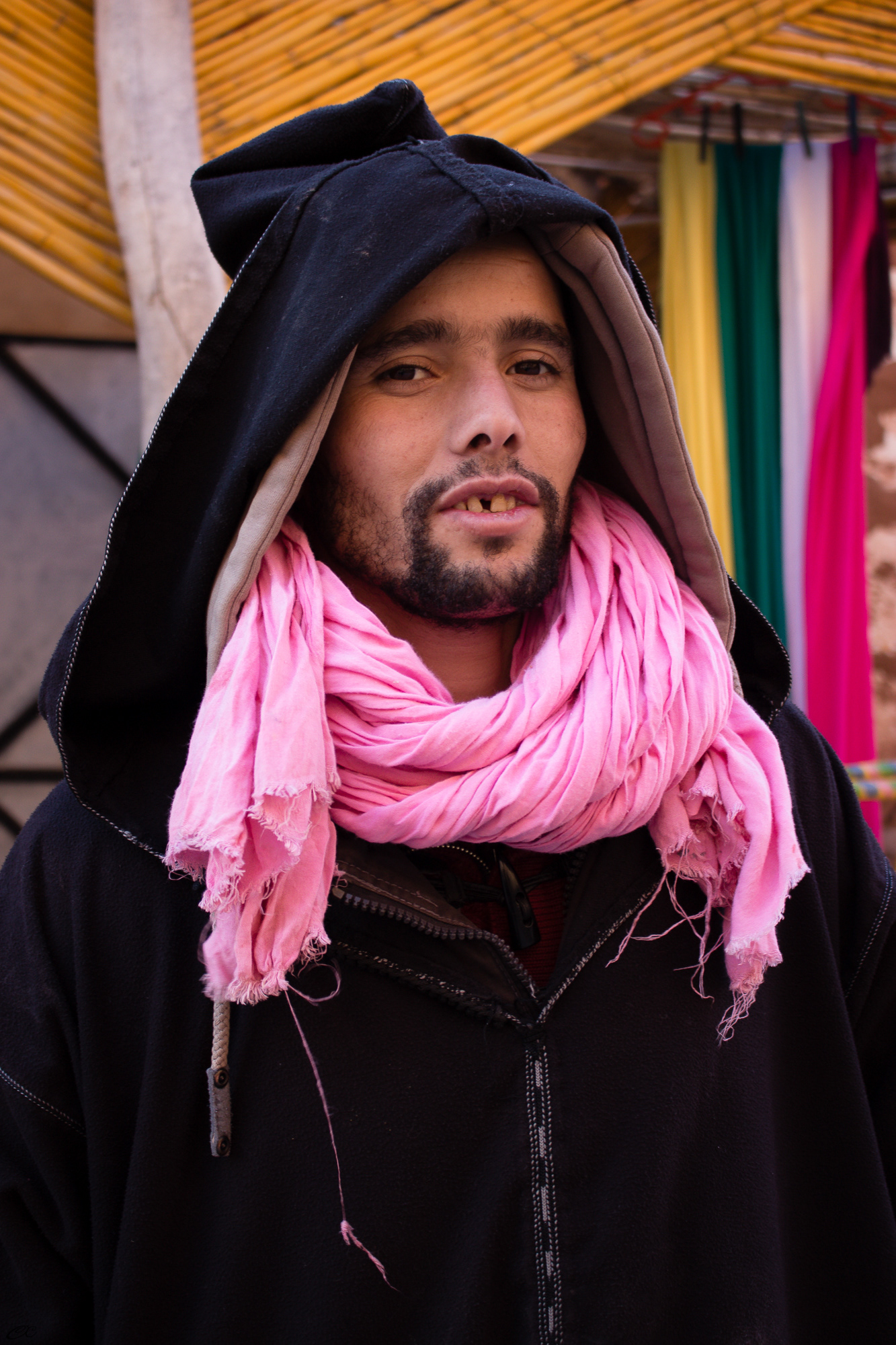 FROM THE DADÈS VALLEY TO THE DESERT
We woke up with the rising sun. We walked by the valley on this beautiful road, got our thumbs up, and in 5 minutes a small van stopped to give us a ride. Arriving to the village, we gave the driver some Dirhams, and we went to bargain our bus ticket to the desert. Yes, even the bus tickets can be bargained in Morocco, even Moroccans have to do it sometimes. And then there is always someone asking you for money just to put your backpack on the compartiment of the bus, up to you if you want to just give or if you don't find it appropriate.
We had again some bus time, started to be a routine for us there, on a constant move. This shows on my pictures, many traken from a window, moving; not so much portraits this time, just passing by, unfortunatelly the time was short, but the wish to come back without a clock or a calendar remains very alive.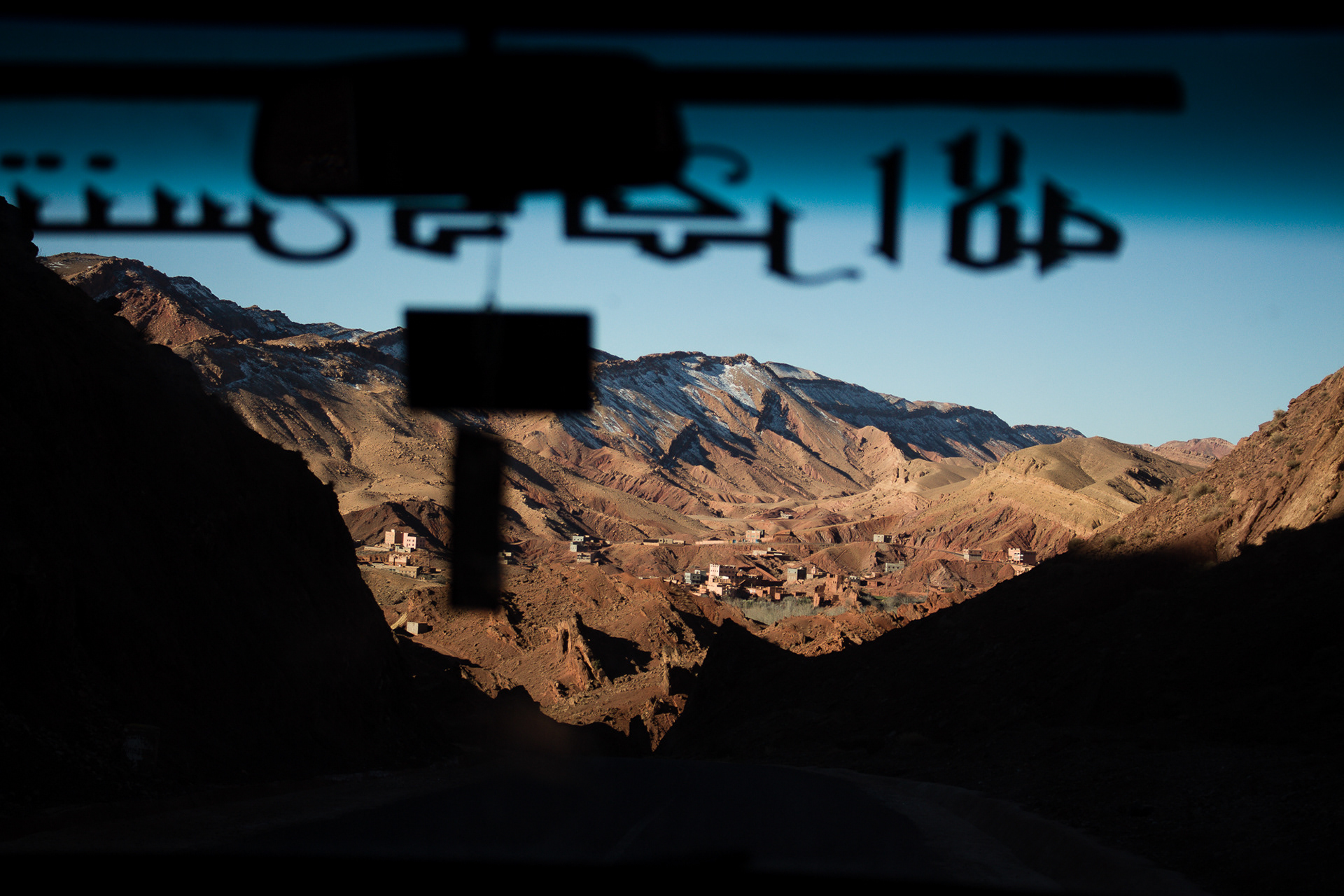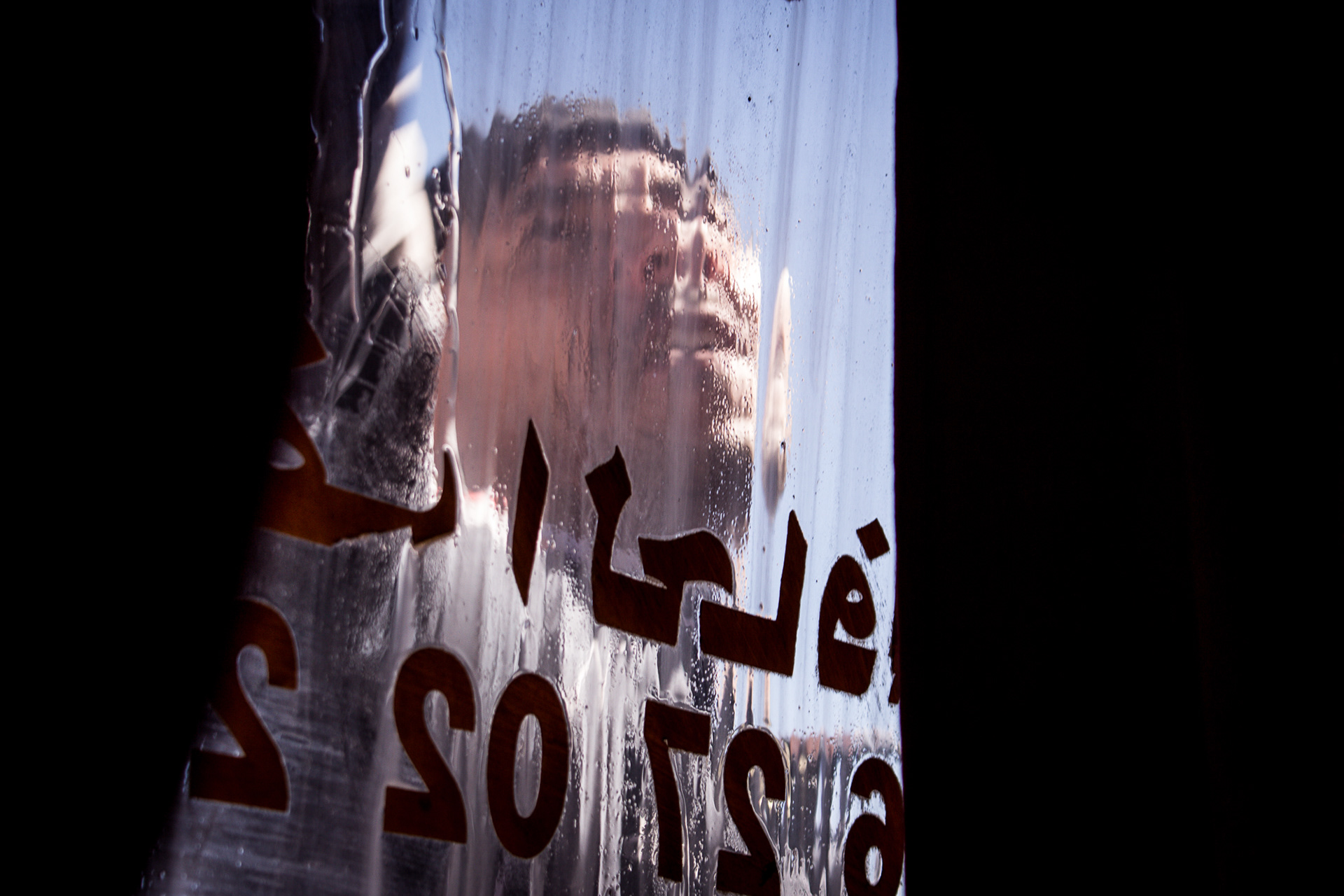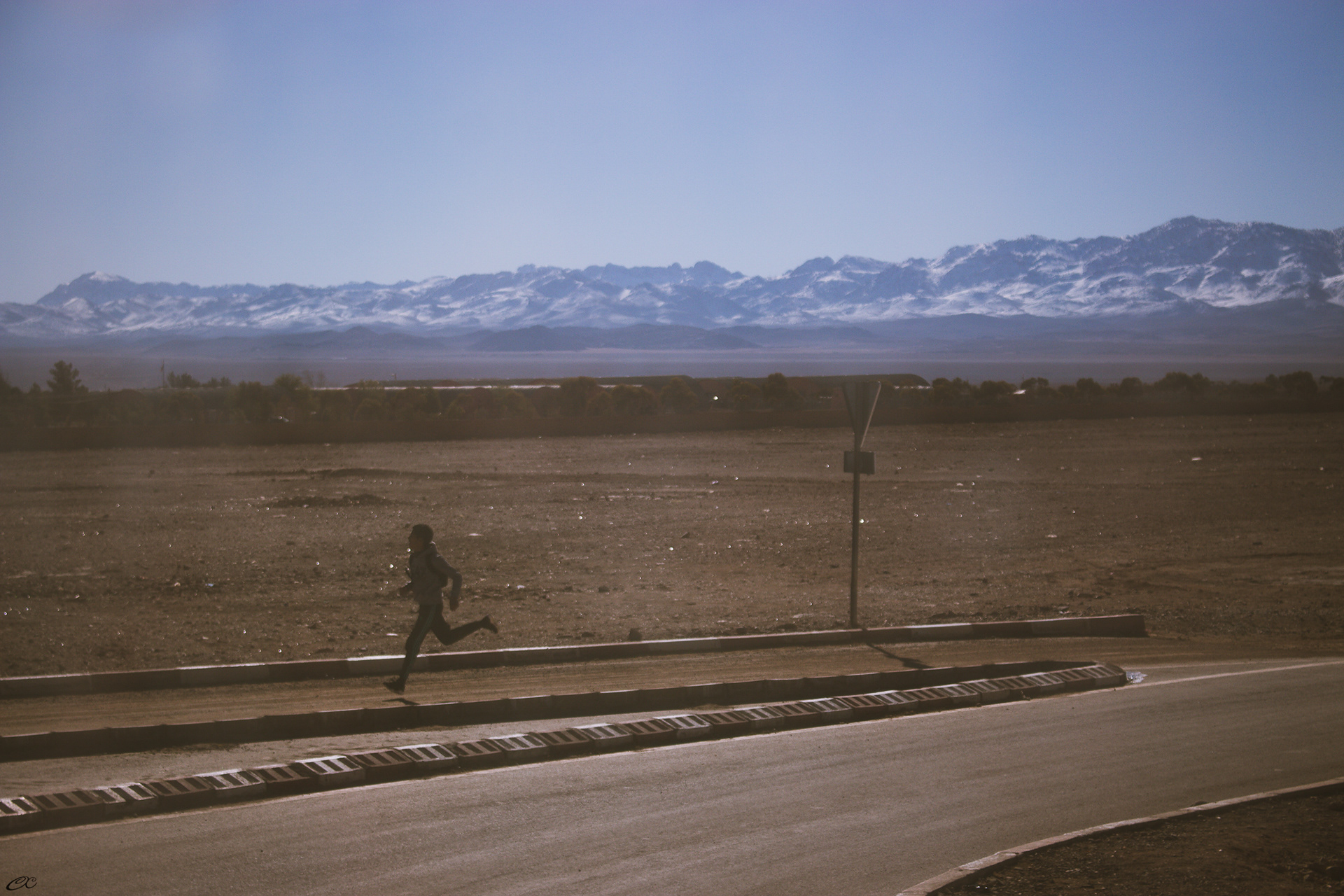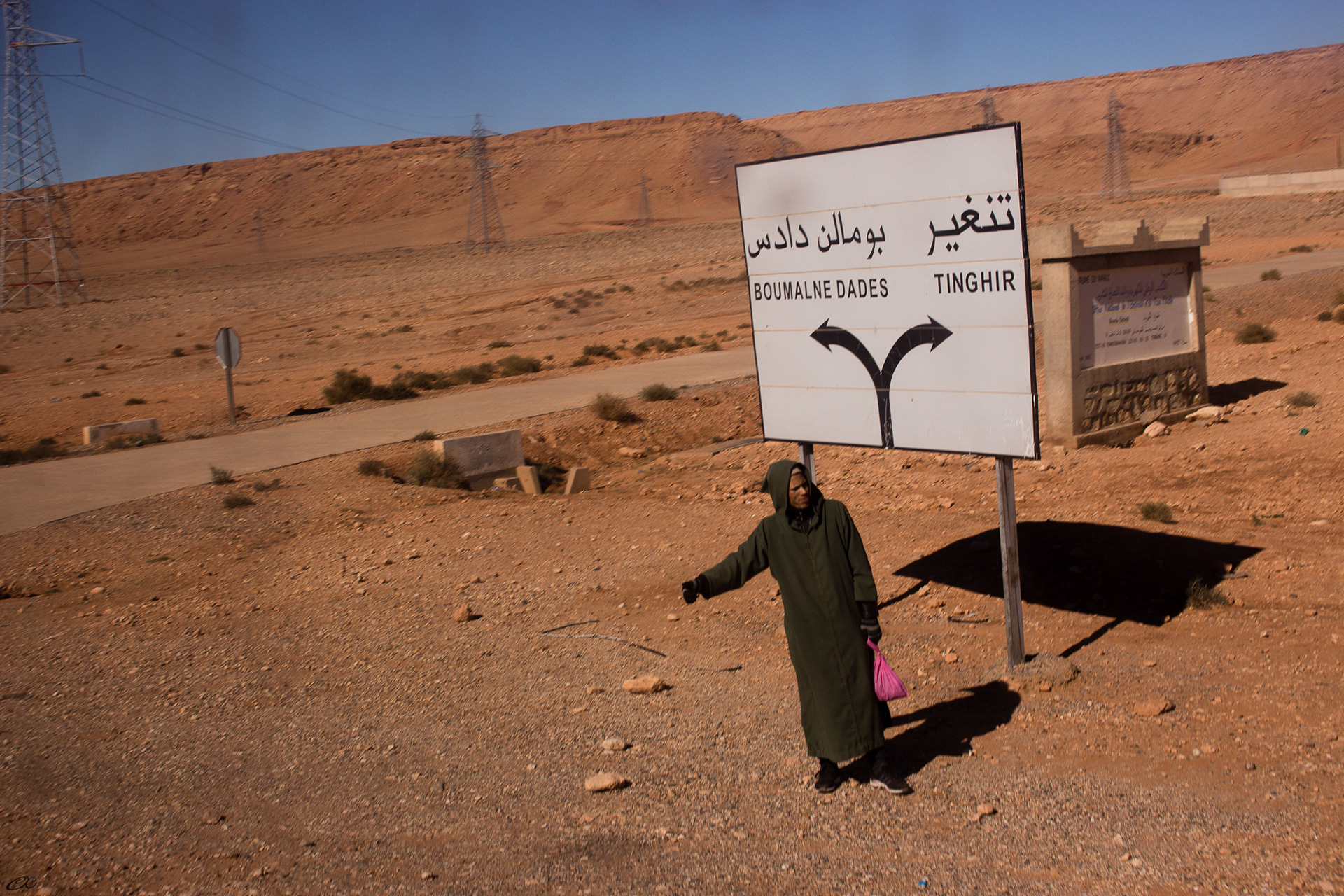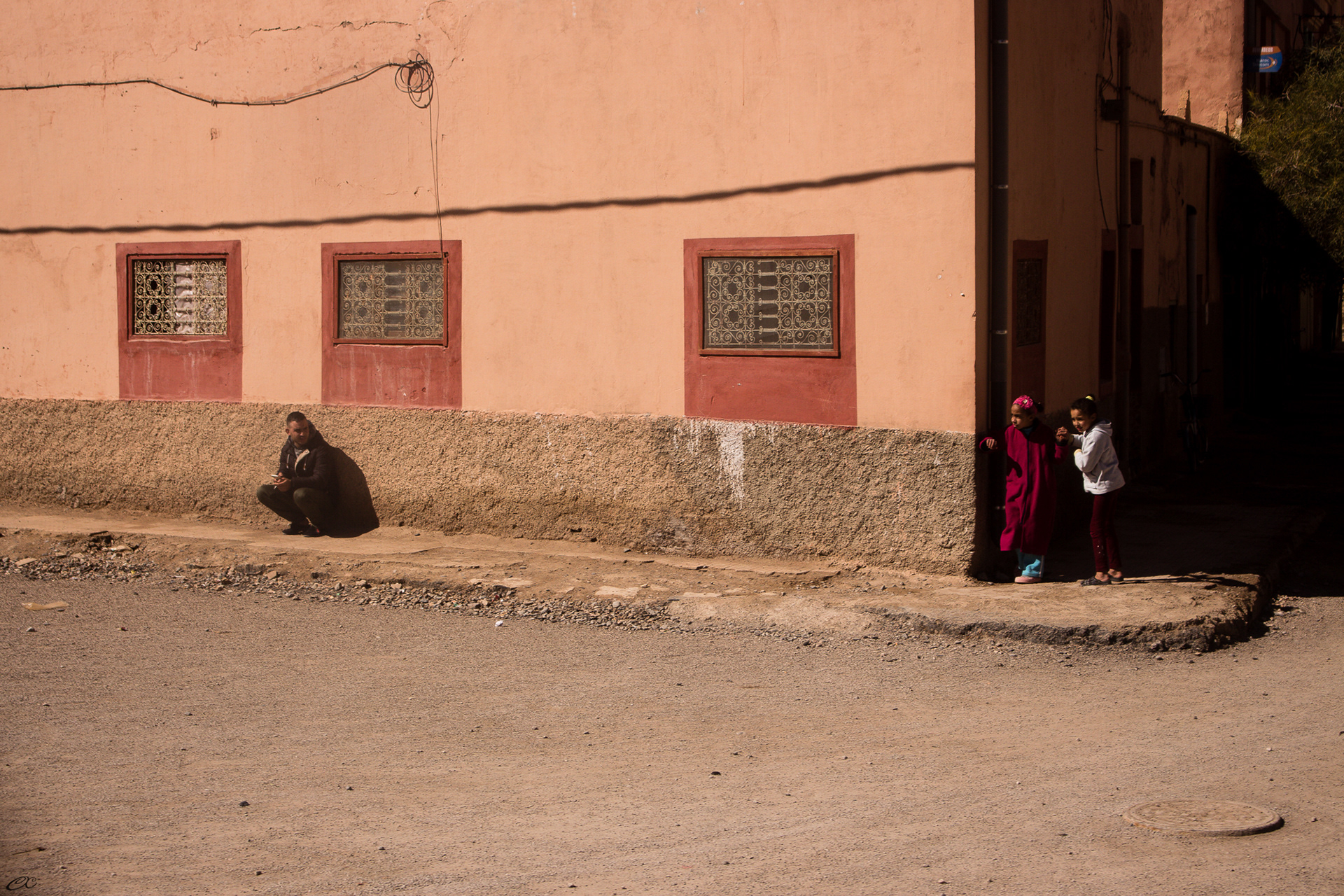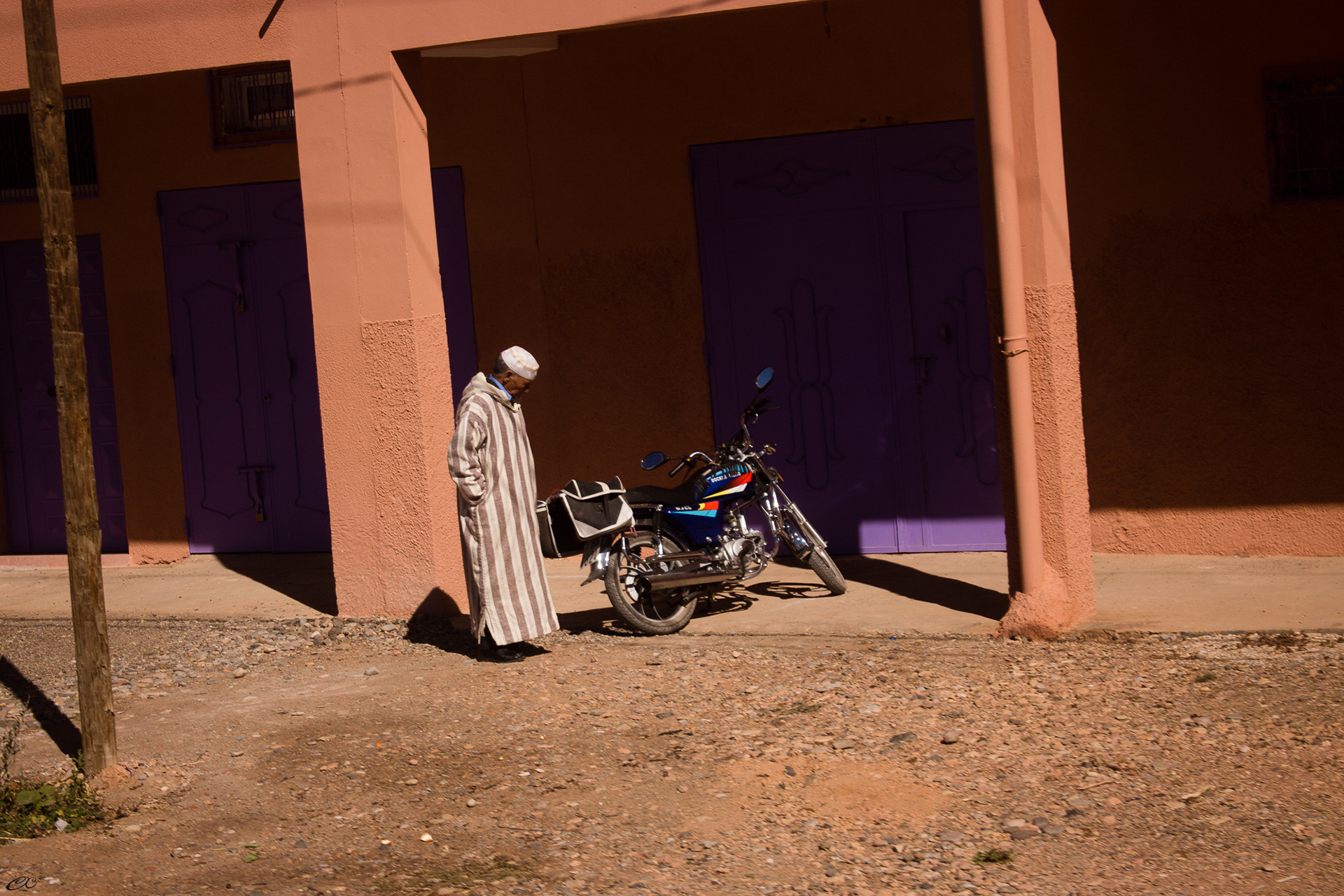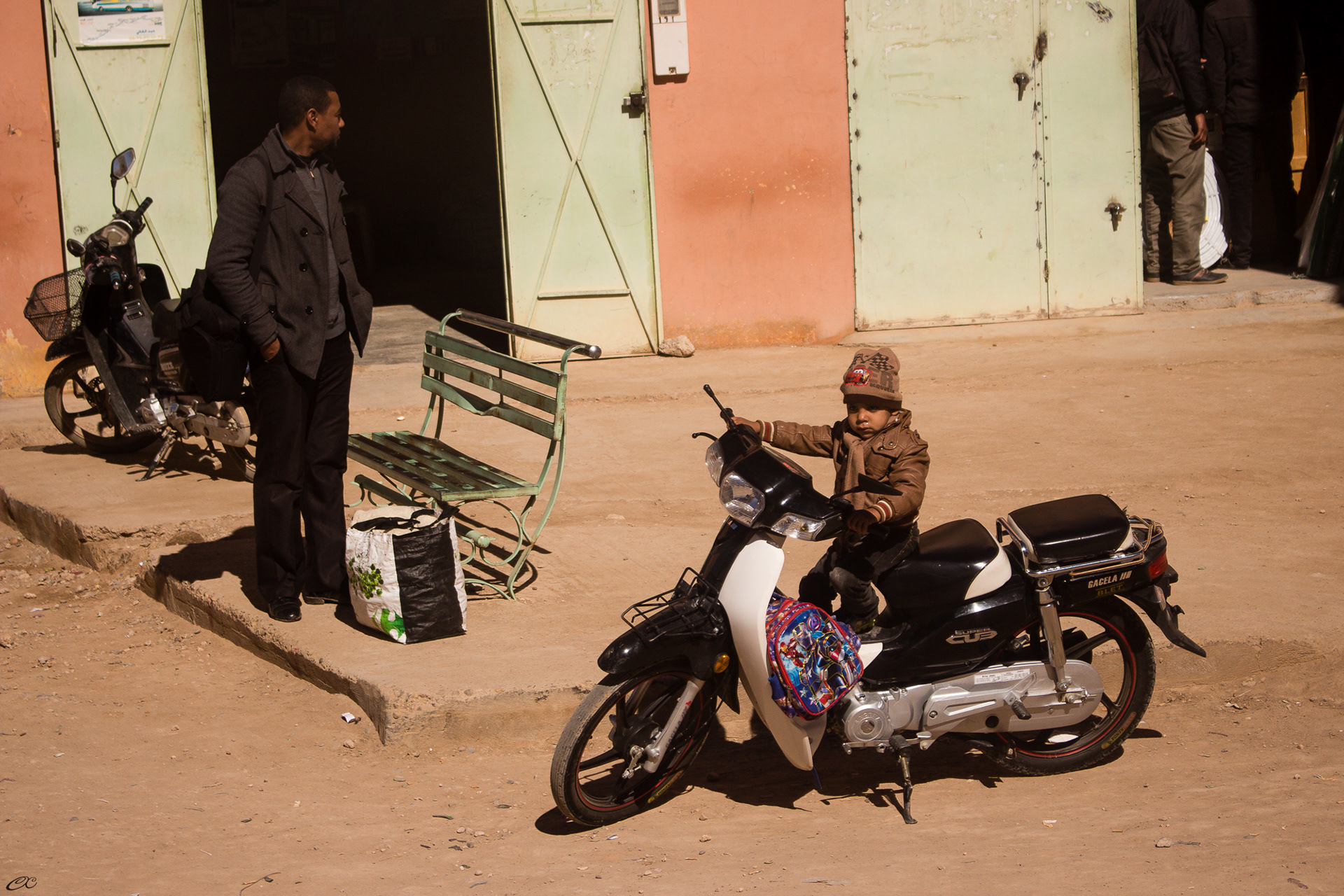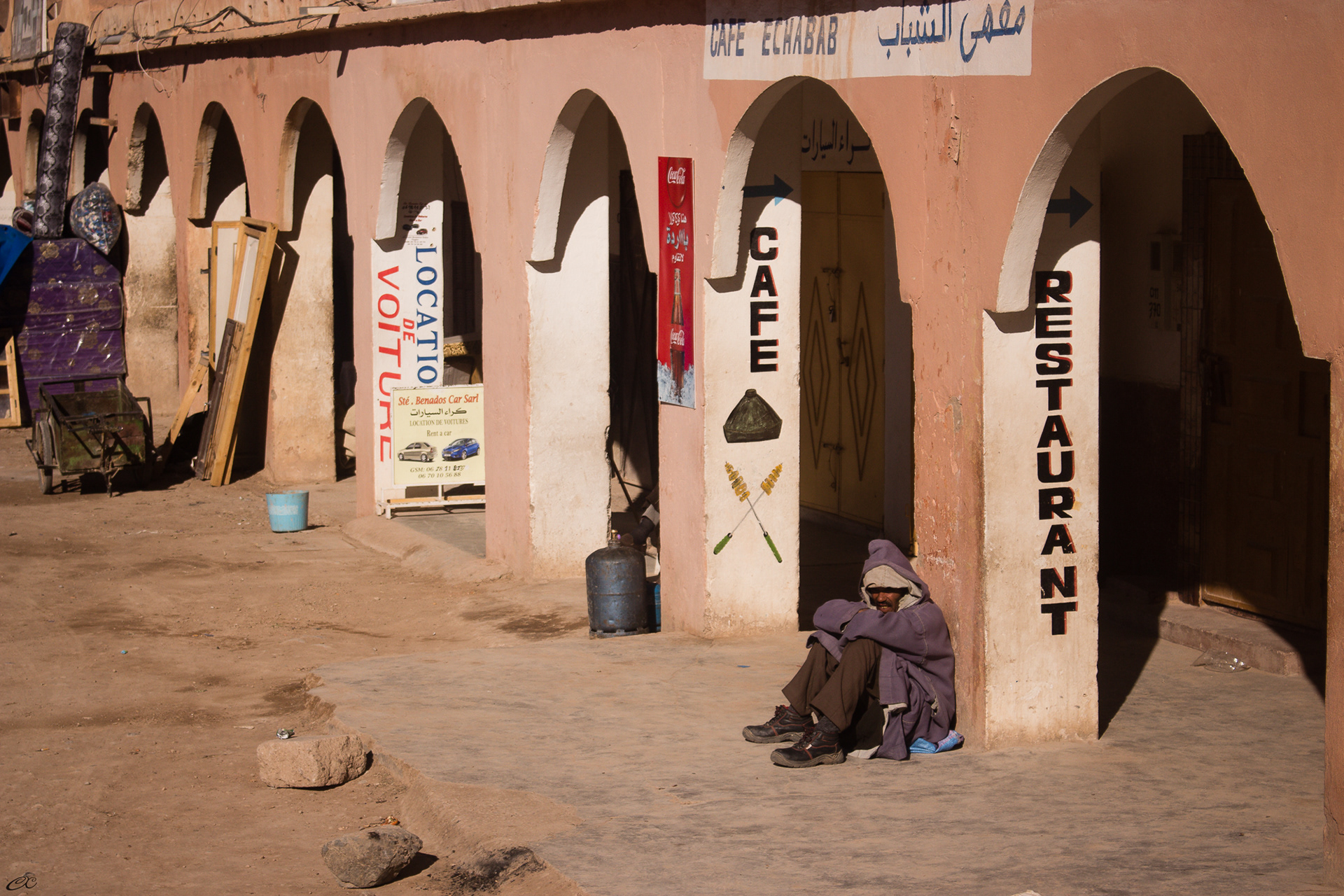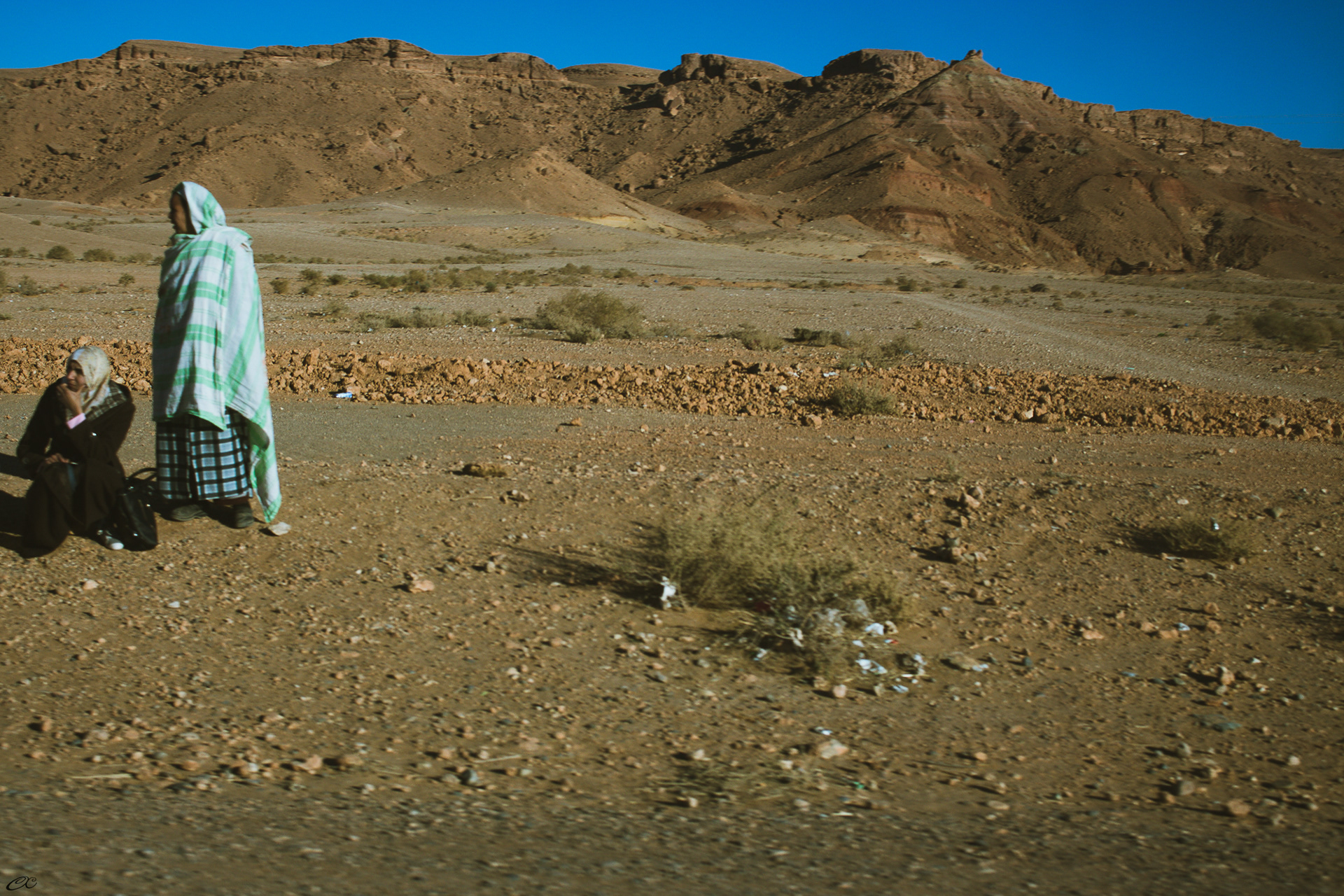 In the beginning of the afternoon we arrived to Erachidia. In the bus station we met a young guy and we went to eat together. His friend Saad sometimes goes to the desert with travellers, and we all got along very well, and he joined us on the trip.
We got a shared taxi and headed to the entrance of the desert. Got out in Rrisani and went to Hassilabied, a very small village in the desert, before the touristic Merzouga. These are the villages born from the seeds of palm trees left by the nomads eating their dates in their caravans back in the days, therefore creating the oasis at the feet of the desert; now it's about 30 years they became sedentary, but are still relatively apart from the materialistic needs of the "normal" society, few years ago there was still no electricity there because the inhabitants refused to pay.
And so we met Mostapha, our guide, and we walked in the sand until we got to our dromedaries. As we hopped on them, the sun touched the horizon, Saad put on some Gnawa music and we started to go up and down the dunes with the rythm of the dromedaries, magic like waves of a golden ocean, direction the horizon, the sun already gone behind us, getting darker and colder and quieter, smoothly into the desert like entering in an early night dream, you don't know if it's really real or not but you just enjoy it and flow forward.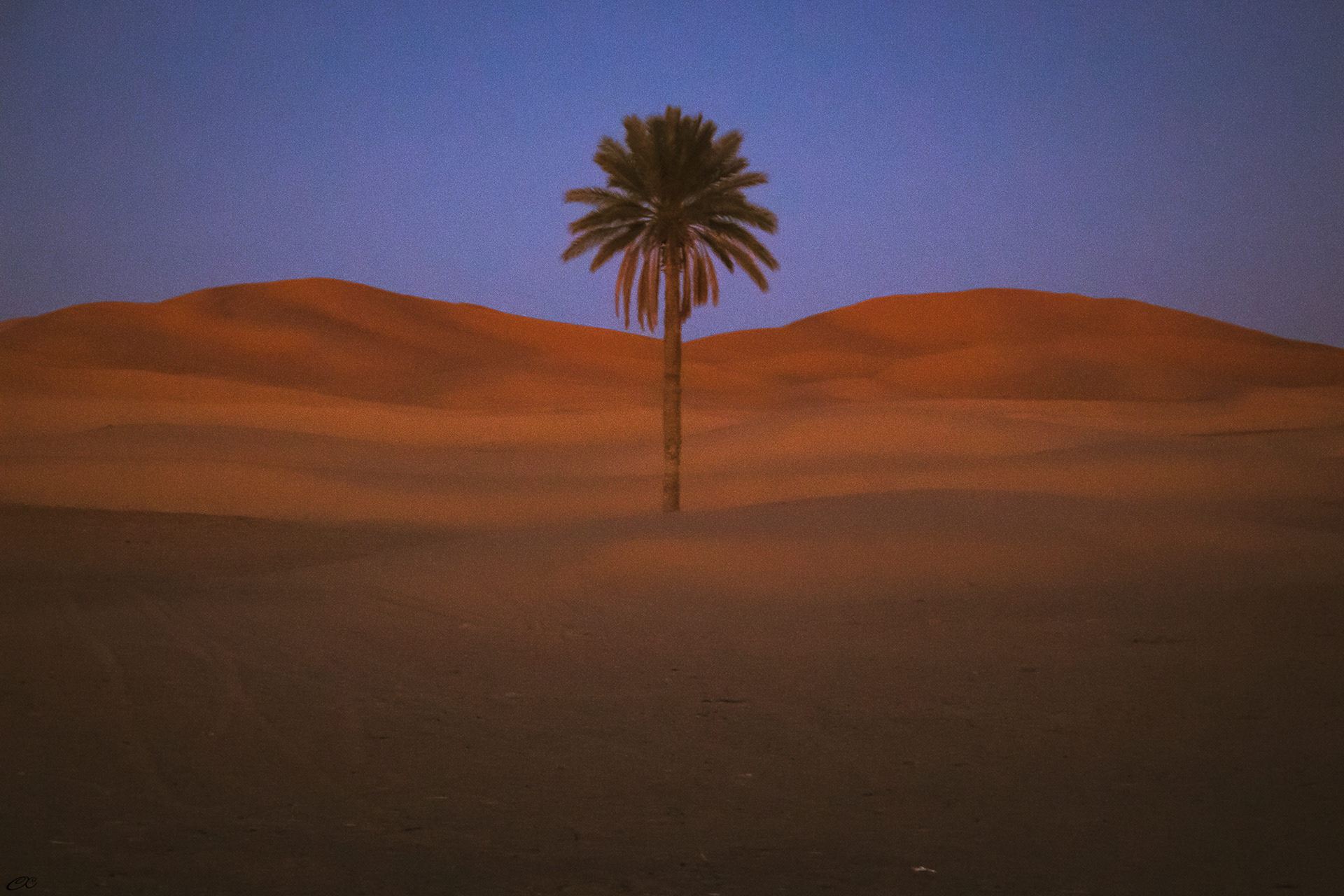 When we arrived to our tents, Mostapha went to prepare some tea, as we discovered the several Djembes and the guitar for lefthanded players missing two strings and the castanets known as qraqab, the famous tchaka tchaka percursion from the Gnawa music. We all played together and shared a delicious Tajine, the food as good as the music and the atmosphere, they were very nice people and we had fun with my recorder as we all listened to our music in the end on the stereo of Saad. We talked about Africa and Europe, Orient and Occident, and legends from the desert. I had heard a story about a family that rejected their son and Allah punished them by bringing tons of sand upon them, and so the dunes of the Sahara were created. But Mostapha told me about the version that he heard, "I don't know if it's true...", that there was a tribe of black people that cleaned their ass to the bread, and for this Allah punished them, and sand upon them, and the dunes were born. They also told us there is water underneath, that's why these big dunes stay in their place. Outside our tents there was a deep well with water indeed. Suddently we heard motors in the night, dark as it was, two young guys in their motos that got lost and Mostapha went to guide them, incredible how he knows the ways in between the dunes, underneath a sea of stars that was as incredible as I could wish, laying us down on the dunes to admire the show, gratefull to be alive.
Even if going to sleep one night in the desert is the typical touristic thing to do in the southeast of Morocco, it is worth it. The sunset is amazing, the night sky is really unbelievable, and the sunrise... the sunrise is something you can't miss. Wake up, really. It was cold, I was happy to have some heavy kilos of blankets upon me, and I was so comfortable I didn't really felt like waking up, but I wanted to see the sunrise. With our blankets on our backs we climbed the tallest dune around, the sky between night and day, and you could see the light far away, you could see where it was going to come, and you wanted it to come to heat you up, cold it was, and you wait, and you wait, amongst the silent dunes, and then it starts, the first rays light the way for the big ball of fire to come and give us a big good morning, and there are some long misty seconds before it touches you, and there is this levitation moment when you don't know anymore who you are, not as a singular one but you feel more like you are another dune amongst your sand sisters, and then it goes from your feet to your knees passing your chest and your chin and nose and the light is in your eyes, you can't see as before, it is strong light, but you fall in this giant hug from the sun, a kid again, huging your grandfather and grandmother together, and the smile eventually comes to your face as you live the sunrise in the Sahara Desert, something never to be forgotten.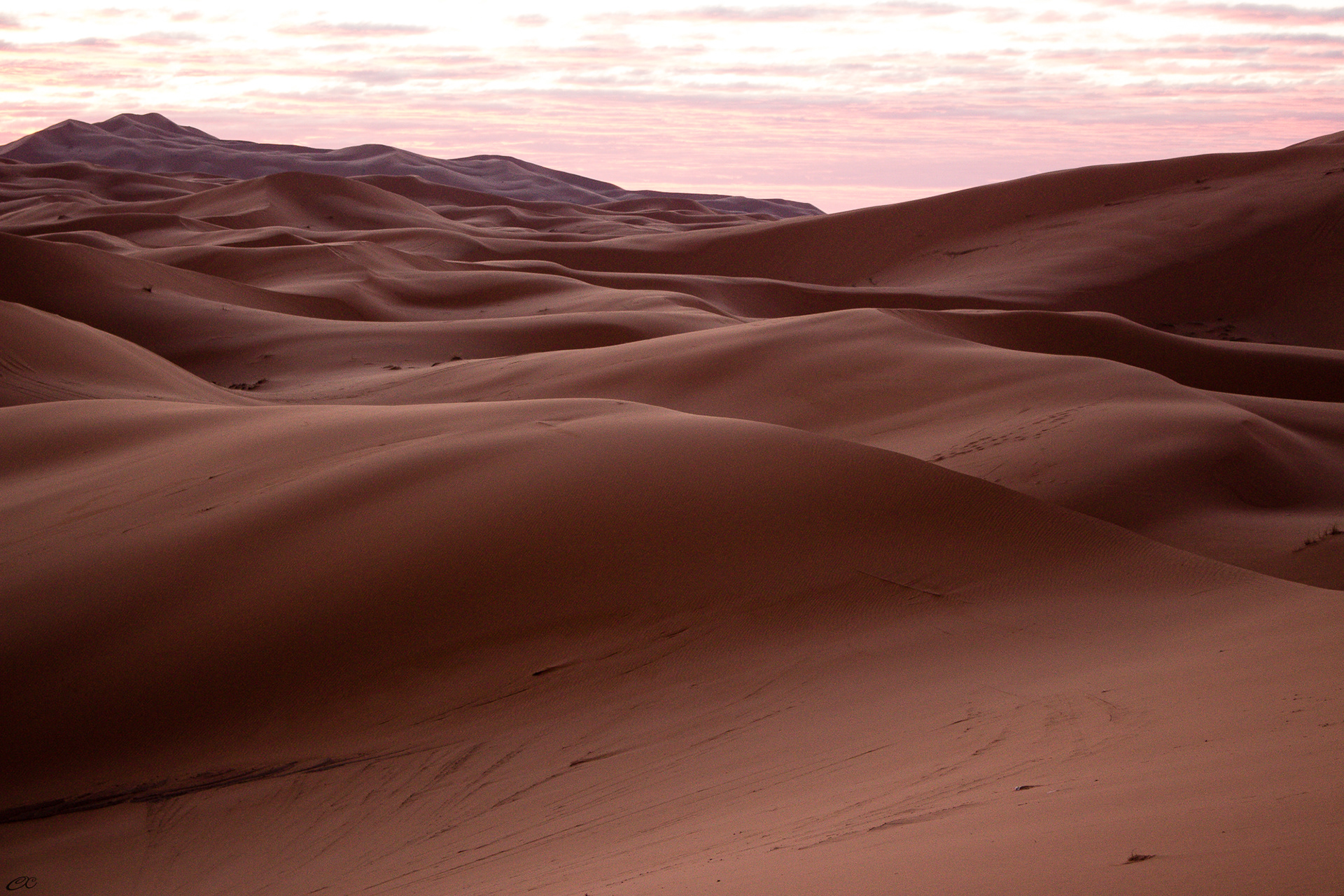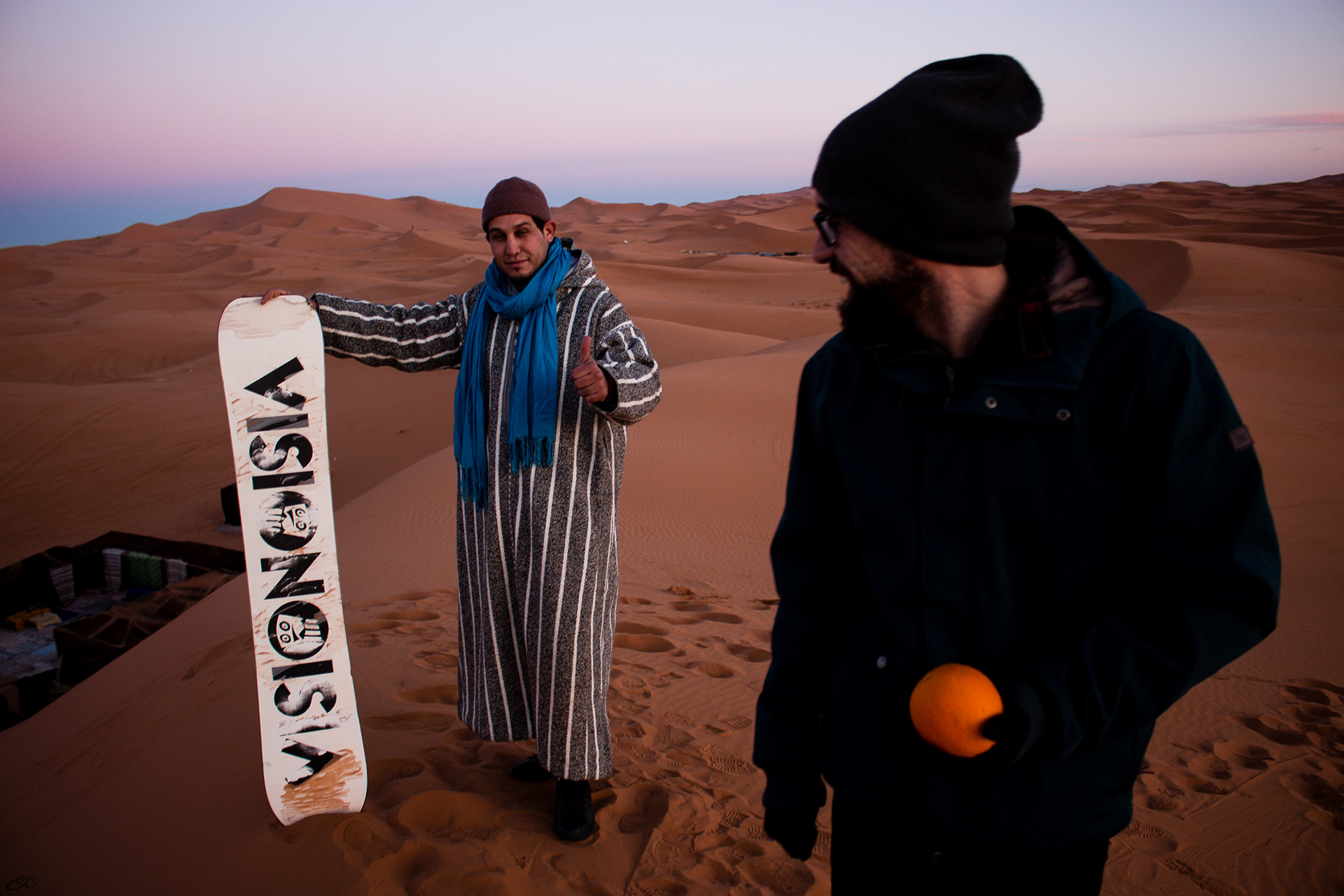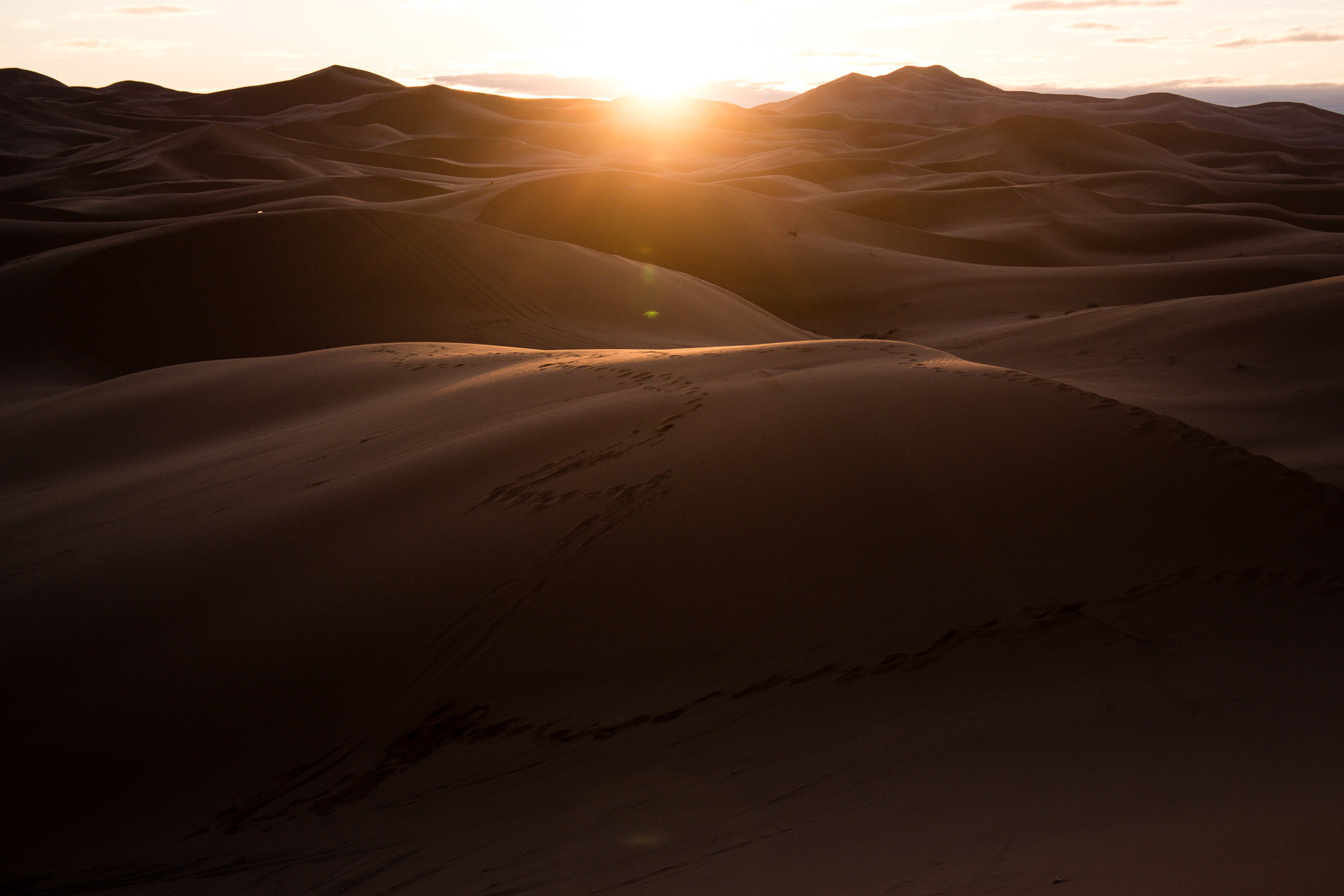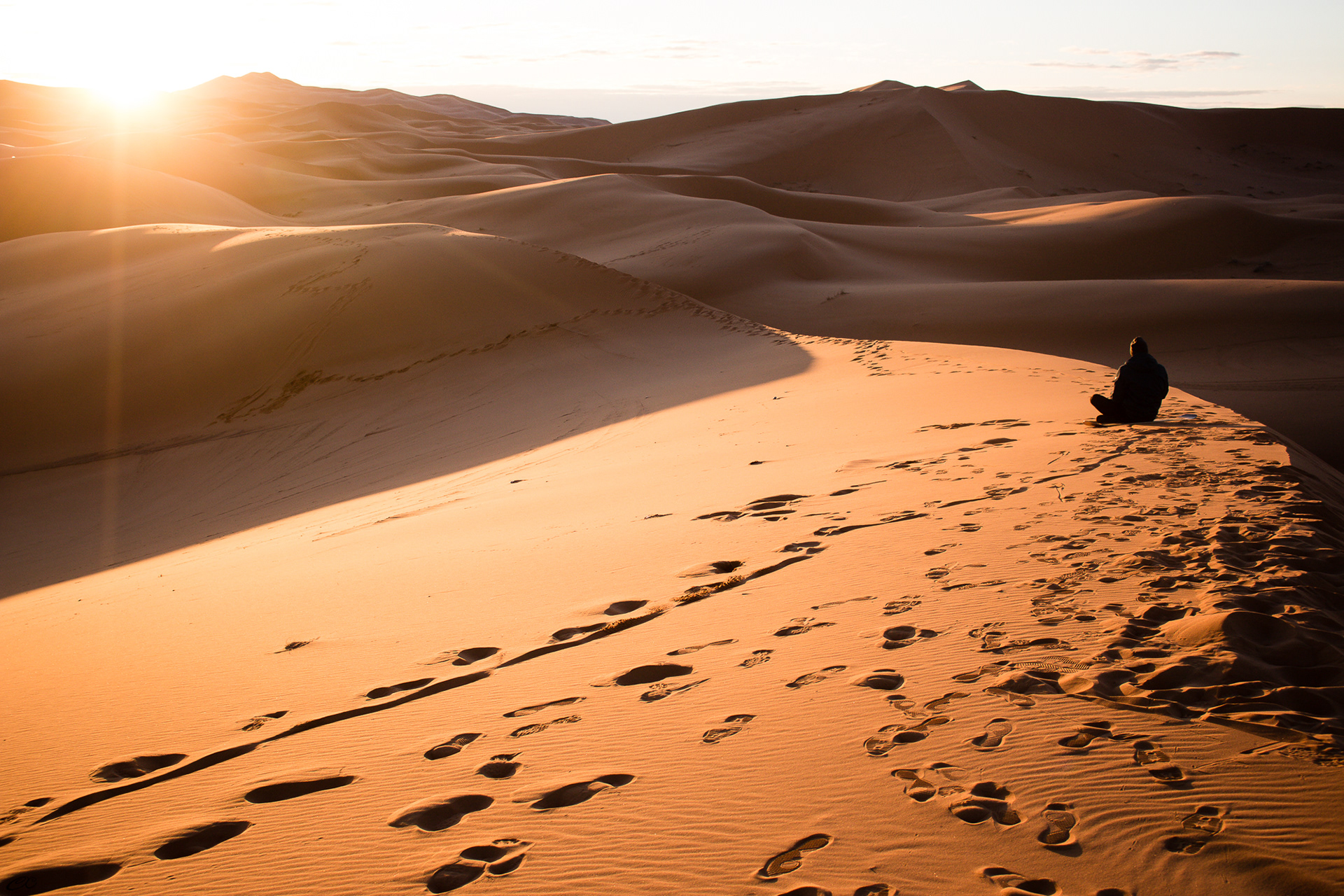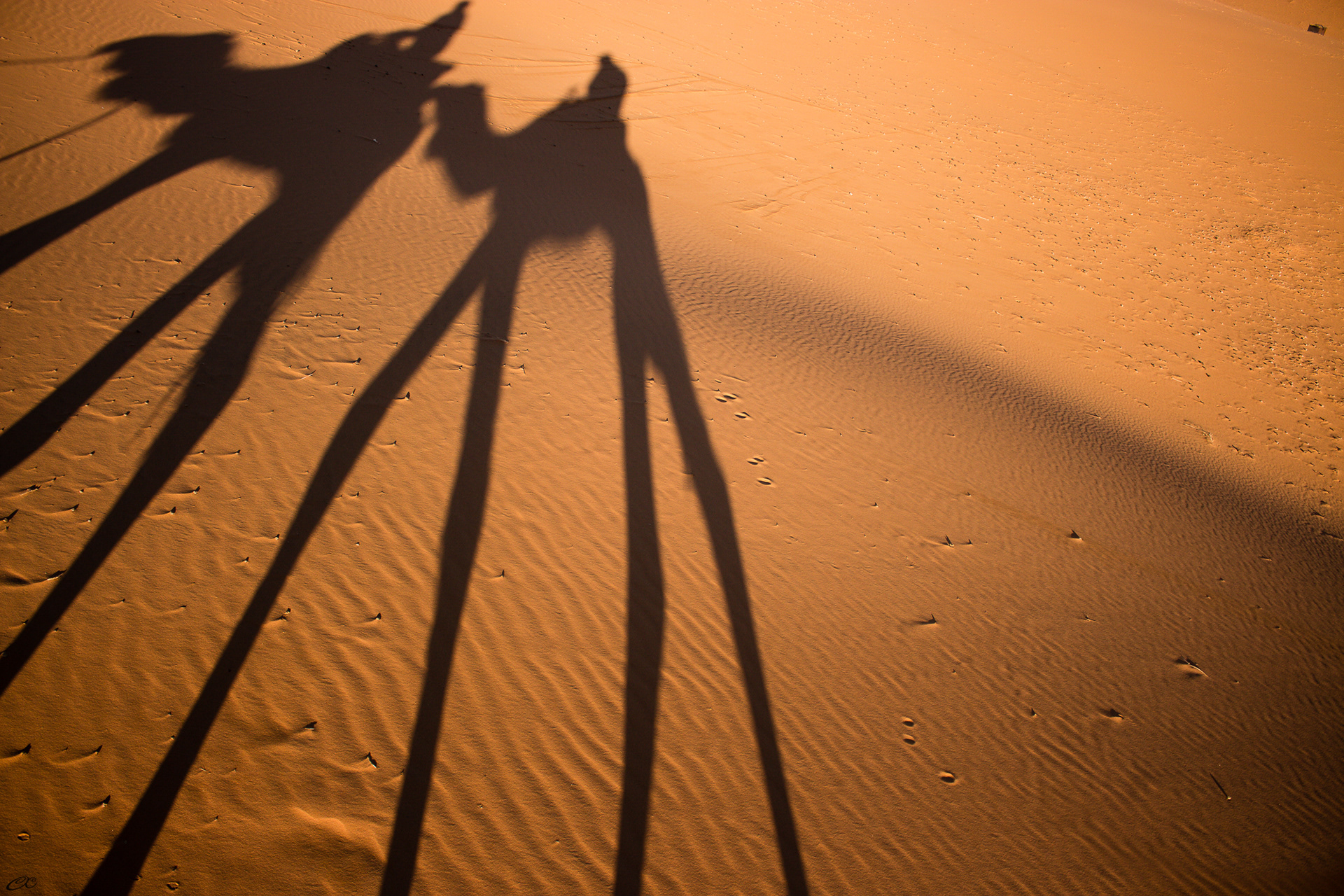 FROM THE DESERT TO THE OCEAN
We hopped on our dromedaries and went back to Hassilabied, where we had breakfast with our desert friends. It was very interesting to walk a bit around this little village that touches the desert. It was February and it was already so hot. We joined some kids playing football under the hard midday sun and we imagined how it must be in the summer. From a little house I could see some smoke getting out, and the kids explained me they prepare food inside. I went to have a look, and there were two woman making the bread, they welcomed us in the smoky atmosphere of the fresh little house and gave us the first bread to try, very generous, and the bread was so simple and delicious. It was a very nice moment, and I passed back later to leave something symbolic in return.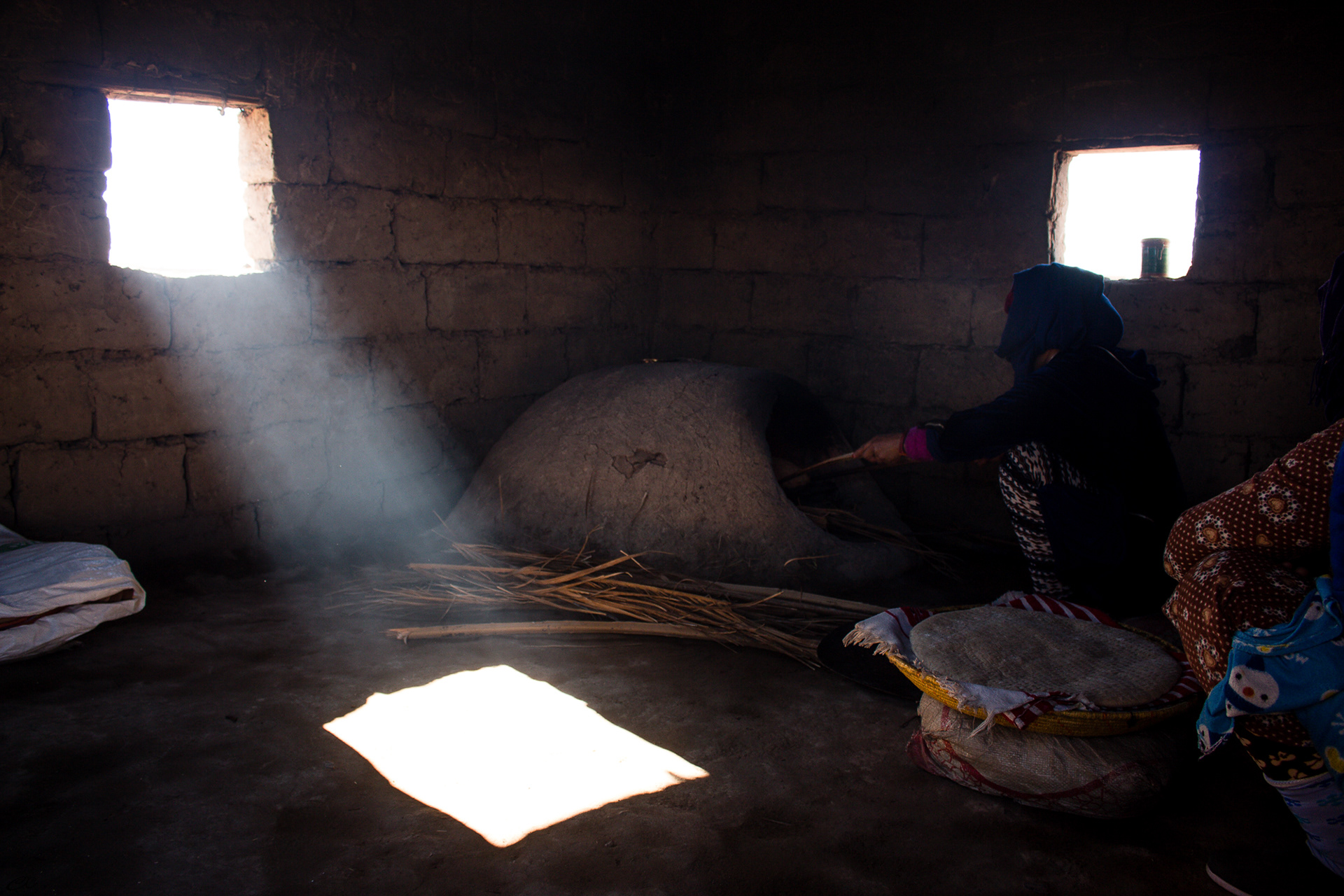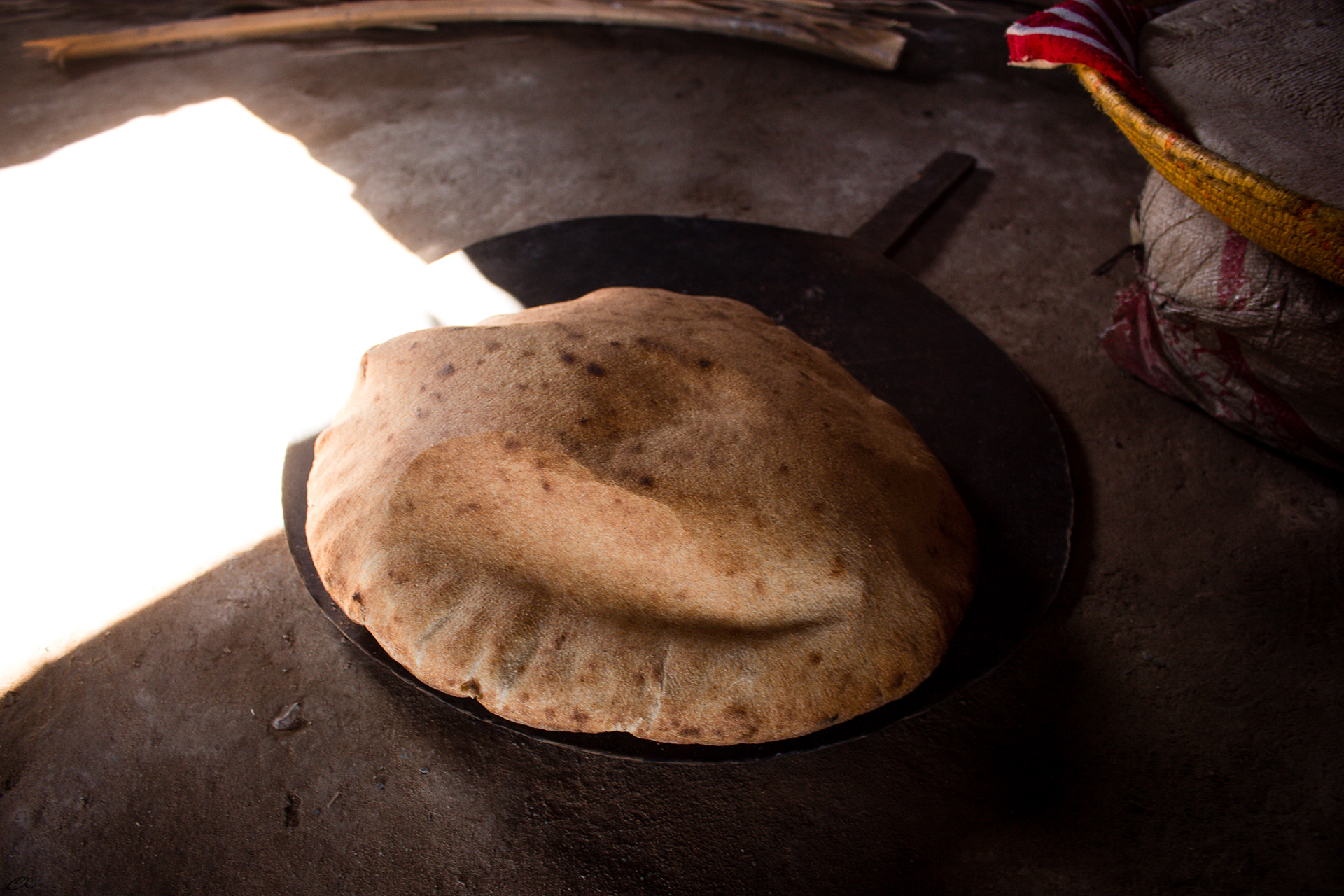 We got back to Rrisani and had a Tajine. With a couple days more to enjoy Morocco we decided to head to the ocean, the east coast, somewhere south of Essaouira. We found a place with WiFi, we had a tea and made our Couchsurfing research. We sent several messages and we found the profile of a guy in a little fishing village south of Essaouira. Somebody made a profile for Saad, a simple man that lives in a small house with no electricity and gives tourists tours on the back of his donkey and horses on the beach; he has no internet, but he has a phone, and we called him: "Bienvenue mon frère!!". He seemed happy to receive us and said we would meet there in the beach. We decided to take a night bus to Marrakesh, from all the possibilities it was the fastest and most affordable one, also because we would spend the night travelling, hopefuly sleeping in the bus.
We were hoping the itinerary would not involve crossing so much snowy mountains again.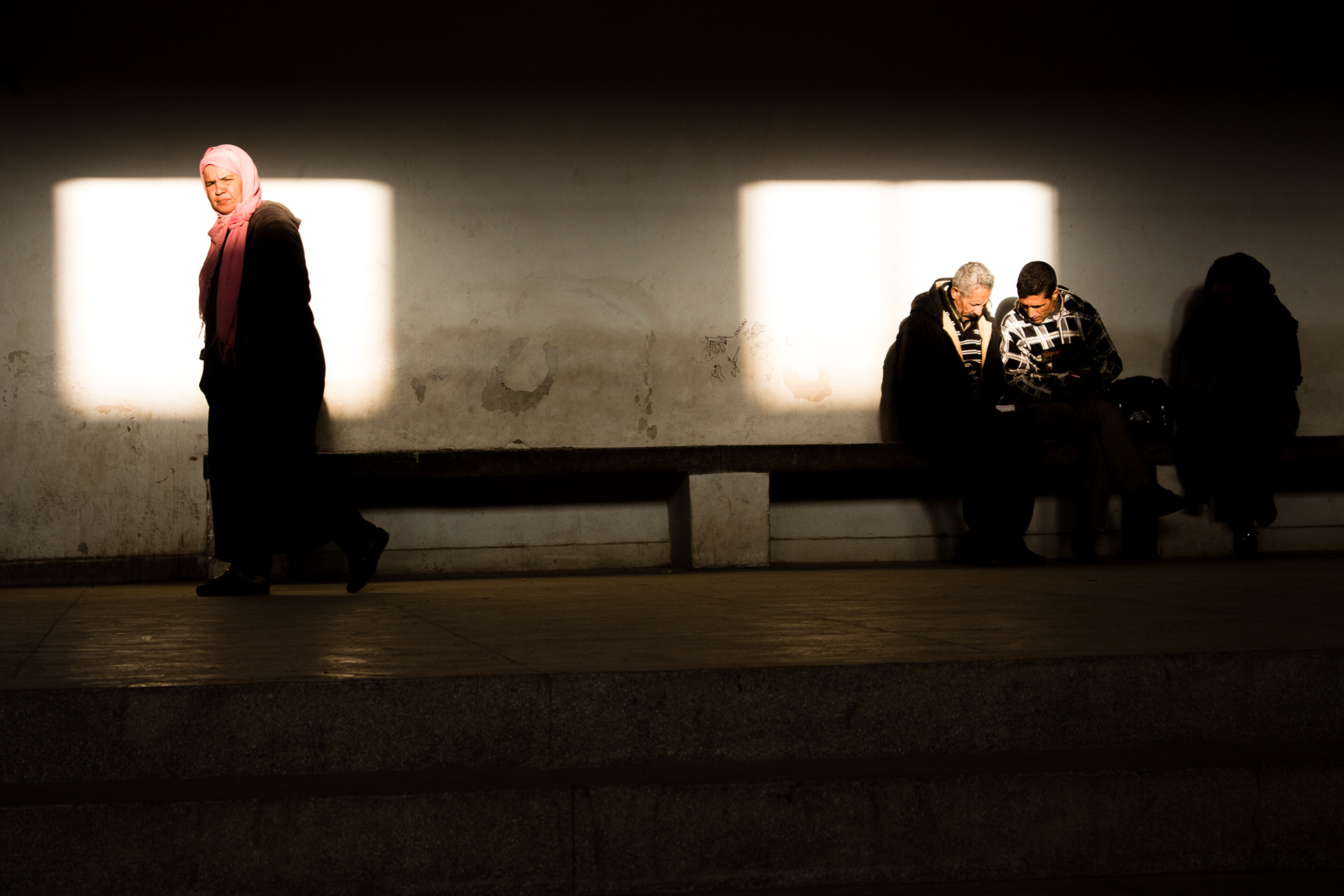 We arrived in Marrakesh at early dawn. Had a walk through the rarely empty streets inside the labyrinthic Medina, the souks, inside the walls of the old part of the city. Had a soup for breakfast to heat up while the sun was still not out. Got lost in the maze and decided to try to hitchhike to Essaouira. We kept walking and walking out of the city, thumbs up, stopping sometimes in strategical places, but without luck. The city seemed infinite and the traffic fast and in a hurry. We took a bus so, and it took us about three hours surrounded by a landscape of the typical Argan trees to arrive to Essaouira.
Out of the bus, it felt like being back home. The smell of fish and the strong connection to the Ocean made me think of where I come from, and the lively streets inside the walls of the Medina reminded me of some places in the south of Portugal. It was a magical village indeed, and I cannot think about it without being visited by this particular colour, the Essaouira's baby blue, present everywhere, together with the white, making it all very picturesque.
We ate some fried fish and we got some delicious Dates and decided to carry on to Sidi Kaouki, pretty curious about this village by the Ocean wich name sounds Hawaian to me.
It's the end of the day when we finally set foot on Sidi Kaouki. The first breath out of the bus smells like the familiar Atlantic Ocean and we hear the waves breaking.
There was a man sitting outside enjoying a tea under the comfortable sun of the end of the day. He waved at us, and he said yes when we asked him if he was Saad, but he didn't seem like the guy on the Couchsurfing picture. When we asked him about "Saad of the horses?" he understood right away and told us he's probably at the beach. As we approached we saw how beautiful it was, an infinite beach still illuminated by the setting sun, horses running fast by the water, donkeys, dromedaries, cows and sheep, lots of cats and dogs, full of life, seaguls flying and waves breaking perfectly, surfers still enjoying the last one of the day, a slight breeze in the air, what a lovely place, and we just arrived.
In the terrasse we found Saad having a tea enjoying the sunset. With him there was Valentim, a traveller from Switzerland who was also staying in Saad's.
As the sun touched the horizon line we started to move and some friends in their donkeys and dromedaries guided us in between the bushes for 20 minutes until we arrived to a house made of stones, Saad's place.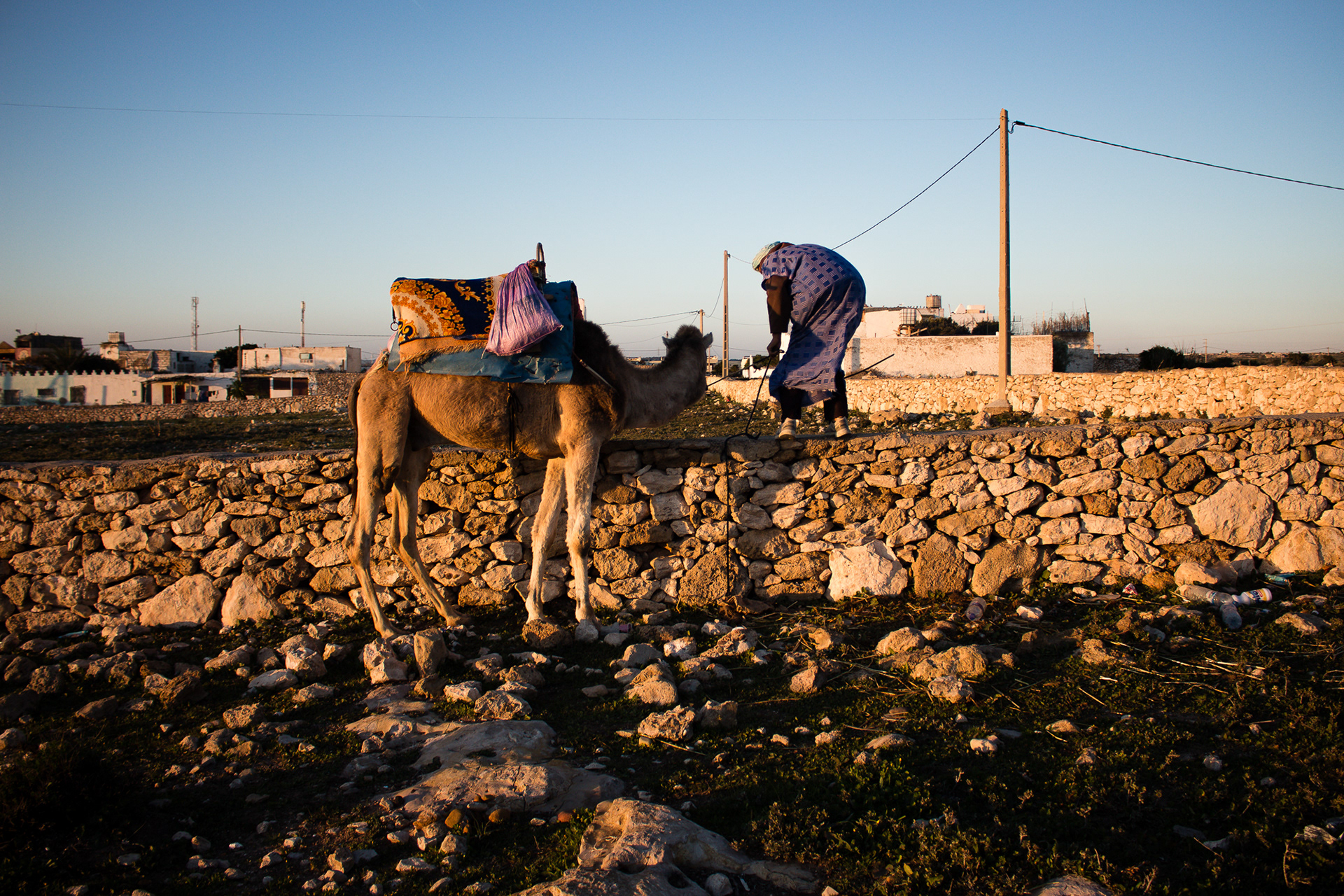 We all sat around the delicious Tajine with our bread in our hands, the light of several candles illuminated this cosy house with no electricity. We made music with the several instruments around. Saad and his friend played a nice Berber flute, and Valentim was an incredible percurssionist, he travels with some instruments, between them one I never saw before, a recent invention named Cajoneco, a kind of smaller Cajon with some options to change the sound, really nice one, and the atmosphere in the house was great. Saad told us how much he's been receiving travellers in this house, people from everywhere really, amazing stories of how people gather in this little paradise.
We had a little tent set in the bushes, and we slept so well. When I woke up, my brother was already gone, probably to the beach to get some waves. The rest of us had breakfast and then Saad prepared his animal friends and asked me if I could bring his donkey, I could ride him to the beach, something I never did before but felt so good, a slow little donkey, such a nice animal, and there we went, by the bushes heading to the Ocean, morning sun, slow motion ride, as he stopped 4 or 5 times to chill and didn't really want to move, it took us quite some time to arrive, and there I saw my brother heading to the water on a bodyboard he rented. Waves were looking good and I could enjoy some too.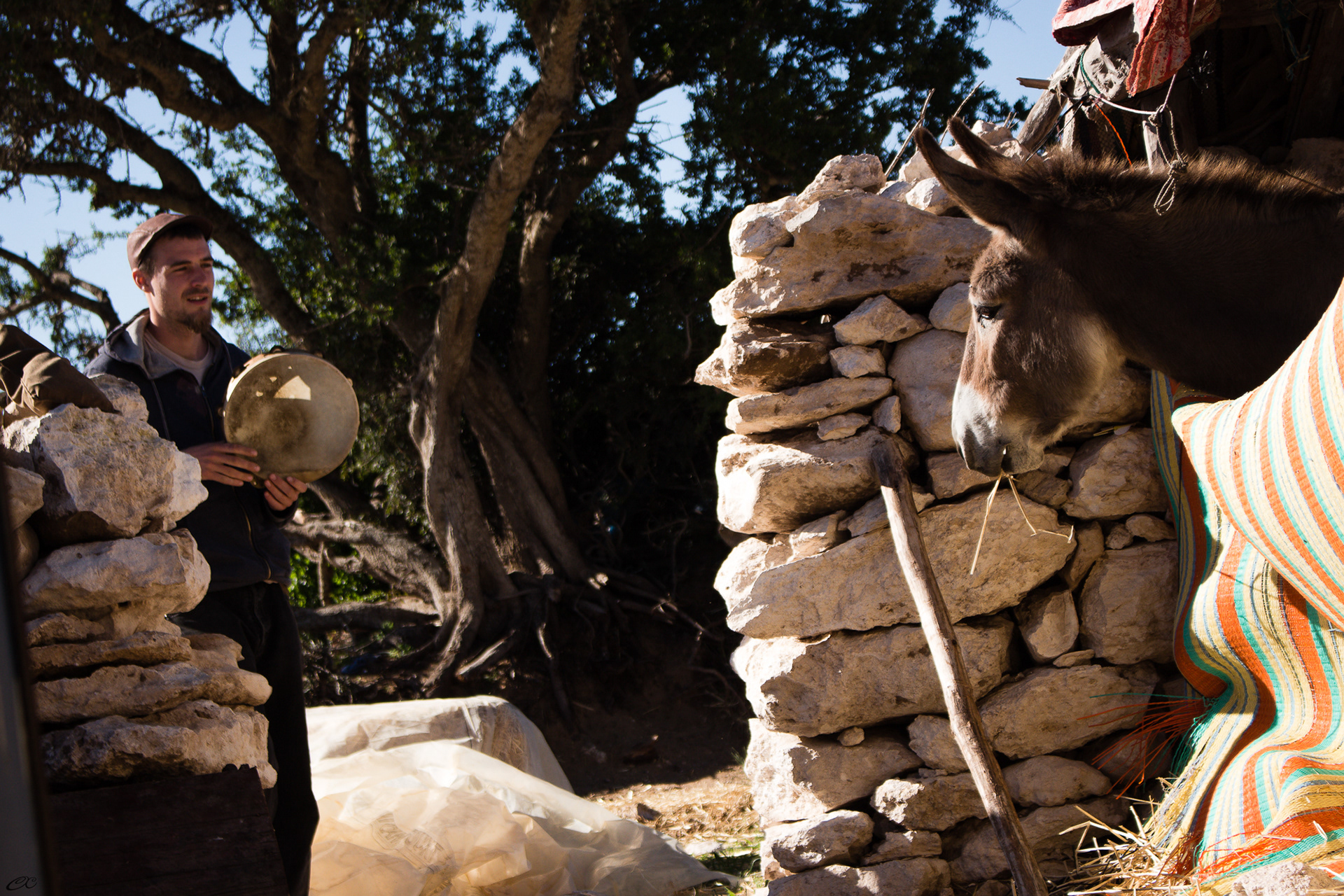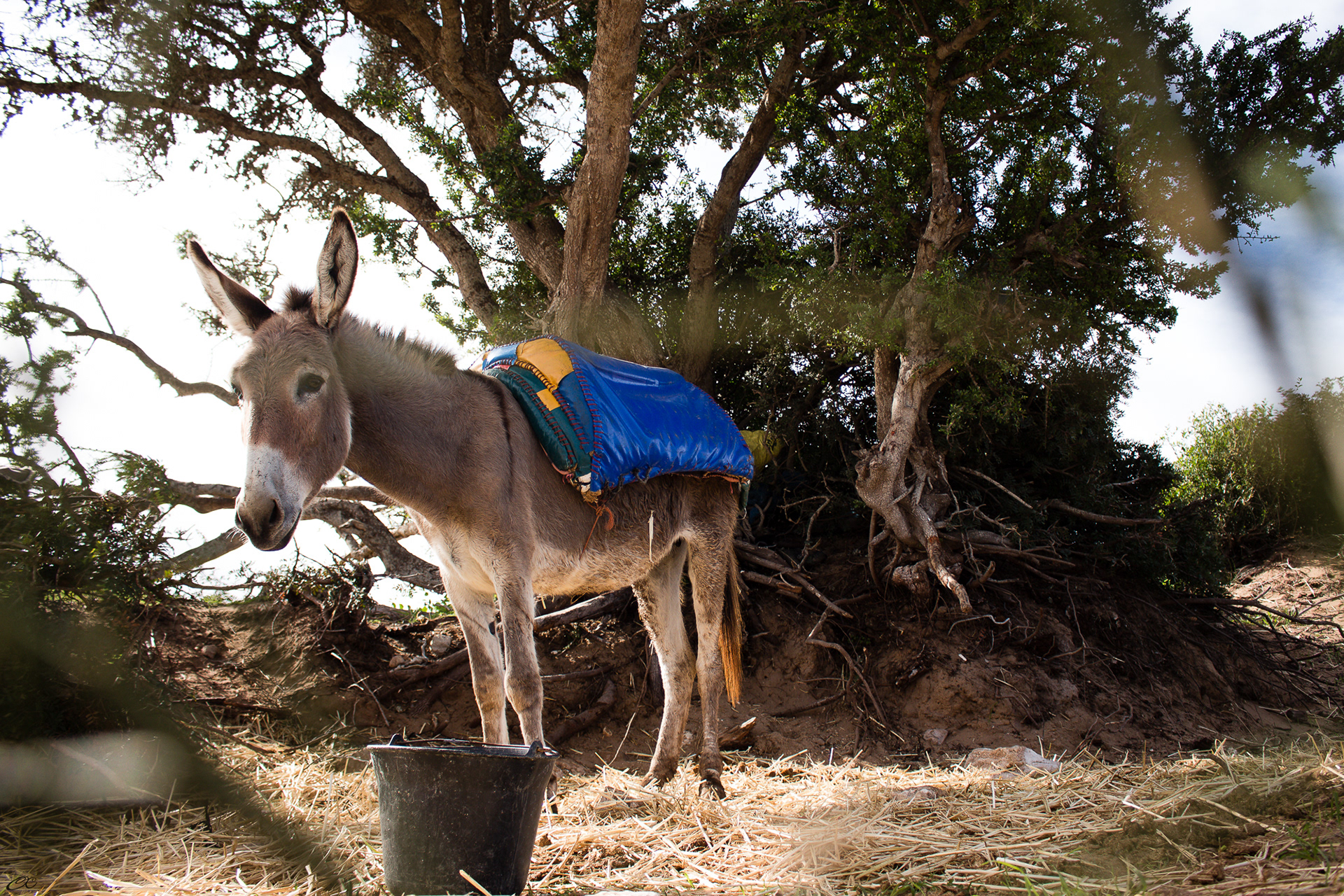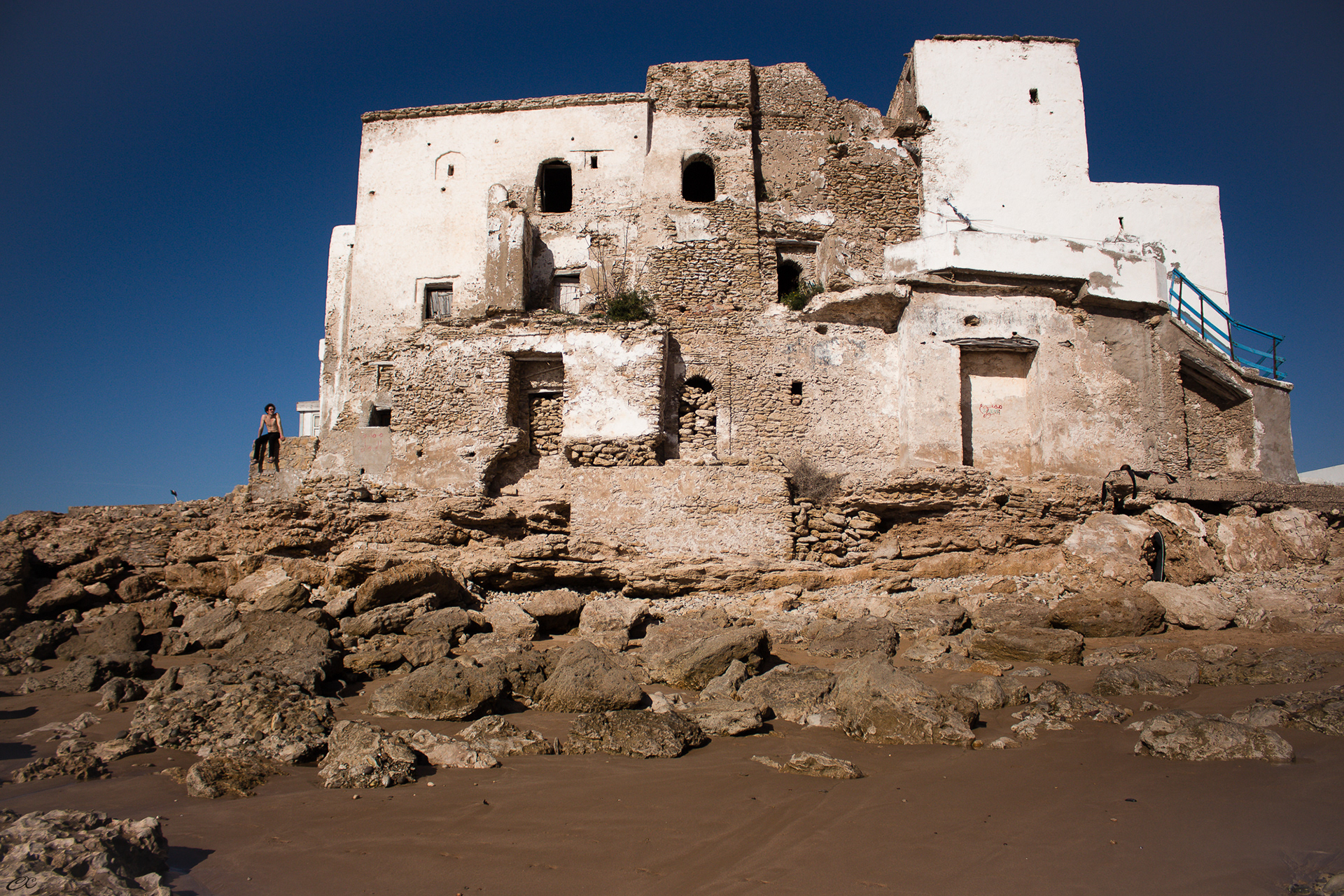 We spent the day toasting in the sun, catching some waves, meeting other travellers and locals, making some music, walking by the beach, eating fruits and fried fish. We met some fishermen. They were using a line along the shore with several hooks, which they would set in the low tide, and after it went up and down again they would go to hopefuly collect some. They got a big one out, and after the usual price discussion we bought it to cook in Saad's.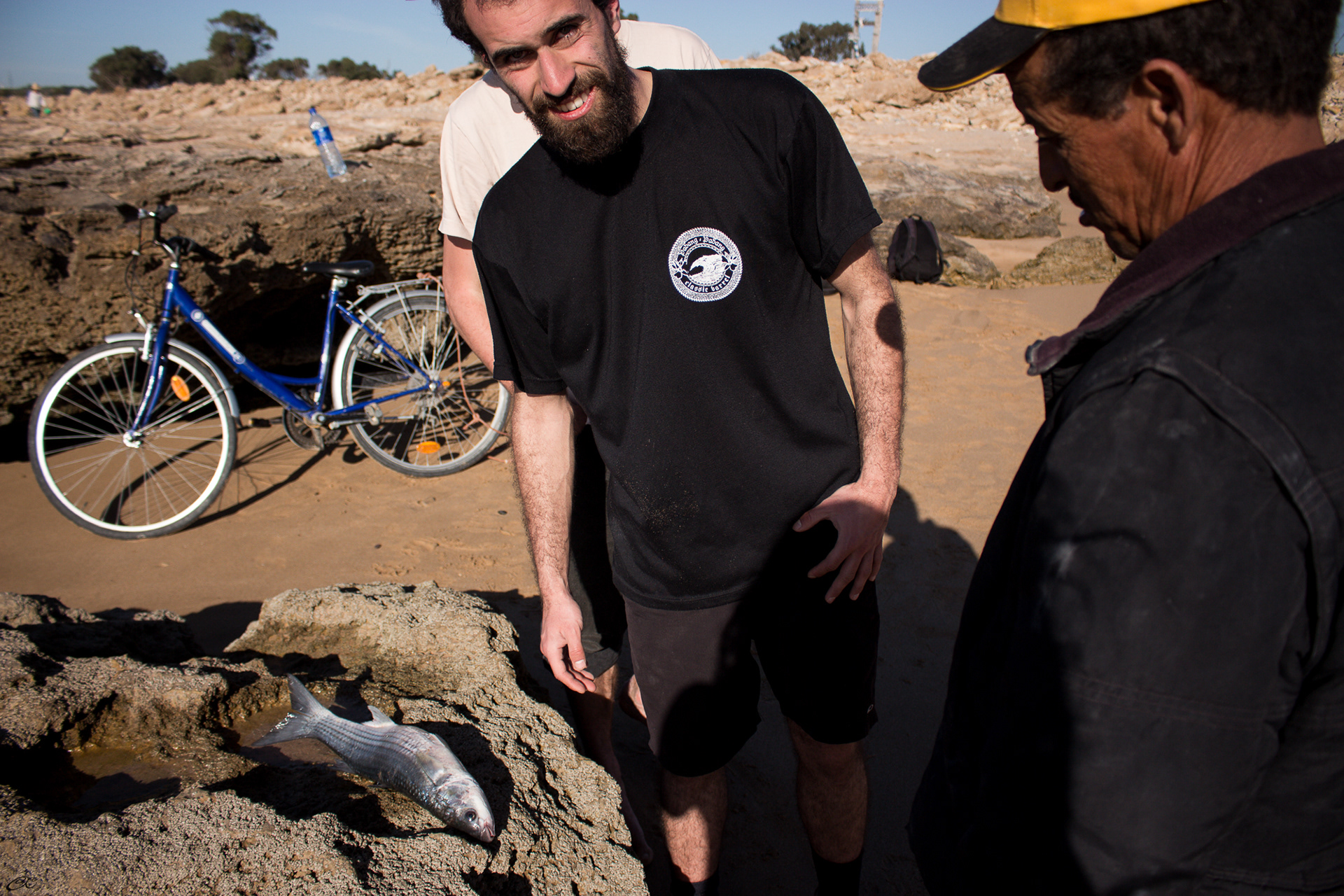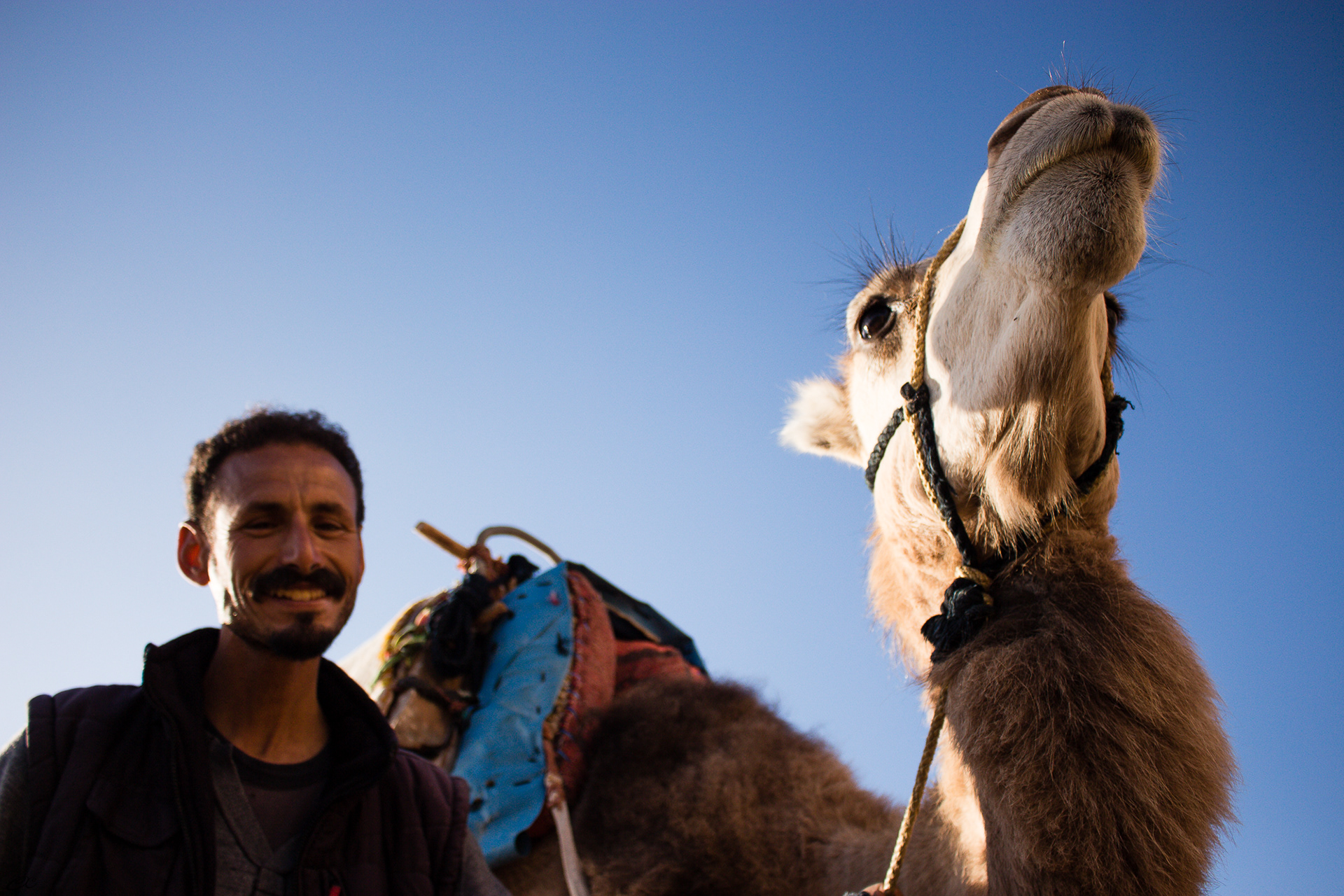 The night was spent around the fire, now with a big group of people, travellers and locals, friends of Saad. The fish we bought made a delicious Tajine and we were around 10 people stretching our arm and dipping our bread and trying to fish some. The Tajine, and more precisely the circle of people around it, turned out to be very powerful as a symbol, one of union and sharing.
Next morning we headed to the beach with our backpacks ready to leave. We enjoyed some waves and some good times with the friends we made there. Time to say a giant thank you to the great Saad, and go to Essaouira. A friend gave us a ride in his van, so we could relax on the beach and not worry about the the bus schedules.
We found a cheap hostel in Essaouira and went to find some food and some music. Here the Gnawa is very popular, and we found some musicians that played in a bar. After, we went to a place where we heard they make free improvisation music, and there met more friends, finishing in a jam at the beach.
Essaouira is a city where you can find many travellers and artists and musicians. In the summer there is the famous Gnawa festival, pretty big one I guess, never been there but heard good things about it. If you are passing by Morocco and you go down the Atlantic coast you are probably stopping there, and when you continue to go south, well, it must be a pretty amazing coast. I keep it in my mind, the wish to go back there, but without a calendar, rather with all the time to wander around this beautiful country.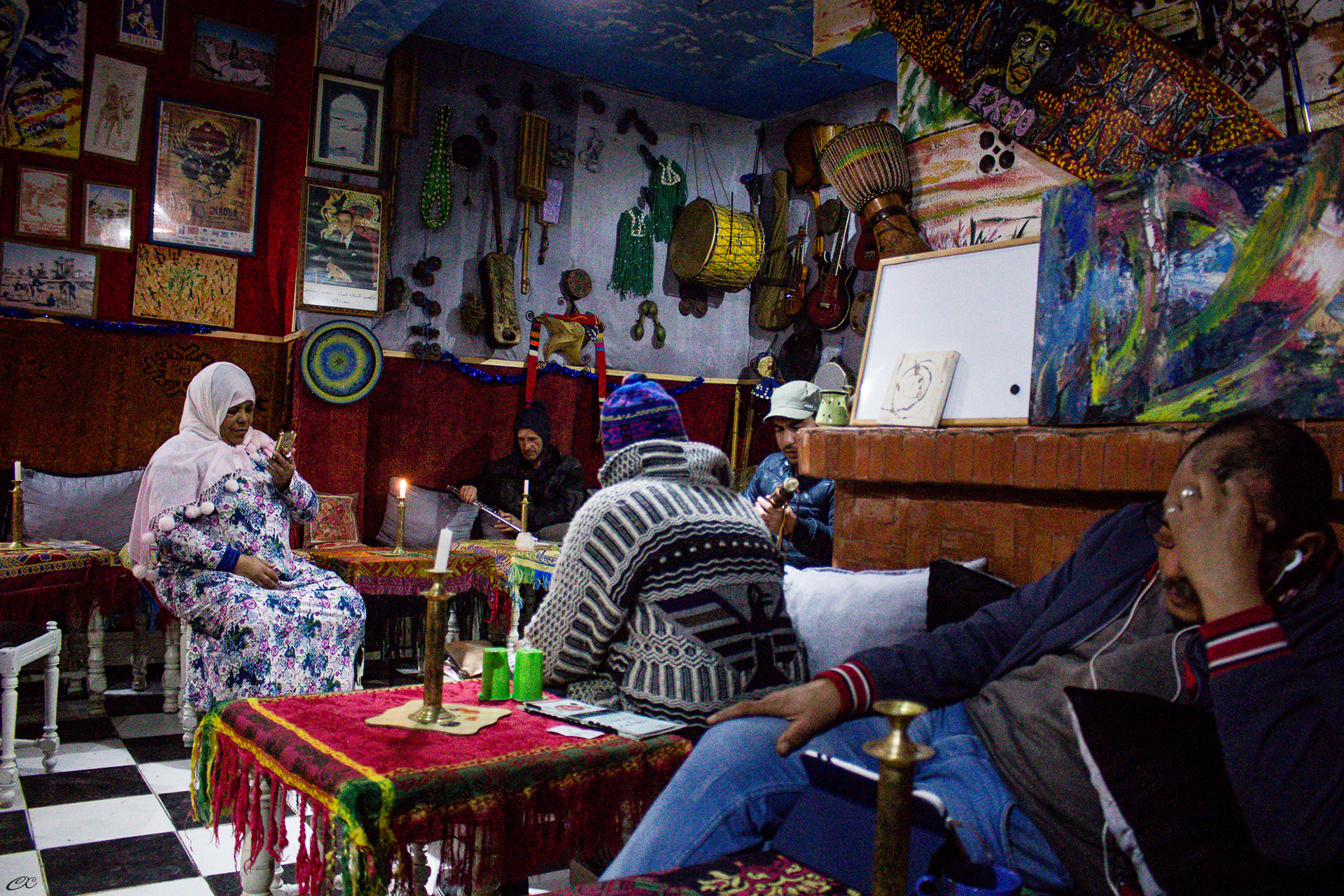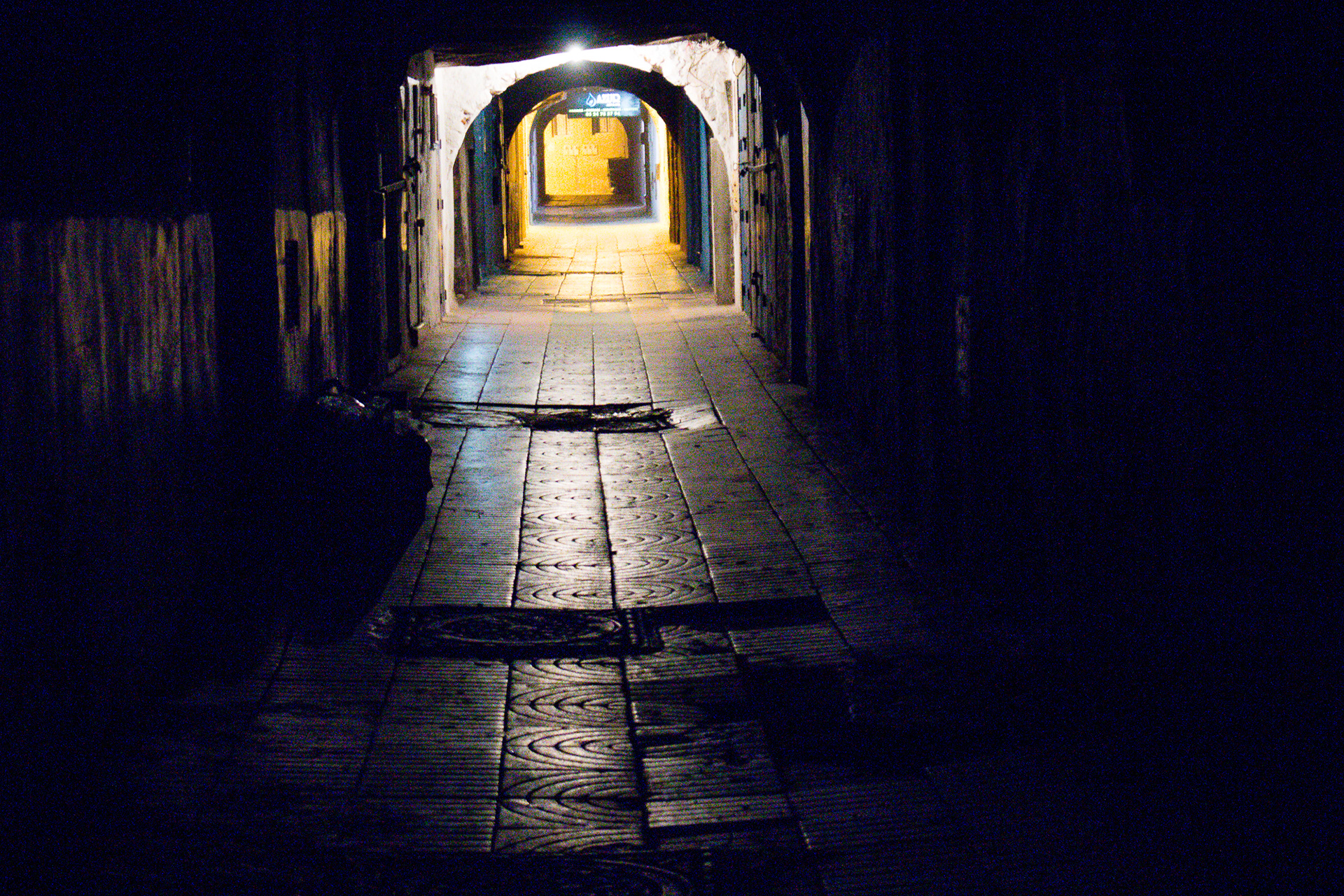 And in Essaouira we separated. Next morning I accompanied my brother to the bus station, he was going to take his flight back to France that same night, from Agadir, and me I was flying the next morning early from Marrakesh, so I decided to explore a bit Essaouira and took the bus at the end of the afternoon.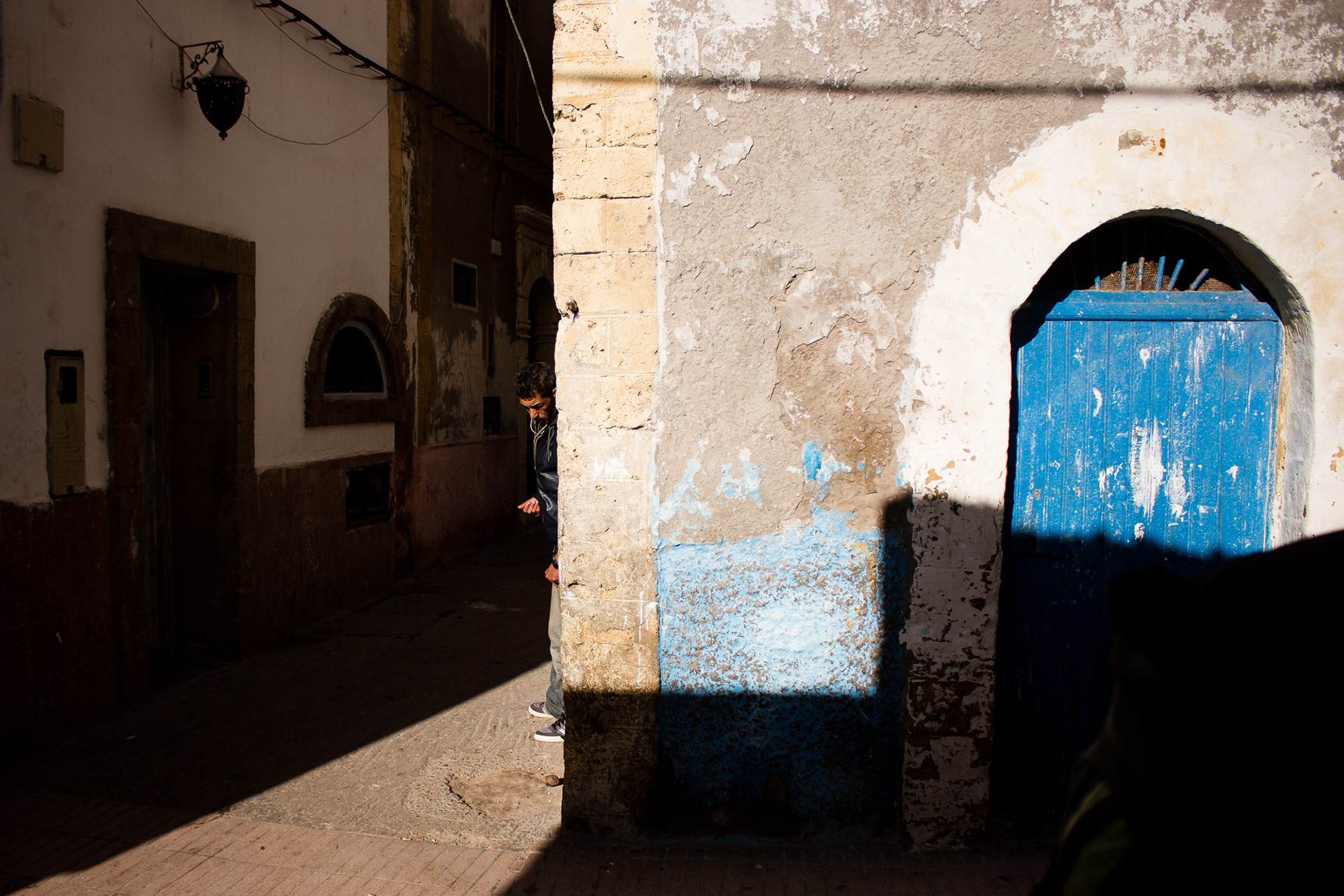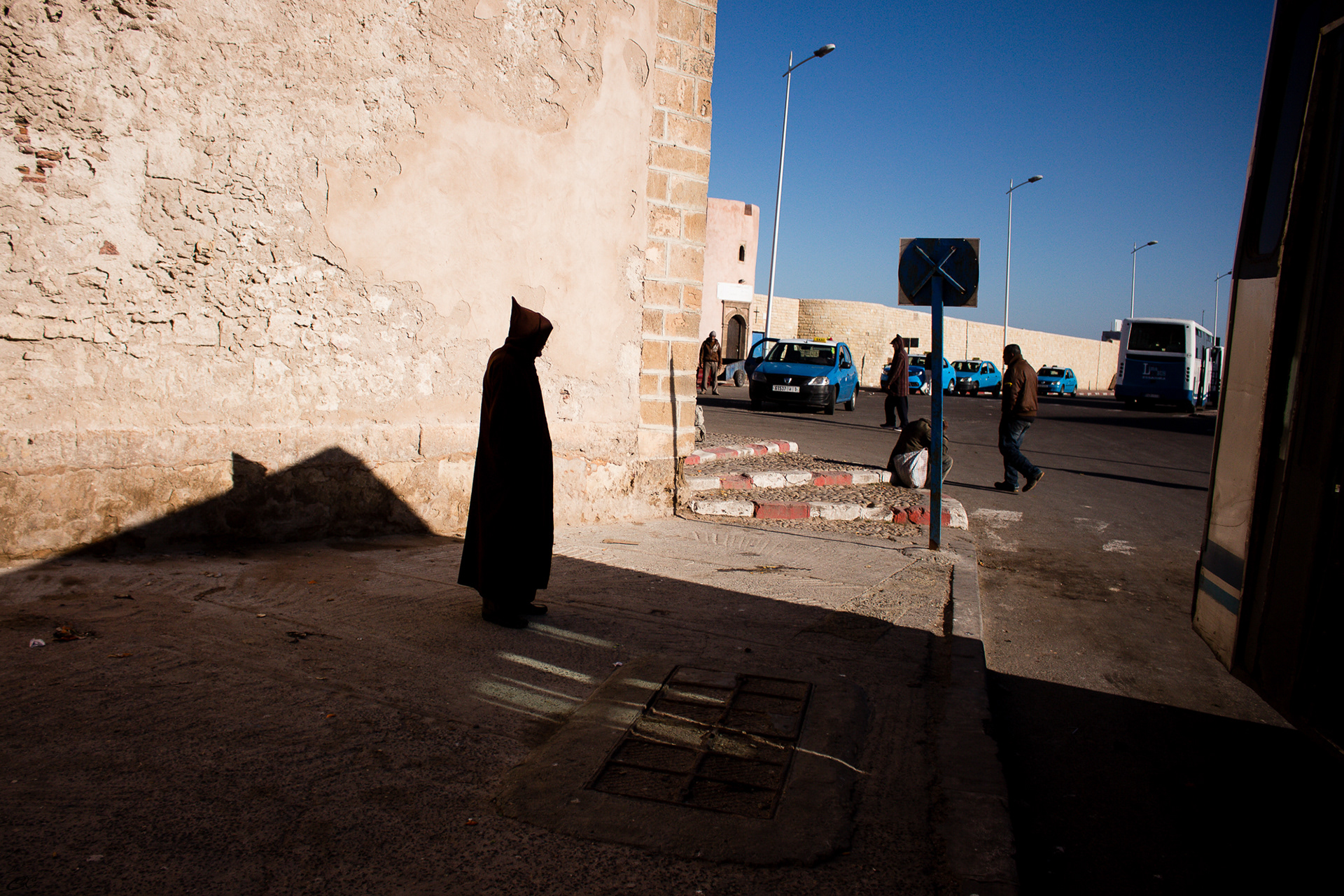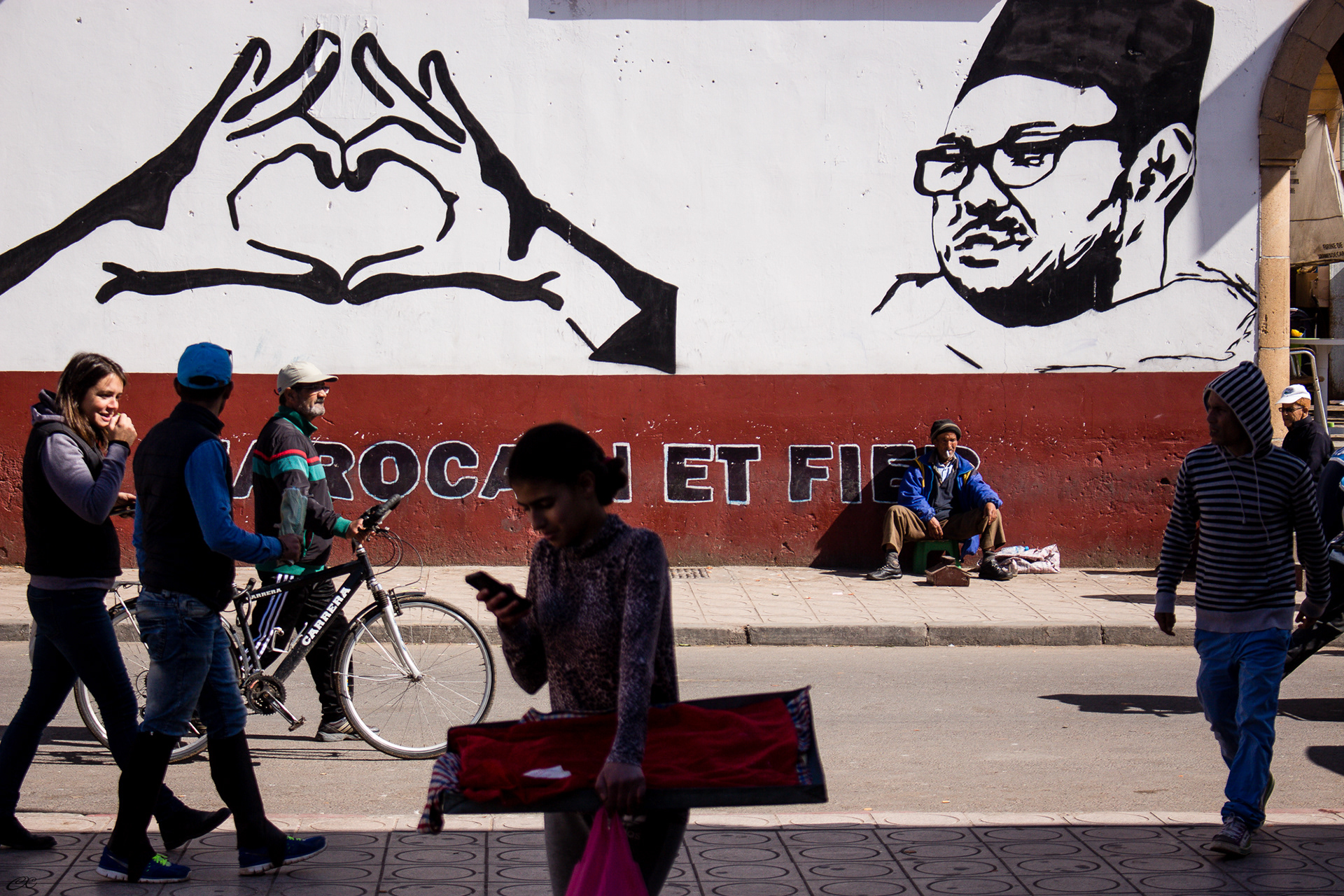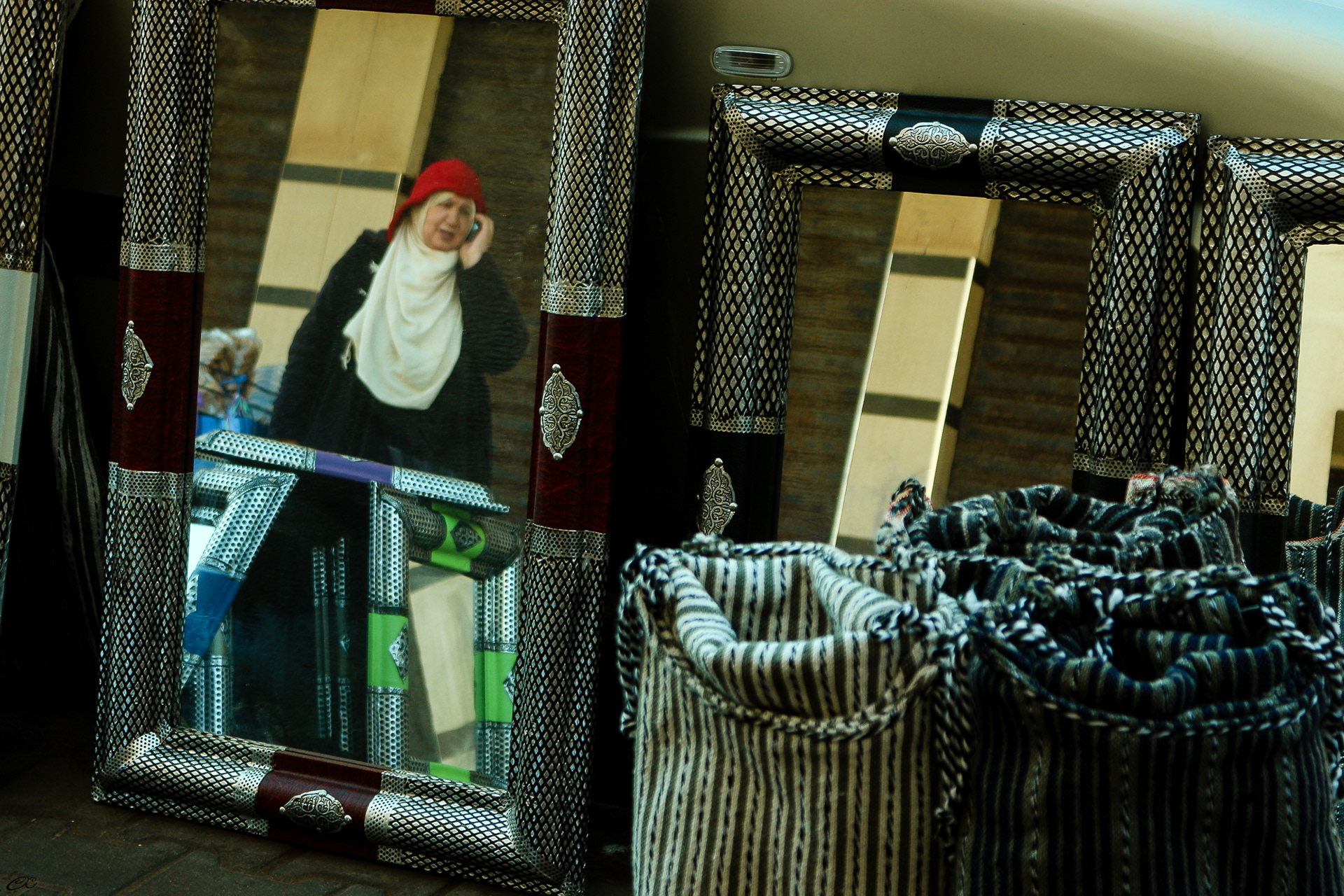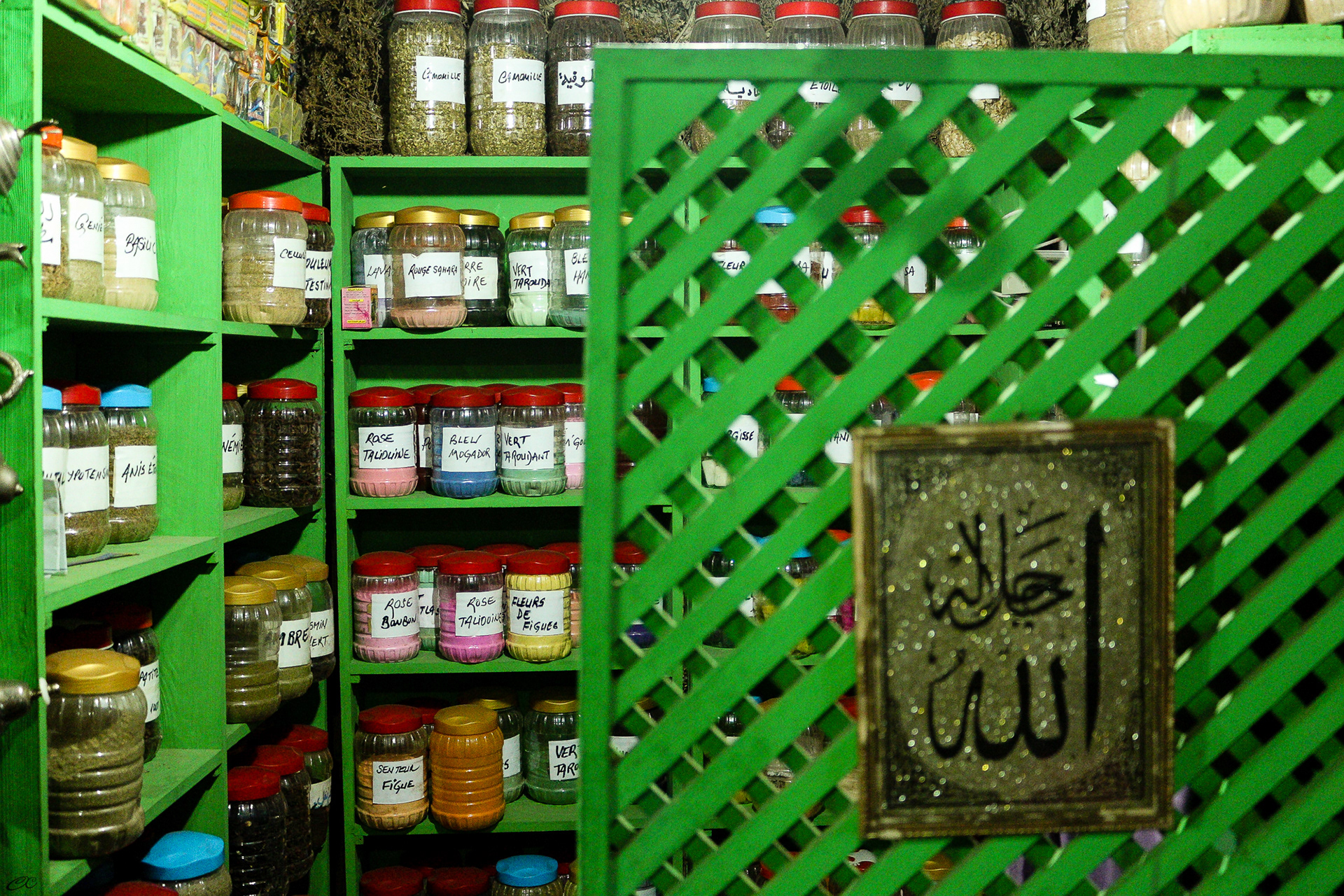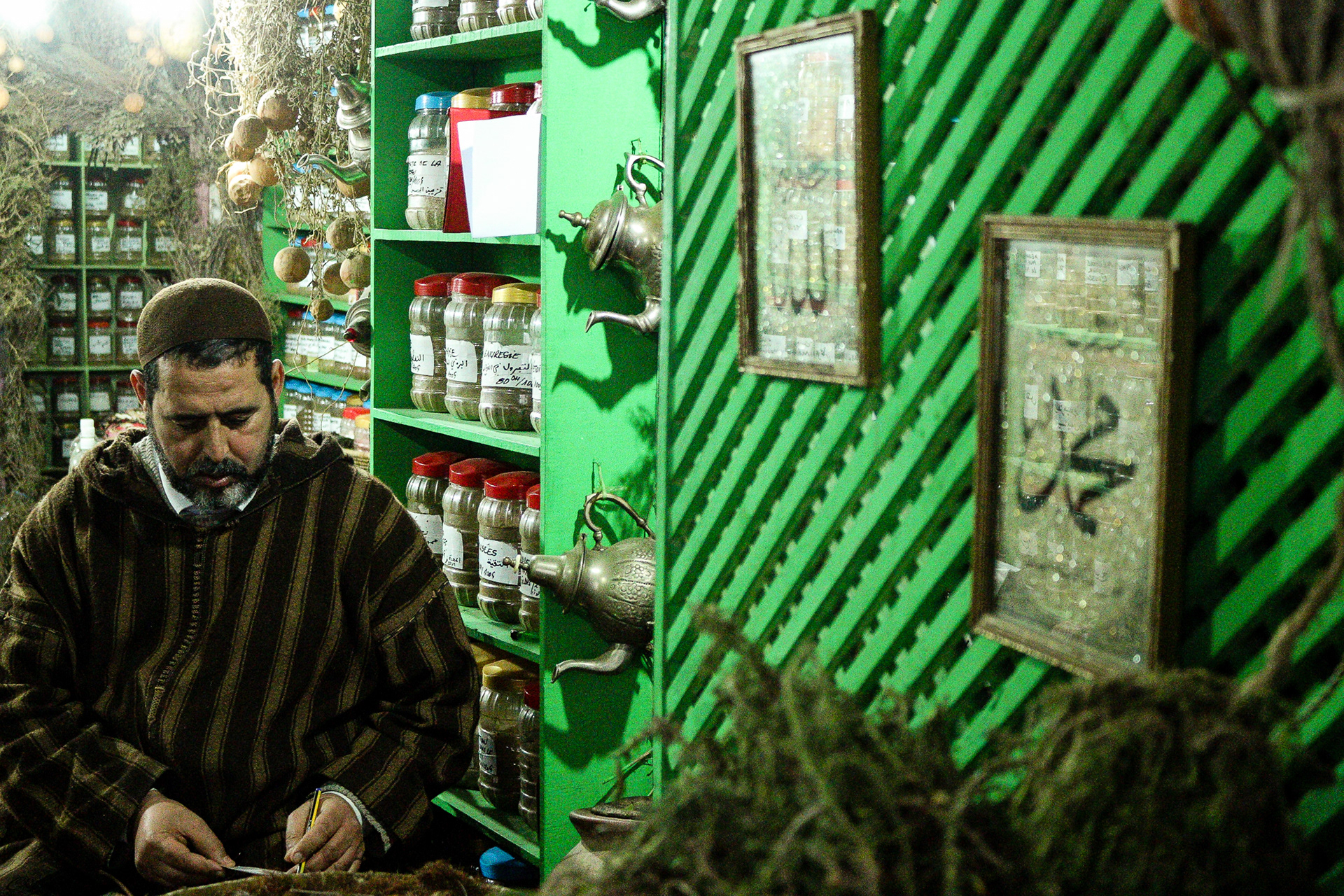 And so it was, I arrived in Marrakesh at dinner time, hungry, found something nice to eat, and walked for long time, ending up in the main plaza, Jemâa el-Fna. It was a frenetic atmosphere, lights and sounds and lots of people, big groups of musicians reunited in the center of circles of benches, and the music was often nice and powerful, and as you approached they would notice you and invite you to seat, stopping to play eventually, talking lots of time, and gathering money around, and there were around 5 or 6 of these groups in the plaza, making it a really vivid place.
I went inside the walls of the Medina, the dark narrow streets were not that welcoming anymore, and I was adviced not to walk around there. I met somebody who took me somewhere nice, a closed coffee shop that served as an albergue for poor people to spend the night, with a big balcony up on the 2nd floor. He talked with the old man and he opened me the terrasse and prepared a tea, I could chill out up there for some hours, taking this time to relax and think about this amazing 10 days we spent in Morocco. I could write some thoughts about it with the light of some small candles I had with me.
Later the owner of the place came to talk to me, he was going to sleep and wanted to close the terrasse, I went, my flight was at 6 in the morning, so I had still some hours to kill.
I met a fellow Moroccan traveller that spent this time with me, an avid young man who travels in his own country, hitchhiking, and who just came from his first Rainbow Gathering in the desert. He dreams to travel out of Morocco, to see the world, but for now it is complicated, his passport doesn't allow him that much freedom.
I wish one day all of these borders and limits become something from the past. In that day the great inventions like the wheel and transports and boats and aeroplanes will make more sense. If everybody is respectful, that might be the day we hold hands together for peace, as one. It's time to accept the world is round, and we're all in the same boat, we're all together in this adventure, and we should only try to make it better for everybody. Ain't it obvious that man is like this, curious, always aiming to discover the unknown, and if he sees a mountain he wants to know what's beyond it, and when he looks to the infinite ocean he can't help but wonder what is beyond it too. And in times like these, when often nothing makes sense anymore, and when we seem so inteligent by the incredible things we create, but in the same time so dumb to keep on fighting each other for whatever reason, in times like these we should open our windows and look outside, and understand how beautiful and simple it all is, and we should visit each other, and travel, for this can bring true understanding, fight ignorance and fear and bring us the promised days of Peace and Love we are all longing for. This is the way we chose, wether we like it or not, globalization is already walking for miles, and not stopping. I hope we learn how to deal with that, we accept it and embrace it, and we can all finally live together on this beautiful Planet Earth.
...............................................................................................................................................
photos and text by:
Oliveira de Carvalho ©
photographer // videographer
open for submissions and suggestions
+33 6 48 60 53 53
carvalho25n@gmail.com